For our free coronavirus pandemic coverage, learn more here.
Western Australia is opening up to the rest of the country and the world on February 5 at 12.01am with new rules in place for the state's residents who have become used to a mostly 'normal' way of life during the COVID-19 pandemic.
Here are some of the new rules West Australians need to be aware of when interstate and international borders reopen and the state gets ready to live with the virus.
Masks will be required again from February 5 in some public settings.
International travel
Vaccinated travellers entering Australia through Perth will have to return a negative polymerase chain reaction test 72 hours before departure and then take two more tests, one within 48 hours of arrival and the second on day six of being in WA.
There will be no quarantine requirement for the fully vaccinated but people who have not been jabbed or have taken a vaccine that is not approved in Australia will need to spend 14 days in isolation in a hotel or the soon-to-be built federal quarantine facility in Bullsbrook.
Domestic travel
Anyone over the age of 12 travelling domestically into WA from other states or territories will need to be fully vaccinated unless they are ineligible or medically exempt from vaccination.
Domestic arrivals staying more than six days in WA will need to return a negative PCR test 72 hours before departing to the state and then take another test within 48 hours of arrival.
People staying for five days or less will only need to return a negative PCR test 72 hours before departure.
West Australians who leave the state for five days or less will not need to take a test before returning but will need to do a PCR test within 48 hours of being back in WA.
Proof of vaccination entry
Nightclubs, the Crown complex and four major stadiums – Optus, RAC Arena, HBF Arena and HBF Park – will require proof of vaccination to enter.
Events with 1000 or more patrons will also require attendees to be vaccinated.
Other businesses will be able to choose whether or not proof of vaccination is needed to protect staff and patrons.
Mask wearing is back
Wearing a mask is already required at airports and on flights but will now be expanded to public transport and taxi and rideshare services.
Visitors to hospitals, residential aged care, residential disability care and corrections facilities will wear masks.
Regional restrictions
Entry will still be restricted to remote Aboriginal communities and the Pilbara, Goldfields and Kimberley have such low vaccination rates that region-specific rules could be put in place come February 5.
If the three regions cannot reach double dose vaccination levels of 80 per cent by the WA opening date then there will be proof of vaccination requirements expanded to pubs, gyms and dine-in services and restaurants and cafes.
Mask wearing would also be mandated at supermarkets, roadhouses or when people are getting takeaway food.
No air travel for people aged 12 and over into a region with low vaccination rates will be permitted without proof of vaccination.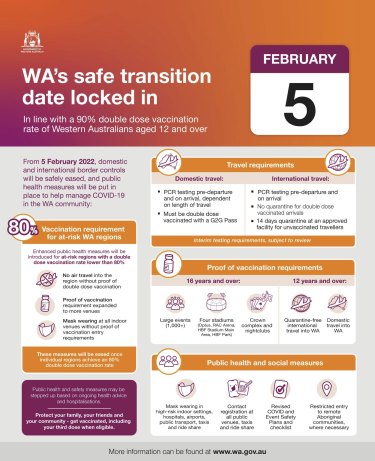 An infographic on the new border and COVID-19 rules in WA from February 5.Credit:WA government
Most Viewed in National
From our partners
Source: Read Full Article