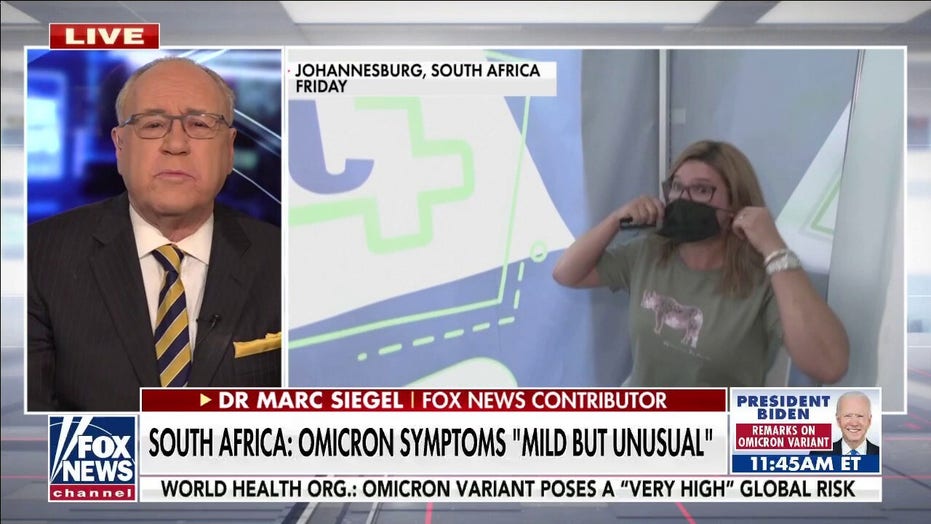 Dr. Siegel says vaccines should provide protection from new coronavirus variants
Fox News medical contributor Dr. Marc Siegel provides insight on the new omicron coronavirus variant.
The CDC cut the recommended isolation time for people with COVID-19 from 10 days to five days on Monday amid a surge in omicron cases nationwide.
The updated guidance comes as industries, including major airlines during the holiday season, experience severe staffing shortages because of omicron cases. Multiple airlines have delayed or canceled hundreds of flights nationwide at the height of the Christmas travel season.
Individuals who are infected may now isolate for just five days, followed by five days of wearing a mask when around other people.
In addition, only people who have received a booster shot are exempted from quarantine after being exposed to COVID-19.
For everyone else – including people who are six months out from their second mRNA dose or two months out from the Johnson & Johnson vaccine – a five-day quarantine period is now recommended instead of 10 days.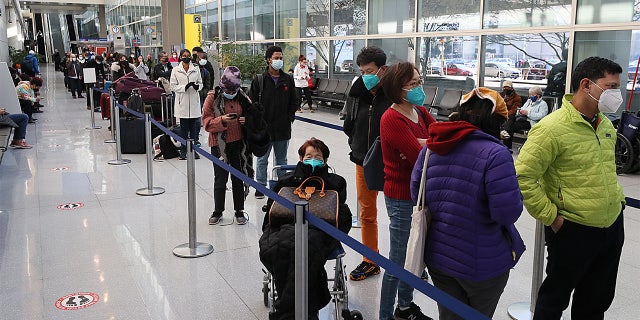 At Logan Airport, travelers lined up for coronavirus COVID-19 testing in Boston on Dec. 20, 2021. Some people had been in line for over four hours. (Photo by Suzanne Kreiter/The Boston Globe via Getty Images)
Under previous guidance, people who had received two doses of an mRNA vaccine or the one-dose Johnson & Johnson vaccine were exempt from quarantine.
Two doses of the Pfizer and Moderna vaccines are only about 35% effective against omicron, but a booster dose increases effectiveness to 75%, according to the CDC.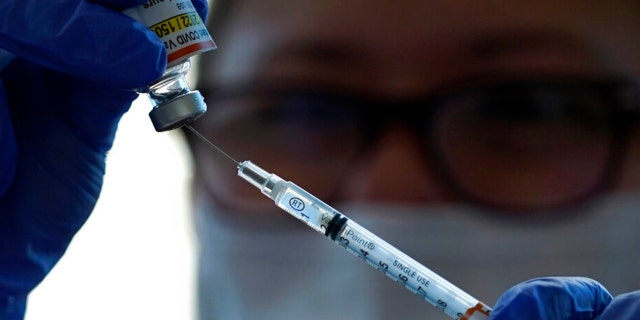 Lurie Children's hospital registered nurse Carolyn Ruyle prepares a dose of a Pfizer COVID-19 vaccine at Lurie Children's hospital Friday, Nov. 5, 2021, in Chicago. (AP Photo/Nam Y. Huh) 
Transmission of SARS-CoV-2, the virus that causes COVID-19, is greatest in the 1-2 days prior to the onset of symptoms and the first 2-3 days of illness.
"CDC's updated recommendations for isolation and quarantine balance what we know about the spread of the virus and the protection provided by vaccination and booster doses," CDC Director Dr. Rochelle Walensky said Monday.
"These updates ensure people can safely continue their daily lives."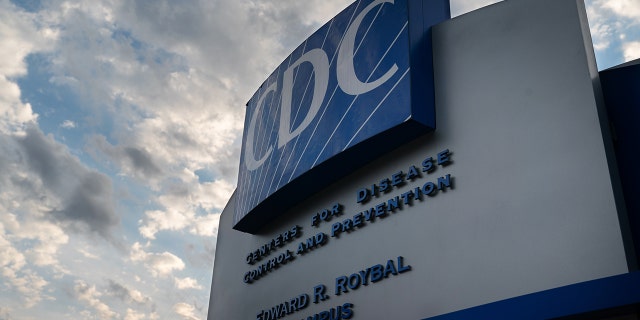 Signage stands outside the Centers for Disease Control and Prevention (CDC) headquarters in Atlanta, Georgia, U.S, on Saturday, March 14, 2020. 
(Elijah Nouvelage/Bloomberg via Getty Images)
The omicron variant, which was first detected in South Africa last month, is rapidly spreading in the United States. It was responsible for 73.2% of all new cases for the week that ended Dec. 18.
The CDC's new guidance comes less than a week after the agency loosened guidance for health care workers who test positive, cutting the isolation period from 10 days to as short as five days if there are staffing shortages.
Source: Read Full Article