8 ½ (138 minutes) PG
Federico Fellini's gloriously self-indulgent 1963 masterpiece stars his alter-ego Marcello Mastroianni as a film director unable to complete his latest epic project, torn between various women (among them Anouk Aimee and Claudia Cardinale) and immersed above all in his own memories and dreams. Digitally projected. Thornbury Picture House, Sun May 5, 2pm.
JAPON (122 minutes) MA
Mexican writer-director Carlos Reygadas began as he meant to go on with this hypnotically strange, often confronting 2002 feature, which follows a lone traveller (Alejandro Ferretis) on a journey to a peasant settlement at the bottom of a vast, rugged canyon. Screens as part of a Reygadas retrospective. Digitally projected. ACMI, Sat May 4, 7pm.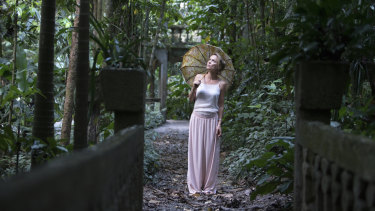 Radha Mitchell and the tropical setting of northern Queensland star in Celeste.Credit:
CELESTE (106 minutes) M
Writer-director Ben Hackworth (Corroboree) is one of the most distinctive talents in Australian cinema, drawn equally to theatrical artifice and to the beauty of the natural world. His second feature involves a retired opera singer (Radha Mitchell) who has retreated to the rainforest of far north Queensland. Selected.
CLOSED CURTAIN (105 minutes) Unrated 15+
One of the more dreamlike and chaotic works by Iranian dissident Jafar Panahi (This Is Not A Film) this self-referential chamber piece starts out like a thriller of sorts, starring co-director Kambozia Partovi as a fugitive holed up with his dog at a house by the sea. But typically for Panahi, nothing is quite what it seems. Screens as part of a Panahi tribute. ACMI, Sat 4 May, 4.15pm.
AVENGERS: ENDGAME (181 minutes) M
Iron Man (Robert Downey Jr), Thor (Chris Hemsworth) and their surviving buddies are forced to turn towards the past to evade catastrophe in the concluding chapter of the Avengers saga. In the steady hands of directors Anthony and Joe Russo, this epic feat of engineering is lighter and more shapely than it has any right to be. General.
Karen Gillan in Avengers: Endgame.Credit:Disney
Source: Read Full Article