Elisabeth Moss is a notoriously private celebrity, yet she remains one of the most celebrated actors working in the industry today. Moss got her start working in the arts as a small child and ultimately portrayed some of the most iconic television characters of the past two decades. Despite her superstar status, her career has sometimes felt like a mixed bag to Moss, who still remembers the opportunities that passed her by. "I never got a WB show," she lamented during a 2019 Vogue interview. "Remember WB? Before it was CW? I never got one." Moss went on to admit that even though she didn't end up on a big-budget CW series, the rejection helped her to "avoid certain traps. It allowed me to become a better actor before anyone was looking."
Backed by one high-profile divorce, dozens of awards, and a commitment to Scientology, Moss embodies what many people picture when they think of a Hollywood "It Girl." You probably wouldn't have guessed that was how she'd end up if you'd know her when she was a homeschooled dancer, though. It took a lot of hard work for Moss to get to where she is today.
Read on below to see how Moss has changed through the years.
Elisabeth Moss was serious about her craft from a young age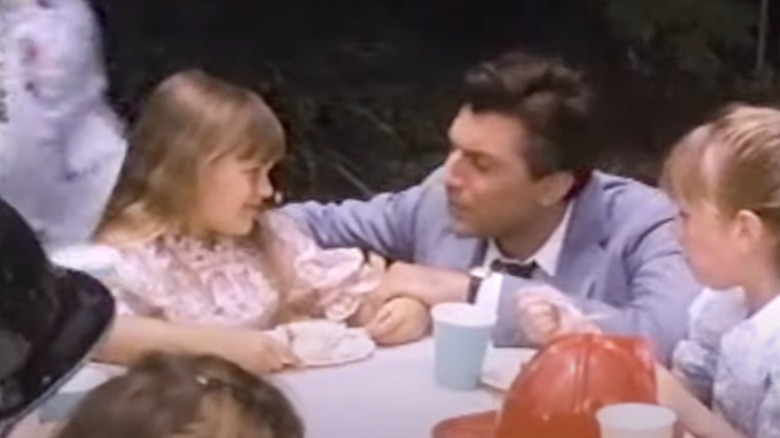 Like many great actors, Elisabeth Moss got started early. "My first real job was a mini-series called 'Lucky Chances,'" Moss explained in a 2020 appearance on "Live with Kelly and Ryan." Even at a young age, Moss was never one to shy away from difficult roles. "I really started on the dark path kind of early," she joked. "One of my scenes was I had to find my mother, Sandra Bullock, dead in the pool." 
But Moss wasn't intimidated by the assignment the way many six-year-olds would be. In fact, she didn't even need any coaching from the director to nail the scene. "I feel like I just saw Sandra Bullock dead in a pool and got upset," she added. From that point on, she was hooked. "It really started me on the dark path that I've continued. I was like 'Oh, I like this. I'm good at this.'"
The troubling scene in "Lucky Chances" was a pinnacle of Moss' career, igniting her passion for acting. Moving forward, Moss committed herself to finding and nailing the most challenging roles possible.
Elisabeth Moss had to make a hard decision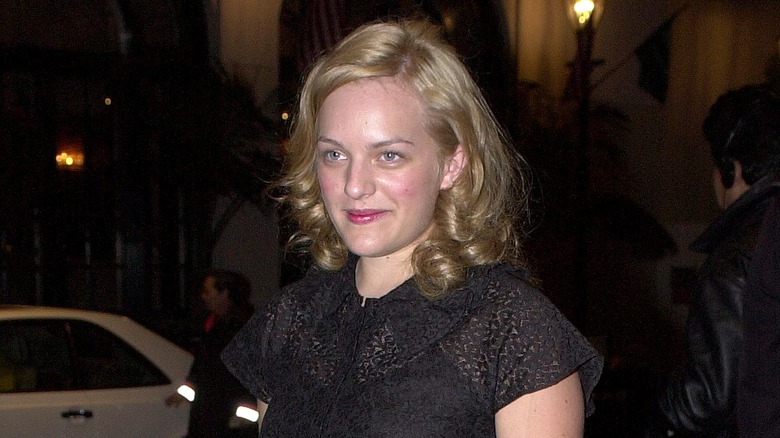 By the time Elisabeth Moss was ready for school, it became clear that homeschooling was the best option, allowing her to focus more fully on her career. Luckily, that wasn't a hard sell, considering her parents also worked in entertainment. Moss' mother was a blues musician, and her dad was a music manager who was often away on tour, per The Guardian.
Not going to traditional high school paid off; Moss landed a career-making role at just 17 when she was offered a place on "The West Wing." Before that, Moss was torn between pursuing a career as a dancer or an actor. Ultimately, she chose acting. "I was already acting, so for me, I stopped dancing when I was 15 or 16," she told The Daily Beast. "You had to go either way at that point, and if I went with ballet, I knew I wouldn't be able to act, and if I acted I could still possibly dance — so I went with the acting. I could imagine not dancing, but I couldn't imagine not acting." 
 Moss went on to land the role in "The West Wing" a few years later. Her unyielding commitment to her career also helped keep her out of trouble. "I didn't really have a rebellious period," she told the outlet. "I moved to New York when I was 18, and I started West Wing when I was 17."
'Mad Men' brought Elisabeth Moss mainstream attention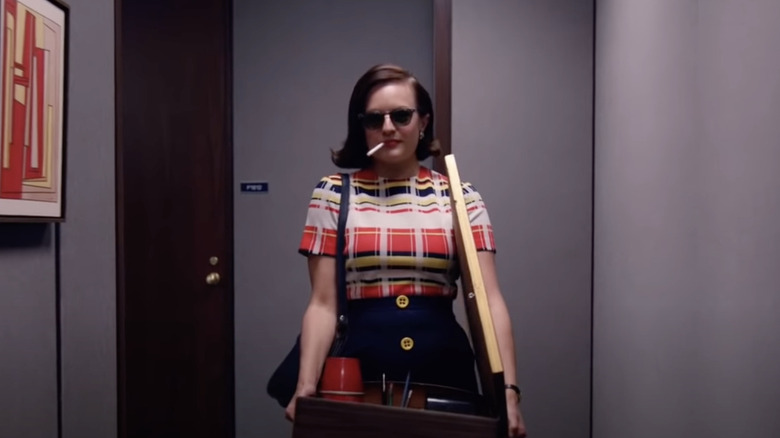 Elisabeth Moss' big break came at the age of 23 when she landed a role on "Mad Men," as Peggy Olson. Moss' part in the critically acclaimed show propelled her to mainstream stardom. Taking on the role of an upstart, career-oriented woman years ahead of her time was a natural move for Moss. "I just felt like I knew that girl," Moss told Vogue in 2019. "I felt like I could see Peggy. She was the unwitting feminist, the one that wasn't burning bras or marching, who didn't know the phrase 'glass ceiling' but was banging her head up against it."
Moss went on to receive six Emmy nominations, one Golden Globe nomination, and two Screen Actors Guild noms for her performance on the show. But as much as Moss related to the serious energy that Peggy embodied in her day-to-day life, she's actually much more chill. "People meet me, and they're thrown because they expect me to be more serious, intense. I'm just so not," she told Vogue. 
Moss went on to add that she's much more relatable than most of the characters she's known for. She loves watching "Real Housewives of New Jersey" and is partial to romantic comedies over any other genre.
Elisabeth Moss and Fred Armisen had a very public divorce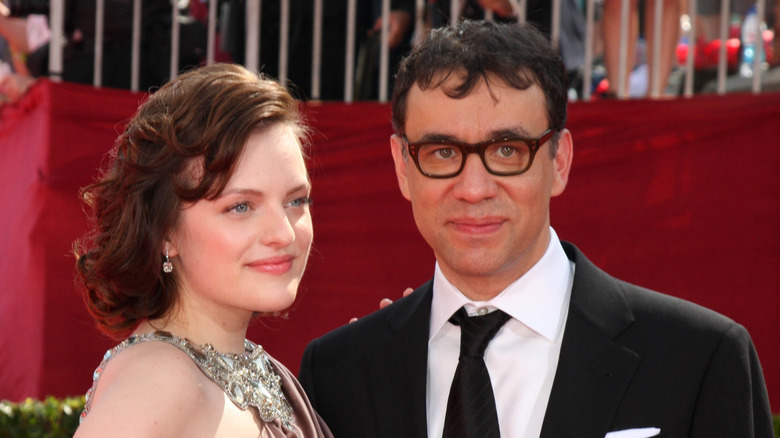 By now, it's clear that Elisabeth Moss is nothing if not committed to her career. What about her love life, though? Well, it turns out all that hard work doesn't really leave a lot of time for romance. Moss is notoriously private with her personal life, but her most high-profile romance to date was also one of her most difficult.
Moss met comedian Fred Armisen in 2008 on the set of "Saturday Night Live." The romance was one for the books, and within three months, they were engaged. But less than a year after the wedding — and just two years after they met — Moss filed for divorce at the age of 29. "One of the greatest things I heard someone say about him is, 'He's so great at doing impersonations," Moss told Page Six after the split (via InStyle). "'But the greatest impersonation he does is that of a normal person.' To me, that sums it up."
For his part, Armisen admitted that he might not have been the best partner. "I think I was a terrible husband, I think I'm a terrible boyfriend," he told Howard Stern in 2013 (via HuffPost). The marriage and very public breakup were difficult for Moss, especially because she was working as hard as ever to meet her career goals. The good news? All that hard work was about to pay off…in a big way.
'The Handmaid's Tale' meant a lot to Elisabeth Moss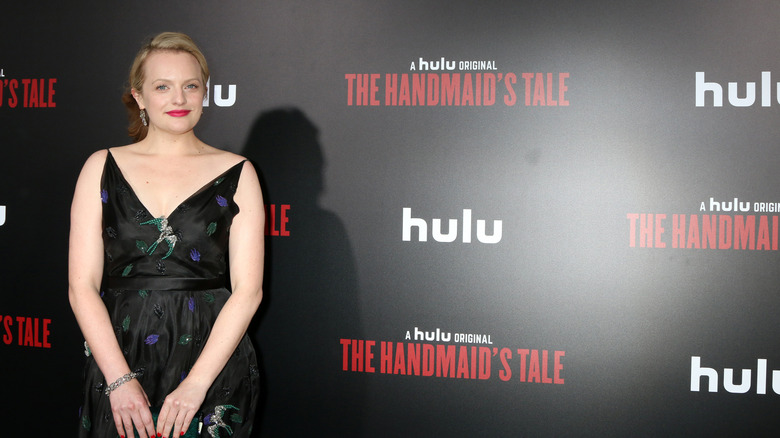 By the time "Mad Men" wrapped in 2015, Elisabeth Moss was 33 and ready to take on more responsibility. Two years later, she landed in her most-acclaimed role, as June (aka Offred), in "The Handmaid's Tale." For Moss, it was the role of a lifetime. "It's been a great place for me to exorcise my emotions, honestly," she told The Guardian in 2020 as she prepared to film the fourth season. "Playing June has inspired me to be a stronger woman and advocate for issues I think are important. It hasn't taken a toll, it's helped me –- in the same way that I hope it's helped our viewers."
The cultural significance of the role isn't lost on Moss, either. Ever since she first donned the iconic red cloak her character is forced to wear, Moss has been speaking out about what the show means to her. 
"It's become a symbol of something so much bigger than a TV show," she told The Guardian. "I feel proud when I put it on. June might wear a cape sometimes, but she's not a superhero. She doesn't have any special skills except following her heart and refusing to give up."
Elisabeth Moss is ready for something new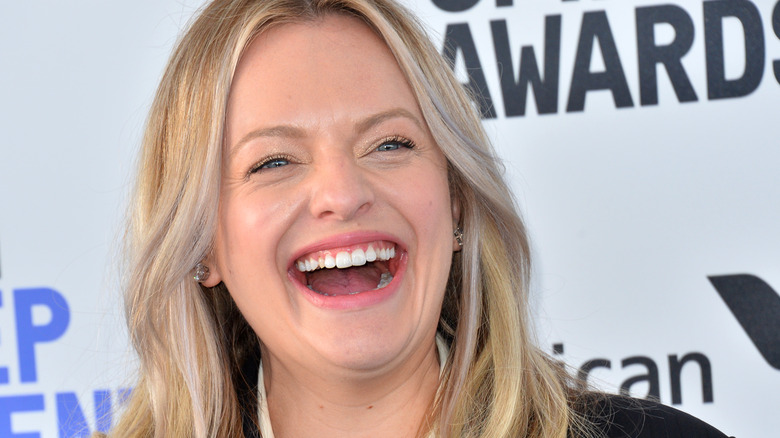 In her long career, Elisabeth Moss has worn many hats. She's been a dancer, a television actor, a theatre actor, and a big-screen star. Now, she's ready for something new. As fans began gearing up for the fourth season of "The Handmaid's Tale," news broke that Moss was ready to try her hand at directing. Moss signed on to direct three episodes of the upcoming season, per People. "This is my first time," the actor, who stars as June Osborne on the series, said during a June 2021 appearance on "Jimmy Kimmel Live" (via People). "I was originally only supposed to [direct] the one [episode], and then I liked it so much that I thought, 'Well, there's an open position later in the season — we don't have a director.' And I kind of put myself forward for the job…I really, really loved it."
Moss' first episode was a little tricky, though. "I liked the script so much, it was a beautiful script," she said. "When I started prepping it, I realized it was like all this special effects and VFX and there's green screens everywhere and all these, like, really difficult sequences to do, and I never directed anything before in my life before." Thankfully, it worked out.
Who knows? With her incredible work ethic, there's a good chance we might see Moss take on even more challenging behind-the-scenes roles soon.
Source: Read Full Article