After announcing that he has tested positive for the highly-contagious virus, the host of 'The Late Show with Stephen Colbert' assures his fans that he's 'feeling fine' thanks to the vaccines.
AceShowbiz –Stephen Colbert has gotten sick with COVID-19. Making use of his social media platform, the TV host revealed that his positive result forced him to postpone "The Late Show with Stephen Colbert" for a week.
"Yep! I tested positive for Covid," the 57-year-old comedian tweeted on Thursday, April 21. He went on to assure his fans and followers that "basically [he is] feeling fine- grateful to be vaxxed and boosted."
Elsewhere in his social media post, Stephen jokingly said that "this just proves that I will do anything to avoid interviewing Jason Bateman." He also expressed his gratitude to those who've been wishing for him to have a speedy recovery. "Thank you for the well wishes," he simply said.
Earlier that day, "The Late Show with Stephen Colbert" announced that Stephen tested positive for the highly-contagious virus. "Stephen Colbert has tested positive for Covid 19," read the statement. "Tonight's show is cancelled. As previously planned, the show will be airing repeats tomorrow through next week. We will return with new episodes on May 2nd."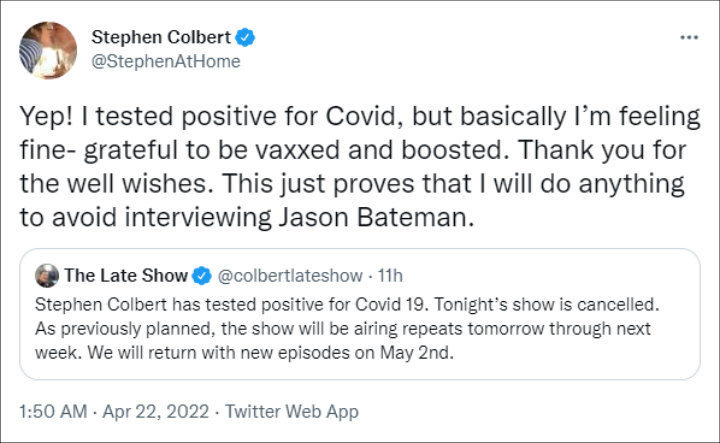 Stephen Colbert jokingly said he tried to avoid an interview with Jason Bateman while announcing his COVID diagnosis.
Jason was set to be the now-canceled Thursday episode's guest. In addition to the Marty Byrde depicter on "Ozark", his co-star Laura Linney was scheduled to appear on the CBS talk show.
As for Stephen, he resumed in-person tapings of his show last June. He had been filming his show remotely since March 2020 due to the coronavirus pandemic. At the time, audience members were required to show proof of full vaccination against COVID-19 in order to be admitted to the full capacity crowd.
During an interview with The Hollywood Reporter last May, Stephen announced that the show returned to The Ed Sullivan Theater on Broadway. "Over the last 437 days, my staff and crew (and family!) have amazed me with their professionalism and creativity as we made shows for an audience we couldn't see or hear," he gushed. "I look forward to once again doing shows for an audience I can smell and touch."
"Hell yes! I cannot wait to say things that are that happy and then hear people cheer. Or boo, or belch, I do not give a f**k at this point. Let her rip!" Stephen jokingly said. "This is not gonna be some socially distanced smattering of a few people. We're returning with a full, vaccinated audience."
Stephen went on to say, "As I said, for all of us to be together safely, everyone in the audience will have to be fully vaccinated, okay?" He then added, "It's like 'No glove, no love.' 'No poke, no joke.' 'No needle, no live interview with Don Cheadle!' "
Source: Read Full Article