The Real Housewives of Atlanta is back for Season 14 and this time, longtime friend of the show Marlo Hampton has her peach. Hampton has been on the show since season 4, and is infamous for her verbal spats with co-stars like Eva Marcille and Kenya Moore. This season, Moore and Hampton remain estranged. In a recent interview, Hampton says Moore doesn't have the capacity to be a true friend and uses Moore's fallout with Cynthia Bailey as an example. 
Marlo Hampton says she can't trust Kenya Moore because of how Moore treated Cynthia Bailey
Hampton recent sat with Entertainment Tonight regarding her promotion to a full-time housewife. Initially, Moore and Hampton put their longstanding feud to the side and called a truce. But amid the filming of Season 14, the two fell out once again, unfollowed one another on social media, and threw subliminal messages toward one another online as well. While it's unclear what led to the breakdown in their relationship, Hampton says it boils down to her not being able to trust Moore.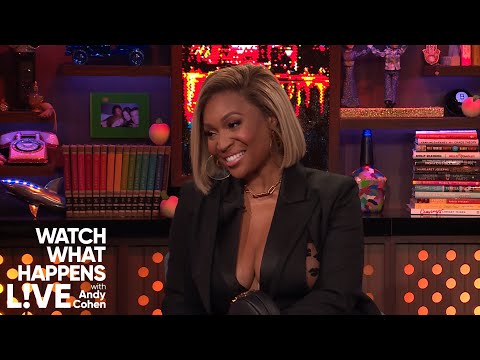 According to Hampton, Moore's treatment of her longtime on-screen BFF Bailey is a prime example that Moore isn't capable of friendship. Viewers recall Bailey feeling axed by Moore during filming Ultimate Girls' Trip, and Moore not being open to discussing their issues on the show.
"The same way she poured that drink on Ramona [Singer], the same way she back-stabbed Cynthia, who's so sweet and has rode for Kenya for years? For her to betray Cynthia, I know you're not the friend for me. That part," Hampton explained.
Cynthia Bailey says she did not have a reciprocal friendship with Kenya Moore
Moore and Bailey say they have spoken since their fallout, but according to Bailey, things are not fully back on track. While she says she is open to continuing the conversation with Moore about how to move forward, Bailey says she will not accept anything less than what she gives.
Looking back on their friendship and fallout, Bailey says she reached a breaking point. After years of admittedly taking the high road with Moore in situations that upset her, she says she couldn't ignore it on Ultimate Girls Trip.
"I'm a 55-year-old woman, I'm going through menopause, I have mood swings. I'm older, so I don't have the same patience that I used to have. I just wasn't having it [on Ultimate Girls Trip]," she told Shadow and Act. "I think for the most part, when you look at things that I've been a part of, for the most part, I'm pretty positive. I've always been a team player. I try to get along with people, I give people passes all the time to just keep the peace because I'm always on a quest for peace…So if anyone's going to be upset with me for living my truth in that moment, then they could just have that because that's just how I felt. And once I got in my feelings, it was hard for me to turn that energy around. Get over it."
Kenya Moore is hopeful things will get better with Cynthia Bailey
While Bailey says moving forward with Moore will take her seeing action from Moore, Moore is more optimistic about the future of their friendship. She also says that their fallout was a misunderstanding.
"I'm hopeful," Moore told Entertainment Tonight in her own recent interview. "We've had conversations and it seems like we definitely are on that path to understanding each other more and appreciating each other more for what we did have in our friendship and in our relationship, so I'm looking forward to what it could be. I think it could be even better."
Source: Read Full Article