Fans who binged Cobra Kai Season 4 got a lot of pleasant surprises. Terry Silver (Thomas Ian Griffith) showed up right in the first episode, but some fan favorite characters from past seasons appeared later. One was one of Johnny Lawrence (William Zabka)'s original Cobra Kai students, whom creators said brought back the feeling of season 1.
[Spoiler alert: This article contains spoilers for Cobra Kai Season 4.]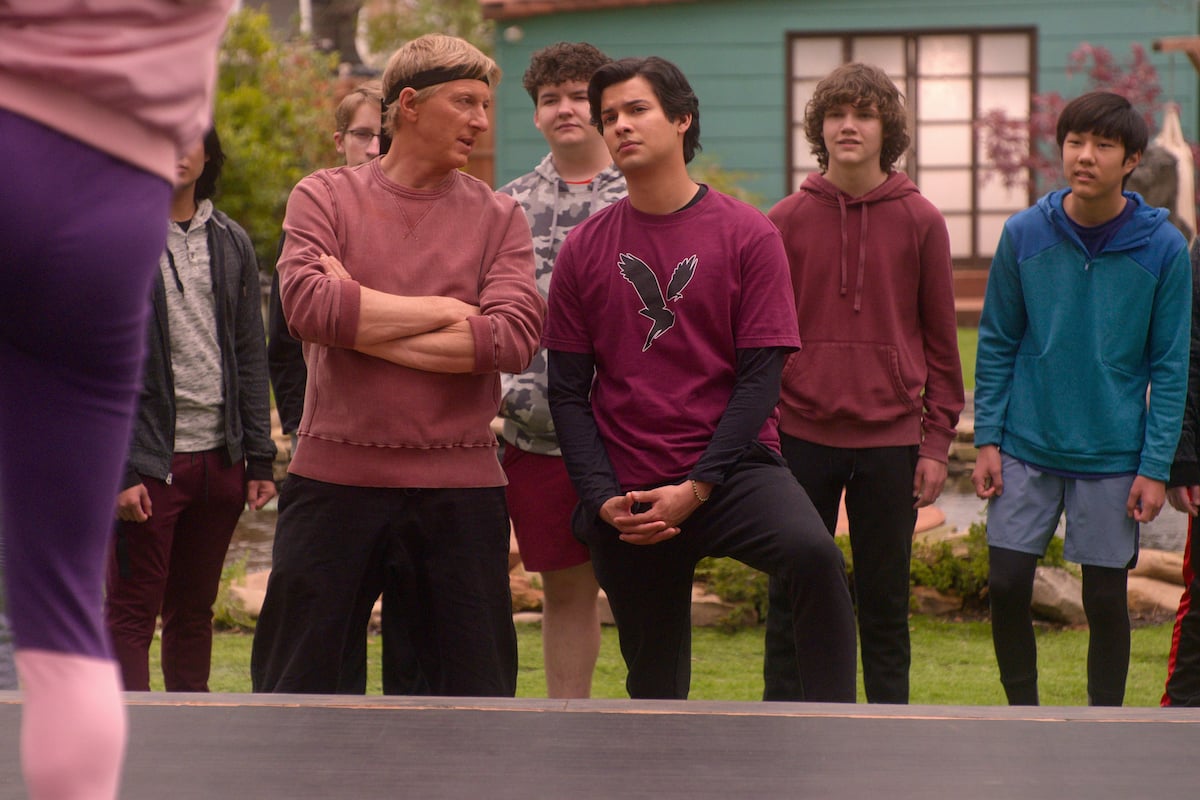 Creators Josh Heald, Jon Hurwitz and Hayden Schlossberg spoke with Showbiz Cheat Sheet by Zoom on Dec. 2 about Cobra Kai Season 4. Heald and Hurwitz discussed one of the season's cameos who was as special for them as she was for the fans.
This season 1 and 2 character returned in 'Cobra Kai' Season 4
Aisha (Nichole Brown) was one of Samantha LaRusso (Mary Mouser)'s friends in school. Aisha joined Cobra Kai to learn to stand up for herself. After the season 2 high school fight, Aisha's parents put her in private school. She is not in season 3 and fans missed her. So it was a treat in Cobra Kai Season 4 when Samantha visited Aisha.
"It was a really special moment on set to see those two together again," Heald said. "It was right back to season 1 vibes and feeling that this callback to who these characters were before Karate entered their lives, and who they are now that they've been through so much. Aisha has benefited from some of the wisdom of Johnny's teachings and has used that to actually become a more confident person and a more well adjusted person in her new school. I think it was important for Sam to see that and to realize that there is something about what Johnny says that can be taken in a way that leads to growth and not always harm."
Aisha delivers an important message in 'Cobra Kai' Season 4
Heald said they always wanted to bring Aisha back to Cobra Kai. Season 4 allowed them a narrative and thematic opportunity.
"We've always wanted to bring Aisha as a character back to the show," Heald said. "It was always a matter of how she comes back and what she brings with her in terms of characterization, growth, advice. How has she changed? How can she change a character? When we exit a character, we're always thinking in our brains how can that character re-enter because we always say no one's ever really gone unless it's Captain Turner. He's eaten by snakes."
Samantha didn't necessarily get Aisha's message
Samantha asks Aisha how to deal with Tory (Peyton List). Aisha encourages Samantha to make the first move, although Samantha makes it clear she's not accepting any of Tory's apologies.
"We want her to be close enough but far enough where she's just out of arm's reach," Heald said. "But when you're lost and trying to find your way and you're Sam, who really needs the ear of somebody who knows her the best, it was kind of the right character at the right time to have that conversation with."
Cobra Kai Season 5 is coming to Netflix, so there's more time for Samantha to understand the full scope of Aisha's advice. Hurwitz said Samantha got some of it.
"Aisha gives her the lesson of strike first," Hurwitz said. "Aisha gives her the benefit of I listened to Sensei Lawrence's lessons and it worked for me. Sam kind of leans into the more aggressive version of Sensei Lawrence's lesson which is you know what? F U. When she uses it for her own device so it's a double edged sword. Johnny's lessons can be used for confidence or for violence."
Source: Read Full Article