NBC's One Chicago shows are back, and Chicago Fire brought a new, untrustworthy face to the forefront. Violet Mikami suspected Emma Jacobs was gunning for her job, and the truth was revealed in episode 20. Additionally, Christopher Herrmann dealt with an eager family friend hoping to open their own bar, and Kelly Severide and Stella Kidd dealt with differences regarding Blake Gallo. Here's a Chicago Fire Season 10 Episode 20 recap.
[Spoiler alert: Chicago Fire Season 10 Episode 20, "Halfway to the Moon," spoilers ahead.]
'Chicago Fire' Season 10 Episode 20 recap: Kelly Severide and Stella Kidd fight about Blake Gallo's future
Chicago Fire Season 10 Episode 20 opens with Kelly Severide and Stella Kidd together. They briefly discuss that they have wedding plans, and it seems they've fully repaired their relationship since Kidd's return from Girls on Fire. While their relationship remains solid, they have a serious disagreement about Blake Gallo's fate.
Gallo works with Kidd on Truck 81, and she deeply values what he brings to the table. He assists in an emergency rescue during the episode, which involved a construction worker getting stuck on a suspended hook block crane. Gallo successfully rescued the worker, impressing both Kidd and Severide. Later on, after Kidd expressed how impressed she was with Gallo's rescue, he tells her he wants to try out for Squad. Kidd then goes to Severide about the situation, and Severide admits he's been training Gallo for Squad on the side. Kidd warns Severide to "back off" from her Truck team.
While in a firetruck together, Severide explains his professional past to Kidd, which makes her rethink holding Gallo back on Truck. In the end, and after speaking to Jason Pelham, Gallo decides he wants to stay on Truck after all. He tells Kidd he doesn't want to break up what they have.
Christopher Herrmann deals with a family friend who desperately wants to have a bar like his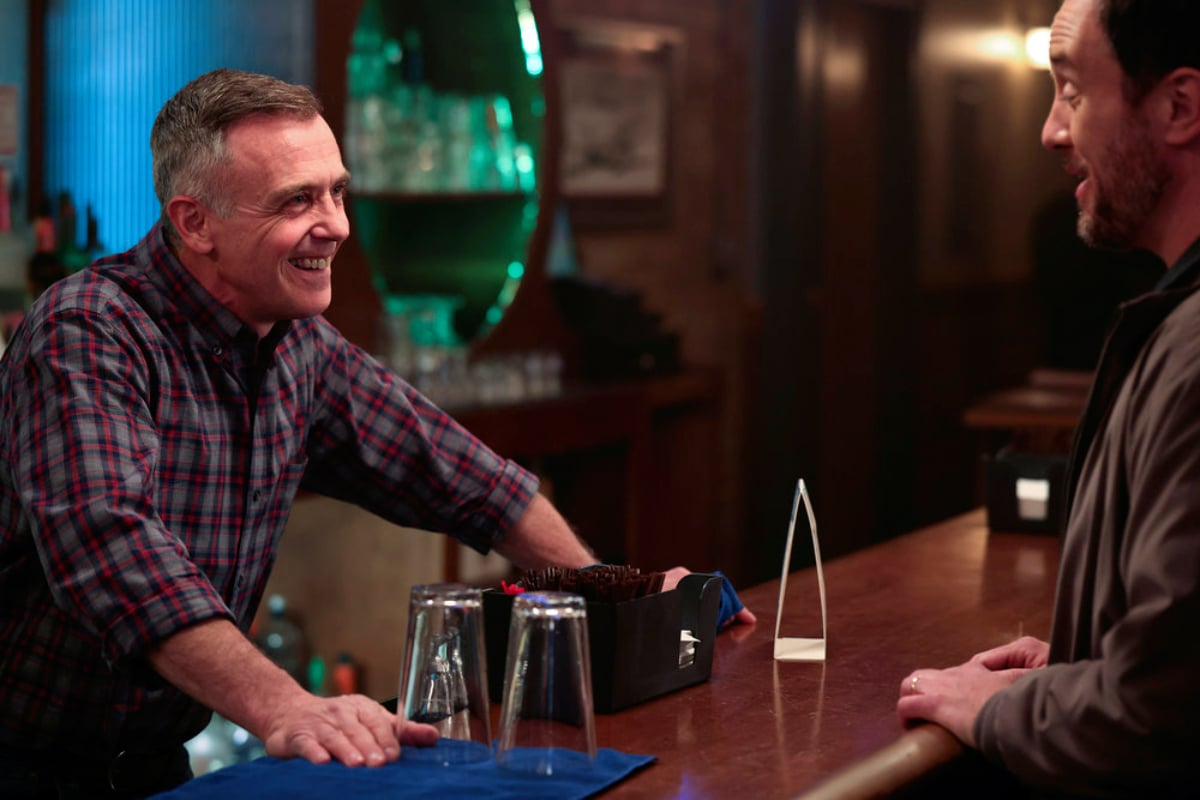 While Stella Kidd, Kelly Severide, and Blake Gallo are dealing with their professional situation, Christopher Herrmann has troubles of his own in Chicago Fire Season 10 Episode 20. Sean DeGrimes knows of Herrmann due to Herrmann's wife, Cindy, knowing Sean's wife in a local book club. Sean hopes to open his own bar — and he wants to ask Herrmann for advice, as he loves Herrmann's bar, Molly's.
Herrmann offers advice to Sean, and Sean invites Herrmann to the soft launch of his bar. Herrmann attends and feels startled by the name of the bar, which is Olly's. When Herrmann enters the bar, he realizes the interior looks exactly like Molly's.
Herrmann goes off on Sean, insinuating Sean's a manipulator and a fraud for copying his bar. Later on, Herrmann softens to Sean. He visits Olly's and tells Sean he has to "find" his "own thing," as that's the only way his bar will take off.
Emma Jacobs blackmails Chief Hawkins to fire or transfer Violet Mikami
The Chicago Fire Season 10 Episode 20 recap wouldn't be complete without Emma Jacobs's drama. Violet Mikami begins the episode distrusting Emma, and Emma can feel it. Violet and Blake Gallo steer clear of Emma when possible, and Emma later approaches Mason and tells him she feels uncomfortable, as it's clear Violet and Gallo have something against her.
Later on, Violet and Emma respond to an emergency call for an asthmatic woman. Violet realizes their jump bag is missing the nebulizer mask, and she believes Emma purposely sabotaged their emergency call. Emma suggests Violet simply forgot to put the mask in the bag, though Violet states she would never forget something so important.
Emma seems innocent until the end of the episode. Finally, Emma approaches Chief Evan Hawkins with a threat. She tells Hawkins that Violet forgot to put the nebulizer mask in the jump bag, which nearly cost a woman her life. When Hawkins questions the validity of Emma's statement, she tells him she knows he and Violet are sleeping together. She then gives him two options — either transfer Violet to another house due to her "mistake," or she'll file a report with witness statements, resulting in Violet's firing.
"So think on it, OK?" Emma tells Hawkins.
Check out Showbiz Cheat Sheet on Facebook!
Source: Read Full Article