How Gaming Hub Addicting Games Revived Itself A Decade After Its Sale to Viacom
Phil Hartman, "Saturday Night Live" (1988-1990)
Long before Alec Baldwin donned a blond wig, the late Phil Hartman played Donald Trump in a series of sketches. The first mocked Donald and Ivana Trump (Jan Hooks) as out-of-touch rich people at Christmas-time, while later skits depicted the couple's tabloid divorce.
NBC
Darrell Hammond, "Saturday Night Live" (1999-2011) 
Before Baldwin, Hammond was the go-to impersonator of Trump, starting with two sketches in 1989 and then off and on in multiple sketches over the next decade. He even returned to don a too-long red tie when Trump was guest host in 2015.
NBC
Louis Ferreira, "Trump Unauthorized" (2005) 
The Portugese-born actor — best known for his work on TV series like "Stargate Universe," "Breaking Bad" and "S.W.A.T." — starred as the real estate mogul-turned reality star in a 2005 ABC movie.
Apollo Media
Jason Sudeikis, "Saturday Night Live" (2012)  
In a cold open parody of "Fox & Friends," Sudeikis channeled Trump criticizing President Barack Obama's handling of Hurricane Sandy. Ironically, he also played Joe Biden during the first years of the Trump administration.
NBC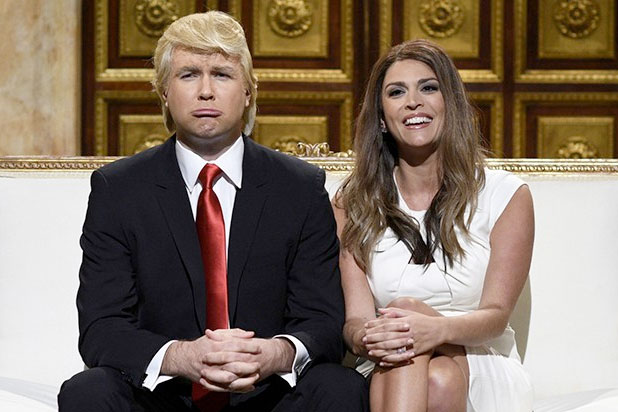 Taran Killam, "Saturday Night Live" (2015) 
After Trump announced his bid for the White House, Taran Killam grimaced his way through sketches as the (then) long-shot candidate in a series of episodes through the early months of the 2016 campaign.
NBC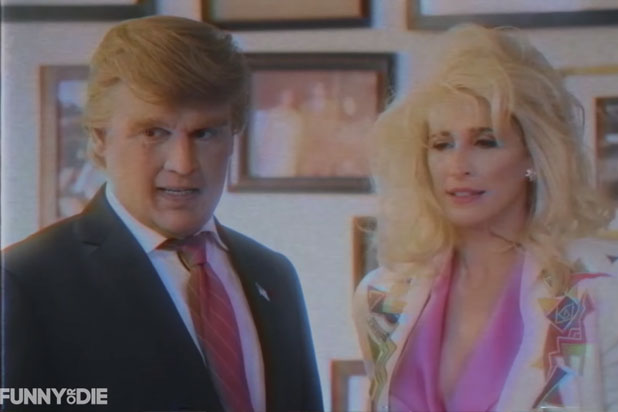 Johnny Depp, "#FODTrumpMovie: Introducing Ivana" (2016)
The heavily made-up "Pirates of the Caribbean" star played an '80s-era Trump (opposite Micheala Watkins' Ivana) in a "found" video posted by Funny or Die in February 2016.
Funny or Die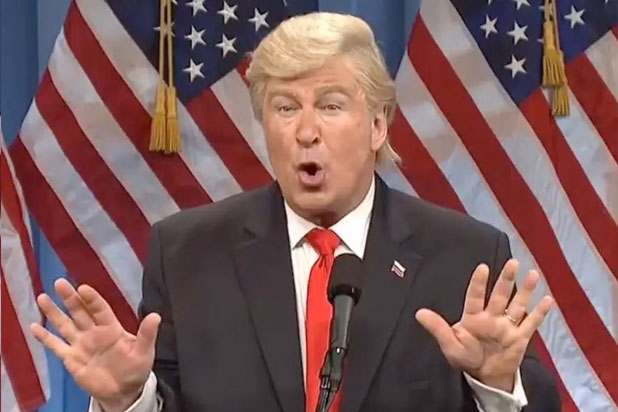 Alec Baldwin, "Saturday Night Live" (2016-)  
The former "30 Rock" star began playing Trump in October 2016 just one month before the mogul's surprise election victory — and he has continued to lampoon the president throughout his presidency, often in the cold open that kicks off the show.
NBC
Bob DiBuono, "The Nightly Show Larry Wilmore Show" (2016)  
Comedian Bob DiBuono has emerged as one of the leading Trump impersonators, appearing regularly on Larry Willmore's Comedy Central show as well as "Murphy Brown" and "The View."
Comedy Central
Jimmy Fallon, "The Tonight Show With Jimmy Fallon" (2016-) 
"SNL" alum Jimmy Fallon received far less favorable reviews for his own Trump impression on "The Tonight Show" — as well as infamous hair-mussing of the then-candidate in a 2016 pre-election appearance.
NBC
Anthony Atamanuik, "The President Show" (2017-18) 
Atamanuik won over critics with his Trump impression: "superior to (Alec) Baldwin's in a handful of ways — chiefly the hands, which he uses to punch the air while simultaneously reaching for a word that won't quite come," Newsday critic Verne Gay wrote). But the series lasted only two seasons.
Comedy Central
Brendan Gleeson, "The Comey Rule" (2020) 
In Showtime's miniseries about the standoff between Trump and former FBI director James Comey, Irish actor Brendan Gleeson plays the Commander in Chief. "Gleeson kicks the program to life," New York Times critic James Poniewozik wrote. "His rendering of Trump's wandering diction is the best I've seen outside a lip-sync. Half his performance is in his bearing, chin jutted forward like the prow of a swollen yacht."
Photo: Ben Mark Holzberg
Jeff Rector, "Bad President" (2020) 
In this satire, the comedian plays a Trump who is seduced by the Devil himself (Eddie Griffin) to run for president.
VMI Distribution
Irish actor Brendan Gleeson is the latest to play the real estate mogul turned Commander in Chief