Cops reveal why they arrested Rex Heuermann, accused of murdering four sex workers, away from his home … as well as how his family reacted to the allegations and the suspect's one question while being processed into jail.
Gilgo Beach murder suspect Rex Heuermann was reportedly "pretty shocked" when authorities arrested him on the sidewalks of Manhattan last week — with police making a conscious decision to apprehend him away from his Long Island home.
Heuerman, an architect who stands accused of murdering at least three women whose bodies were found strewn along Long Island's Ocean Parkway in 2010, was taken into custody outside of his office in the city on Thursday.
Video of the moment he was stopped by plainclothes officers was shared by ABC 7 NY (below), showing Heuerman being trailed by a group of men before they surround him for the arrest.
Suffolk County District Attorney Ray Tierney explained to People that they arrested him outside his office because Heuermann has "92 gun permits" and they felt "it would be safer to get him out of the house."
"We wanted to take him into custody somewhere outside the house, because of access to those weapons," he also told ABC News. Authorities reportedly found 200-300 firearms in the home during a search, which were in a walled-off vault behind a locked metal door in the basement — and included pistols, semi-automatic rifles and revolvers.
Tierney said he believes Heuermann was "pretty shocked" when he was arrested. "He had no clue, which tells us that we did our job," he added.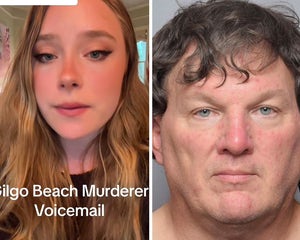 TikToker Claims 'Creepy' Gilgo Beach Murder Suspect Spoke with Her About Killings, Shares Voicemail Online
According to CNN, the suspect was under 24-hour surveillance before he was apprehended by authorities — who were "concerned" Heuermann would find out about the case against him when it was presented to the grand jury earlier last week. Suffolk County Police Commissioner Rodney Harrison told the outlet they thought he could possibly leave the country to evade arrest.
Harrison also said Heuermann's family was "disgusted" and "embarrassed" by the allegations against him — adding, "If you ask me, I don't believe they knew about this double life that Heuermann was living."
A CNN source also claimed that when he was taken to jail for processing, Heuermann's one question was, "Is it in the news?"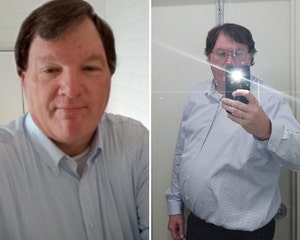 Gilgo Beach Murder Suspect Used Victim's Phones to Taunt Families, Disturbing Internet Searches Revealed: Court Docs
Heuermann was charged with six counts of murder in the deaths of Melissa Barthelemy, Megan Waterman and Amber Costello. He pleaded not guilty on Friday and is being held without bail; his next court appearance is August 1.
In addition to the three women he stands accused of murdering, Heuermann was also named in court docs as the "prime suspect" in the murder of Maureen Brainard-Barnes, the other woman making up the "Gilgo Four."
Speaking with NBC, his defense lawyer Michael Brown said, "I will say to you folks that it's extremely circumstantial in nature. In terms of speaking to my client, the only thing I can tell you that he did say, as he was in tears, was 'I didn't do this.'"
For a full breakdown of the lengthy investigation leading to Heuermann's arrest, click here.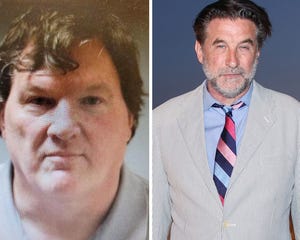 Billy Baldwin Reveals Tie to Gilgo Beach Murder Suspect Rex Heuermann: 'Mind-boggling'
Source: Read Full Article