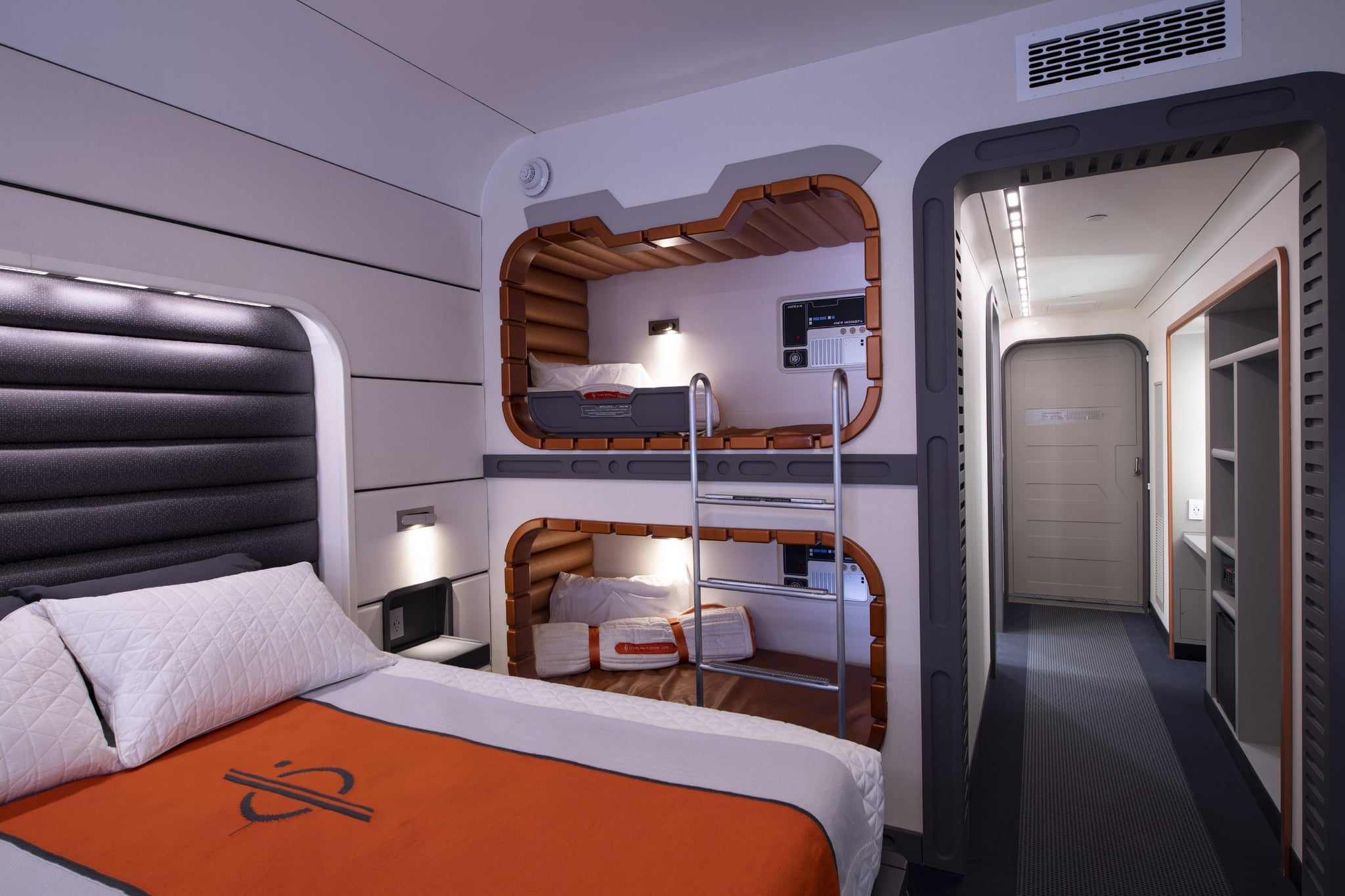 Listen up, Star Wars fans! You might have heard how immersive and cool Walt Disney World's new Star Wars: Galactic Starcruiser hotel is supposed to be (and we bet it'll live up to its hype), but have you seen the prices? Brace yourself: a two-night stay is going to cost a pretty penny. Prices start at $4,809. And while the this rate may sound . . . well, astronomical, keep in mind there's a lot more to this themed hotel experience than turn-down service.
The all-inclusive hotel will be the closest thing a fan can get to living within the Star Wars universe, and as theme park reporter Carlye Wisel pointed out in a Q&A on her Instagram Stories, you can really think of this as a Disney cruise experience on land — aka — it includes everything from meals (make sure to check out the Crown of Corellia Dining Room) to entertainment to parking and more. It's truly an all-encompassing experience where you're given an itinerary and are set to embark on a journey that only a true fan could dream of (which is why you're encouraged not leave for the full 60 hours!). Inside the hotel, you get to interact with characters, experience galactic cuisine and even plot a mission with your peers. And while yes, the hotel is set on Earth, you'd never guess it by looking out its windows, which showcase space in a way that'll make you feel inside a galaxy far far away. Here's the breakdown of its prices — keep in mind, the hotel doesn't open until spring of 2022, so you have some time to save up!
How Much Does It Cost to Stay at the Disney Star Wars: Galactic Starcruiser Hotel?
Disney has laid out standard room rates, but the price varies depending on the number of adults, children, and the exact cabin you choose to stay in. The hotel offers three different cabins — a standard, galaxy, and grand cabin suite — and each has its own specifications and amenities. However, the base prices are as follows:
Two Guests Per Cabin
Price Per Guest: $1,209
Total Voyage Price: $4,809
Three Guests Per Cabin
Price Per Guest (Two Adults, One Kid): $889
Total Voyage Price: $5,299
Four Guests Per Cabin
Price Per Guest (Three Adults, One Kid): $749
Total Voyage Price: $5,999
What Does Disney Star Wars: Galactic Starcruiser Hotel Include?
A two-night stay in a cabin or suite
Interactive entertainment
Food and beverages (excluding alcoholic and specialty beverages) and a quick-service meal at select locations at Disney's Hollywood Studios
Admission to Disney's Hollywood Studios to ride Star Wars: Galaxy's Edge
Valet parking
Exclusive Star Wars: Galactic Starcruiser Magic Band
And there you have it! Now the real question is: are you prepared for blast-off?
Source: Read Full Article