Surprise! Sophie Turner and Joe Jonas shocked literally everyone and got married in Las Vegas after the Billboard Music Awards, and yes there is footage! According to E!, the couple headed to a Las Vegas wedding chapel less than two hours after the 2019 Billboard Music Awards finished (where the Jonas Brothers performed), and obtained a marriage license.
The ceremony was officiated by an Elvis Presley impersonator, country music duo Dan + Shay performed their song "Speechless," and the couple exchanged ring pops. The event seems to have been pretty star studded—not only did the Jonas Brothers' respective wives attend (pretty sure that's Danielle Jonas and Priyanka Chopra up front), Diplo posted some footage to Instagram Stories.
https://www.instagram.com/p/Bw8yiipAlab/
Hours after the couple appeared at the #BBMAs, #SophieTurner and #JoeJonas said their vows at a Las Vegas wedding chapel where an Elvis impersonator officiated! 🍾🎉Congratulations to the newlyweds 🎉
A post shared byGAME OF THRONES (@world.of.ice.and.fire) on
Here's a closer look at Sophie's dress:
Looks like Sophie Turner and Joe Jonas are getting married!! pic.twitter.com/zSW17g5cHC
And her walk down the aisle:
📹 Seems like Joe and Sophie are having a wedding ceremony in Las Vegas right now! (Via Diplo's instagram story) pic.twitter.com/R2K8tATTPT
And this incredible moment:
this is the most joe and sophie thing since seen EVER pic.twitter.com/PmZJAnNCws
The couple had previously planned to get married in France this Summer, which Joe himself confirmed saying "Well, we're going to get married this year. We're going to have a summer wedding, which I'm looking forward to. It's going to be a lot of fun." He even said, "We're going to have a flag rugby game at the wedding and a flag football game. So if all the groomsmen show up with black eyes and broken arms, I'll be very proud."
Considering they sent out save-the-dates that were leaked on line, chances are they'll still go through with their larger over seas wedding, and that this Las Vegas surprise was just a precursor to the main event!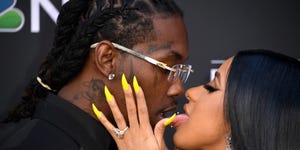 Source: Read Full Article