Victoria's "$100 million senator" Ralph Babet might be a newcomer to electoral politics, but he's already spinning it like a veteran.
Clive Palmer's man in Canberra broke his mainstream media silence in recent days talking to The Age, his first interview since becoming the one and only candidate elected from the Palmer-financed United Australia Party in May's federal election.
But the senator also spoke to the Rebel News online outlet, joined on camera by two fellow members of Victoria's "freedom" movement, Avi Yemeni and Rukshan Fernando last month in a chat that was really quite different in tone.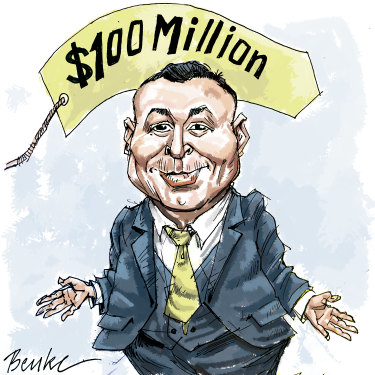 Credit:Joe Benke
And we were intrigued to hear Ralph's views on Palmer's $100 million spending spree – the third time the mining magnate has broken the record for cash-splashing on an Australian election.
Babet insists that there was no alternative to spending $100 million because: "We didn't have the benefit of being Liberal or Labor or the greens…but you know what? They spent about the same as what we did."
That's going to be big news to campaign directors in those parties. But spoiler alert; it's very unlikely that Labor, the Coalition and the Greens will have topped $50 million between them, when the official spending figures emerge in the coming months.
But it got better from Babet: "We were, for lack of a better word, censored," he reckons.
There probably are better words, as anyone who turned on their TV or picked up a newspaper or passed a billboard in the weeks and months prior to the election – as Palmers's saturation ad campaign rolled on – might attest.
On the evidence of that performance, we think Ralph will be a natural at this.
COAL COMFORT
Business reporters around Australia will be distraught at the news that the coal sector's least boring figure, TerraCom executive chairman Craig Ransley has decided to pull the pin.
"The last 10 years have been filled with twists and turns," the TerraCom founder told investors on Friday, while breaking the news of his departure.
You can say that again. Since starting at the miner in 2010, Ransley has landed more than one stand-out deal, including buying the Blair Athol mine in central Queensland scrubland from Rio Tinto for $1 in 2016.
By 2021, the mine was producing 2.7 million tonnes per year, making a motza for shareholders including John Singleton, Alex Waislitz and former Leighton Holdings chief Wal King.
Not bad for a bloke who left school after year 10 and the type of effort that saw TerraCom's share price climb from an all-time low of 4¢ just before it bought Blair Athol to about 60¢ last week.
But then there were the two criminal cases Ransley successfully defended with the not-guilty verdicts effectively wiping out harsh findings by the NSW Independent Commission Against Corruption about his alleged role in having false information provided to regulators about a coal mine.
Or there was the time Federal Court judge Jayne Jagot found Ransley's evidence – in an unsuccessful tax case brought by his wife against the ATO – was "in many respects, untrue, inaccurate and incomplete".
Throughout the ups and downs, the former fitter and machinist remained handy for a quote. "Mate, I don't care what the judge says," he later said of Jagot's remarks.
"Good things come to an end," Ransely said on Friday, while handing over the reins at TerraCom to incoming non-executive chairman Graeme Campbell.
But it's unlikely we've heard the last of Ransley he's only 53 and just doesn't seem the type to stay out of the business pages for long.
FLYING HIGH
What do you buy for a happy couple who have it all? The answer, it seems, is a Roman holiday.
CBD recently got wind of an online wedding gift registry for a "Chris & Scott", who decided against the standard list of tacky post-nuptial presents, and instead asked friends and family to chip in for their dream Italian honeymoon.
"We're incredibly thankful to have everything we already need. So, we're skipping out of tradition and would love for you to help us create some new experiences instead," the registry said.
And the experiences they had in mind were suitably extravagant. Return business class flights from Sydney to Rome, air and train travel across Italy, and luxury accommodation in several Italian cities, including a "ridiculously ritzy" final two nights for $1550 total at a hotel near the Fontana di Trevi.
So who are the soon to be newlyweds? We hear it's none other than Chris Muir, a former chief of staff to ex NSW Liberal minister Andrew Constance, appointed to the state's Industrial Relations Commission by the Berejiklian government last year, and his consultant partner Scott Jeffries.
Muir declined to comment when contacted by CBD, but the register is still up, and those hotel rooms won't pay for themselves.
The Morning Edition newsletter is our guide to the day's most important and interesting stories, analysis and insights. Sign up here.
Most Viewed in National
From our partners
Source: Read Full Article