"Best year of my life with you."
Kylie Jenner only just revealed her son Aire's name last month, but the adorable tot is already turning one year old!
The reality TV star marked his birthday on Thursday with a sweet video on Instagram, highlighting some of their mother-son moments over the past twelve months.
"AIRE. my son, my moon, my stars. best year of my life with you. you complete us my angel. mommy loves you. happy 1st birthday. may God always bless you," she captioned the footage.
In the video, set to "You Are My Sunshine," Kylie is seen rocking her baby boy by a pool, playing with him at the beach, and spending time with him on swings.
There's also footage of the tot getting along swimmingly with his older sister, Stormi Webster, who turned five on Wednesday.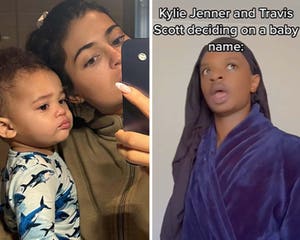 Kylie Jenner Reacts to TikTok Video Poking Fun at How She & Travis Scott Picked Baby Name
A few days after Aire's birth in February 2022, the reality star revealed that she and Travis Scott named their baby Wolf, but that didn't stick.
A month later, Jenner revealed on her Instagram Story that Wolf was no longer the baby's name, "FYI, our sons name isn't Wolf anymore," she explained at the time. "We just really didn't feel like it was him. Just wanted to share because I keep seeing Wolf everywhere."
During a September 2022 episode of "The Kardashians," Kylie confessed she and Travis still hadn't decided on the right name for their baby and were playing the name game to see which would stick.
"Travis actually still changes his name a few times," she shared at the time. "He'll come back and be like, 'I really like this name.' And then for the day he'll call him that. And I'm like, 'We can't do this again.'"
They finally confirmed his name was Aire in January 2023 — with Jenner later clarifying that it's pronounced "Air" and not "Airy."
Source: Read Full Article