"How can you get a DUI on a Power Wheels?" the man asks the officer — after exclaiming, "Are you kidding me?!"
An Indiana man was arrested for DUI last month after being pulled over while on a Power Wheels Jeep — and now the footage of his arrest has been released.
The incident went down on August 23 in Vincennes, Indiana, where an Indiana State Police trooper patrolling the area spotted 51-year-old John McKee driving the kids' vehicle. It appears McKee was stopped for not having any lights or reflectors.
During the stop, the ISP said he "showed signs of impairment," failing field sobriety tests before testing positive for marijuana and meth at a nearby hospital, per authorities. He was later charged with operating a vehicle while intoxicated with a prior conviction. Per WAVE 3, he was booked at the Knox County Jail but has since been released.
Unable to render YouTube Video.
Video of the arrest released to TooFab by the ISP shows the moment a trooper pulled up beside McKee on the blue ride-on.
After asking for the man's license — which he didn't have on him — the trooper told McKee, "You know you can't just drive these things down the road, right?" He then reminded McKee that the Power Wheels had no lights and were "not meant for road."
McKee appears to claim he was returning home from getting gas, before realizing he allegedly left the gas can behind and asking whether he could go back and get it. The trooper, of course, didn't let him go and instead conducted a field sobriety test.
In the video, he's seen stumbling during one of the tests, telling the trooper, "I failed that one."
Later, after learning he'd be charged with DUI at the hospital, McKee is seen exclaiming, "Are you kidding me?! Aw, man."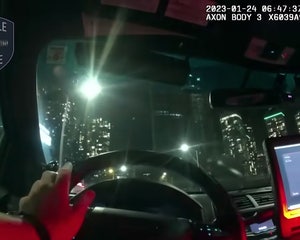 Seattle Cop Heard Laughing, Joking After Woman Is Killed by Another Police Cruiser
While being taken in for processing after going to the hospital, he's also seen asking the trooper in the patrol car, "What are you giving me a DUI for? How can you get a DUI on a Power Wheels? I'm just asking."
"That's still a vehicle that's powered. It's still considered a vehicle," he's told by authorities, before McKee pleads for leniency.
"Why can't you let that one go man, come on dude. Help me out a little bit, man. You don't really have to take me to jail for that, you're just wanting to because you can't take me for nothing else," said McKee. "I've been riding these Power Wheels for the last 9 months and you're the only one taking me to jail. More power to you, you're the only one who's done it. I'm not mad, you're just doing your job, I'm upset, I'm not mad though."
The trooper, meanwhile, said his hands were tied — and said that had McKee not "been under the Influence of stuff," he probably would have let him off with a warning.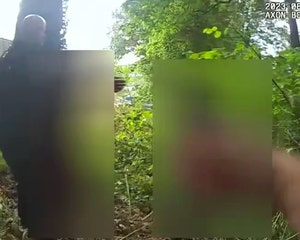 Video: Barking Police Officer Tricks Suspected Car Thieves By Pretending to be K-9 Unit
Source: Read Full Article