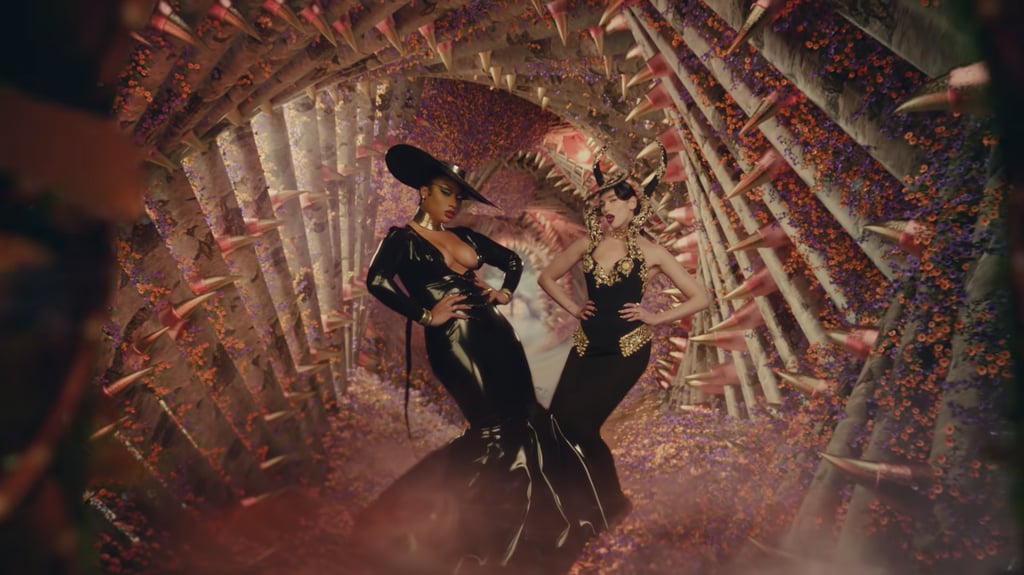 Megan Thee Stallion and Dua Lipa Wear Witchy Corsets and Bikinis in "Sweetest Pie"

Dua Lipa and Megan the Stallion released a new single, "Sweetest Pie" on March 11, and the accompanying video is a fashion feast for the eyes. Embracing this season's Victorian and Matrix-inspired trends, the two Grammy award winners make a case for patent leather, opulent jewelry, extravagant headpieces, and spider couture.
Set in an enchanting forest, the opening scene finds Megan moving gracefully in a tight-fitting, black patent leather gown featuring a plunging neckline, long sleeves and a cascading bell skirt. Accessorized with gold bracelets, collar necklaces, and a black wide-brim hat, the 27-year-old rapper's look packed plenty of allure.
Lipa, who posed next to her, donned an ornate Schiaparelli couture gown that turned her into the chicest witch on a mission to captivate her suitors. The surrealist-looking design featured a gold-trimmed sweetheart neckline and S-shaped horns embellished with gold metal plates. A matching veil hat, swirly choker necklace, and metallic waist inserts added to the drama.
This was only the first in a series of spectacular ensembles, several of them involving corseted silhouettes. We spotted a blue pearl-layered corset with matching thigh-high boots; an embellished blue bustier worn with platform heels; a gold cutout bodysuit with green gemstones; and an all-black mesh corset mini dress. In later scenes, the pop stars embraced spider couture, Lipa in a bandeau top and mini skirt look finished with spiked fangs (from Maximilian's Spring 2022 Ready-to-Wear collection), and Megan in a skeleton bodysuit. In one scene, the duo matched their makeup to their pool-friendly looks, Megan in a cerulean bikini and aquatic-inspired eyeshadow, and Lipa in a black swimsuit with gold accents and a shimmery metallic eye.
Megan explained on Twitter that the video is inspired by her love of "horror films" and it's meant to signify resilience in the face of misogyny. "The symbolism of the video was how when men come for me I eat they ass up every time," she tweeted, adding: "and even when y'all go on y'all's witch hunts attacking women for whatever reasons y'all make up we still rise from the ashes stronger than ever🖤."
Scroll on to watch the "Sweetest Pie" video, and prepare to be seduced by the fantastical costumes.
Source: Read Full Article