Framesira/Shutterstock
By Haley Van Horn/Aug. 24, 2021 4:36 pm EDT
Smartwatches have been all the rage since Apple debuted the Apple Watch hit the shelves in April of 2015 (per Screen Rant). During its first series run, the Apple Watch cost anywhere between $350 and $10,000, depending on all the bells and whistles you opted for. The price got as high as $10,000 depending on what type of band you purchased with it, which is a wild concept.
Now, according to Apple, the brand's most recent release, the Apple Watch Series 6, starts at $399 and ranges into the thousands. For many people out there, that price tag is too steep.
Whether you want a smartwatch to help track your workouts at the gym or to use it as a way to get your cell phone notifications without pulling out your phone every ten seconds, there are several more affordable options on the market. If you are not loyal to the Apple logo like many are, here are some alternatives to consider when investing in a smartwatch.
Fitbit Versa 3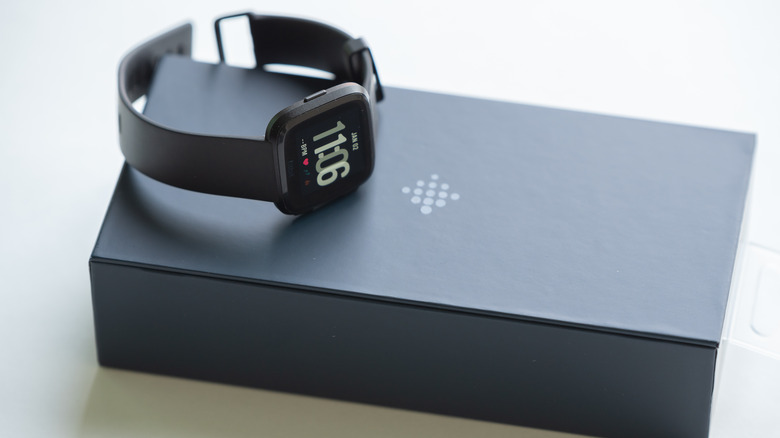 If you are looking for a watch that shares the most similarities with Apple's model, you may want to invest in the Fitbit Versa 3 for about $230 on Amazon. According to Wareable, the Fitbit battery life can last up to six days. Apple has gotten criticism for its short battery life. You need to pop that thing on a charger daily. If a long lifespan is something you value, the Fitbit Versa may be your dream watch.
If you love the Apple Watch's workout tracking feature, you will rave about the Fitbit's ability to accurately calculate calories burned and steps walked. It can also calculate your blood oxygen levels while you sleep, making this watch the optimal choice for all of you health nuts out there.
Users who are looking for several apps that are compatible with a smartwatch may want to pass on this one. The apps you can use on an Apple Watch will likely be unavailable for the Fitbit. However, it can give you call and text notifications from your phone to your wrist. So, if apps aren't a necessity to you but being able to access your phone's basic functions are, this is a great smartwatch option.
Amazfit Bip U Pro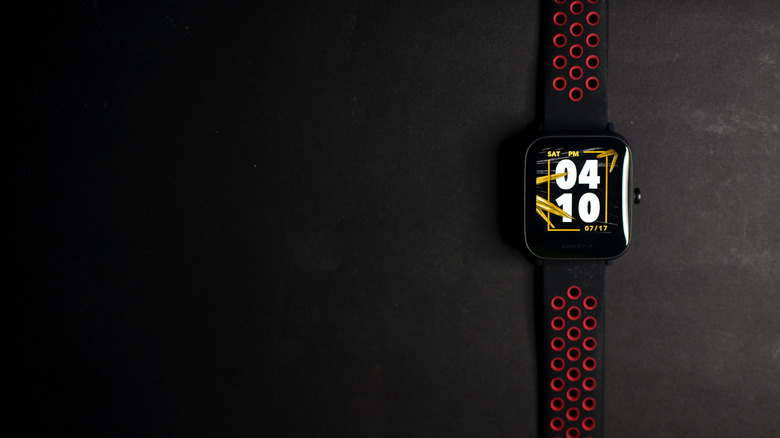 The Amazfit Bip U Pro shares many of the Apple Watch's features without breaking the bank. In fact, this watch can be bought on Amazon for only $60! According to Wareable, this smartwatch is worth your attention. Like the Fitbit Versa 3, the watch has the ability to measure your blood oxygen levels and your heart rate throughout the day. It features a built-in GPS system and a waterproof setting similar to the Apple Watch. Are you curious to know how many calories you're burning in the kiddie pool? Have no fear, you can track them without sustaining water damage to your watch.
The watch doesn't have many bells and whistles, which is to be expected with such a low price tag. According to Tech Radar, this watch has a similar look to the Apple Watch without the extra tech options. If you aren't interested in having a ton of apps on your wrist, this watch is the best option. It does have Amazon Alexa, so you can bark orders at her. Oh yeah, and the battery will stay charged and happy for nine days! 
Other options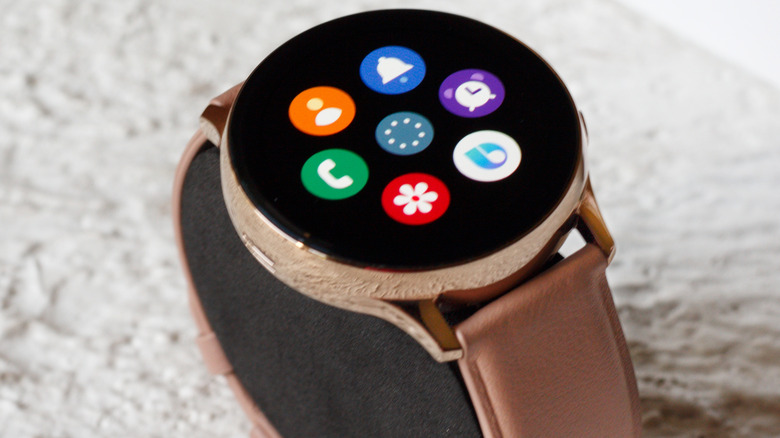 The first option is for you Android users out there. The Samsung Galaxy Active 2 smartwatch comes in at $144 on Amazon. There is a newer model available, but for the price, Wareable cites the second model as the best bang for your buck. This watch has many fitness and wellness features, as well as the ability to use Samsung Pay to purchase items with the scan of your wrist! I Drop News shares that this watch has everything you'd get on an Apple Watch for half of the price and a sleeker, rounded watch face.
Another option out there is the Huawei Watch GT2e. You can snag this smartwatch on Amazon for $134. Like the Samsung watch, Android Authority notes that there is a newer version of the Huawei Watch out there, but if you're looking for affordability, this is the model to grab. It has an amazing battery life and boasts the ability to wear the watch for 14 days without having to charge it. It is water-resistant and the ideal smartwatch for those who are active as it has great swimming, cycling, and running monitoring features.
Source: Read Full Article