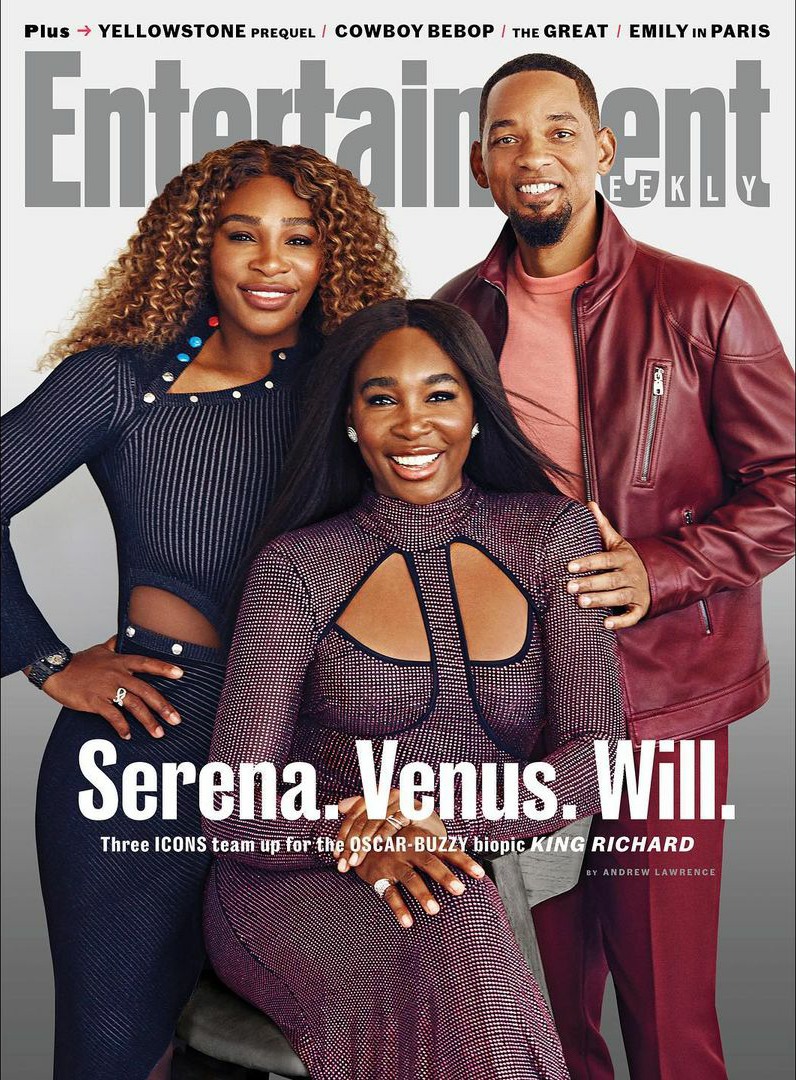 This week's Entertainment Weekly cover story is all about King Richard, the film about how Richard Williams (and Oracene Price) raised Venus and Serena Williams to be the groundbreaking athletes they are today. Richard was the one with the plan, he was the coach, and he taught his daughters how to play and how to win, all on the public courts of Compton, California. Will Smith plays Richard, and Serena and Venus both serve as producers on the film. There's a lot of talk about an Oscar nomination for Will. You can read the full EW piece here. The interview was with Will, Venus and Serena. Some highlights:
Serena on what they didn't know: "There's a scene where my dad says…" Serena starts, before squeezing Smith's arm and catching herself. "Well, Will says that you're doing this for every Black girl. And that really hit me in a different way because obviously at the time we didn't know."

Will on Richard Williams: "I guess the in through Richard appealed to me, because it's the only way I could be involved," says the 53-year-old Smith, jokingly. He adds later that the Williams patriarch "reminds me a lot of my father. It was that same generation — men that used to fix everything with their hands. I understood what it was like to live at the edge of survival and to try to sustain a dream." Adds Serena, 40: "There are so many ways to tell this story. But I think telling it through my dad was the best way because he had the idea. He knew how to do it."

Will thinks Richard was a misunderstood visionary & mystic: "The first time we talked, I saw a little bit of a flash. He was one of the most misunderstood people during that time. Nobody got it." Interestingly, Richard saw his daughters' unlikely future through the viewfinder of a camcorder, his preferred instruction tool on the court. "He was so far ahead in terms of the balance between pushing and protecting, [and] had a savant-level comprehension of when those moments were."

Venus on her legacy: "I love that it captured the innocence — the innocence we still hang on to, actually. It's kind of difficult for me to say, 'Oh, this film shows me.' Because me is Serena. And there's no me without her, and I could have never done what I've been able to achieve on the court without her. It's so symbiotic."
[From EW]
I feel like crying just reading about this film and thinking about how well Richard and Oracene prepared Venus and Serena for the sport and for life. Serena and Venus managed to be competitive with each other but still love and support each other every day, and that's Richard's legacy too.
One of the craziest things I learned from this EW piece: Saniyya Sidney, who plays the teenaged Venus in the film, is a lefty!!! She had to learn how to play tennis right-handed for the movie! Which is an absolutely bonkers thing to do to a child actor!
https://www.instagram.com/p/CVx-ekuvzRQ/
A post shared by Entertainment Weekly (@entertainmentweekly)
Cover & IGs courtesy of Entertainment Weekly.
Source: Read Full Article