Actor and comedian Steve Martin has been famous since the '70s, even entertaining the likes of late and legendary celebrities such as Elvis Presley throughout his impressive career. And it was during his time with one such legend – late-night TV personality Johnny Carson – that Martin excused himself, burst into sobs, and left Carson in hysterics.
What happened when Martin visited The Tonight Show in 1978?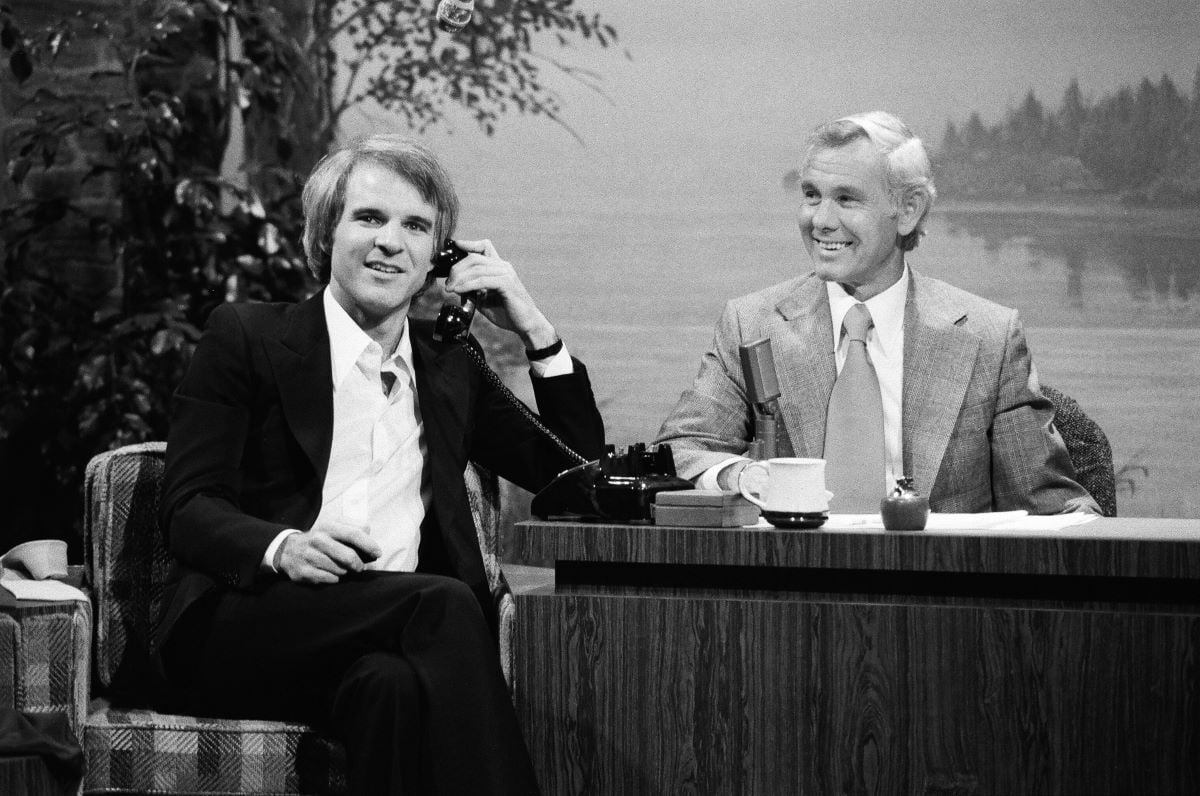 Steve Martin said he had to leave his visit at 'The Tonight Show' early
As Martin told Carson not long into their interview, he had to go rehearse for a movie role – The Jerk. "I understand that you have to leave – that you have to be somewhere this evening," Carson said sympathetically. The audience was audibly unhappy as Martin confirmed he was leaving, and he and Carson agreed to talk about the movie next time.
Then, Carson shook his hand farewell and Martin got plenty of applause as he backed out of view behind the big, colorful curtain. "Funny, funny guy," Carson noted to the audience. "Steve Martin."
But then Martin reappeared in a blubbering state and left the audacious late-night host and his audience cracking up.
Steve Martin: 'I can stay the whole show and a little bit longer'
As a YouTube clip shows, Martin returned to his seat to sob dramatically, and he told Carson, "I don't have to leave. I was lying."
Carson was in hysterics as Martin pretended to weep. "I see all the big stars come on and they always have to leave, and I just thought I'd say I have to leave," Martin said. "But I don't have to leave."
Carson chuckled, "Can you stay a little while with us?"
"I can stay the whole show and a little bit longer," Martin hilariously offered. And as it turned out, he and Carson would form a bond that led to years of friendship.  
Steve Martin on becoming friends with Johnny Carson
Notably, Martin told SiriusXM host Howard Stern in 2016 that he spent his early years on The Tonight Show trying to impress Carson. "The first time I went on, I thought, 'I'll be famous," he said. "But it didn't work out that way."
Martin told Stern he was eventually "demoted" and would only come on the show when there were guest hosts. Martin said he "ran out of material," but added, "With the guest hosts I succeeded again."
After Martin's frequent visits to The Tonight Show, Martin said he formed a friendly bond with Carson and visited the late-night host's house several times for dinners and poker games.
"All we did was laugh," he recalled on The Howard Stern Show. "The whole premise of the poker game was laughter. And then occasionally we would play poker."
Notably, Martin's Only Murders in the Building co-star Martin Short participated in those games, as well. And the friendship continued after Martin quit stand-up in the late '70s. He returned to The Tonight Show several times after becoming a movie star but before Carson's retirement in 1992.
Still, the moment Martin pretended to have to leave early to work on a now-classic movie is considered to be one of their funniest.
Source: Read Full Article