As many sports fans know, the United States Olympic women's artistic gymnastics team was slated to win the gold medal at the 2020 Tokyo Olympic Games, led by Simone Biles. Biles _ the most-decorated gymnast of all time with 25 medals, including six from the 2016 Rio Olympic Games, per USA Today — had to pull out of the team finals after performing on just one apparatus. Biles explained she pulled out because she is suffering from a phenomenon called the "twisties," which is a condition elite gymnasts can sometimes get that causes their mind and body to lose communication. And when an elite gymnast (who is flipping many times in the air) loses their "air awareness," that can be quite dangerous, leading to possible career- or life-ending mistakes.
As there is no set recovery time for the "twisties," Biles has been taking her Olympic competition one day at a time. She originally qualified for everything she could — the team finals, the all-around competition, and all four individual event finals. As she could recover fairly quickly, she has not immediately pulled out of all her events, although she did pull out of the all-around and announced on July 30 that she has pulled out of the uneven bars and vault finals, reported NBC.
Since Biles pulled out, her spot in the vault final goes to MyKayla Skinner. Skinner, an individual gymnast representing Team USA, qualified for the final, but was kept out due to the two-per-country rule. But who is this gymnast? Keep scrolling to find out.
MyKayla Skinner had a long road to the Olympics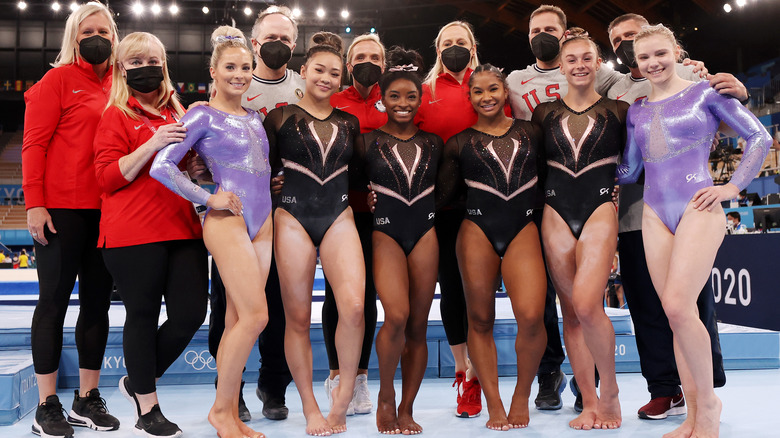 MyKayla Skinner started gymnastics when she was just 4 years old because her older sisters were involved with the sport and she wanted to do it, too, according to her official bio on USA Gymnastics. She made her senior debut in 2012, making the U.S. National Team, but Skinner did not get tapped for the Olympic team for the 2012 London Games. She continued competing, though, performing as part of the gold medal U.S. World Championship team in 2014 and achieving great finishes in national and international senior competitions. However, she did not make the U.S. Olympic Team for the 2016 Rio Olympics, instead getting tapped as an alternate, traveling to the games, but not taking part in any of their achievements.
After Rio, she stepped back from elite gymnastics, attending the University of Utah and competing successfully in NCAA gymnastics. However, in 2019, Skinner made the decision to try for the 2020 Tokyo Olympics, deferring her senior year of college, as seen on her YouTube channel. She competed well, but the parameters of Olympic gymnastics had changed. Countries could no longer have a team of five. Instead, they could bring a team of four to compete for the team finals and two individuals, who would only compete for event finals and the all-around. Due to Skinner's efforts at the Olympic Trials, she would finally earn a spot on Team USA — but only as an individual, a disappointment for the athlete who has tried so hard.
MyKayla Skinner has one more chance for a medal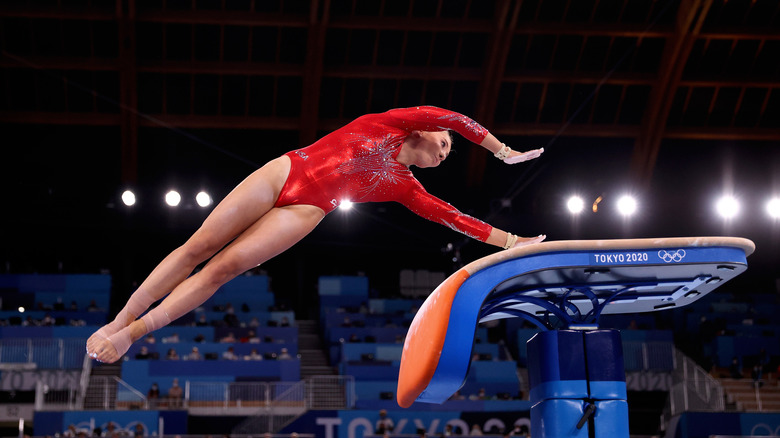 During qualifications at the 2020 Tokyo Olympics, MyKayla Skinner competed on all four apparatuses, hoping to qualify for the all-around competition, as well as event finals. As reported in People, Skinner placed 10th in the all-around qualifications and did not qualify for any event finals, due to the two-per-country rule. Although the top 24 gymnasts would compete for the all-around, Simone Biles, Sunisa Lee, and Jade Carey scored higher than her, keeping her out of the competition. Event finals take the top eight competitors, and even though Skinner placed within those top eight for the vault, she was yet again kept out of that apparatus final by the two-per-country rule since Biles and Carey placed ahead of her. But with Biles pulling out, Skinner now has the chance to compete, keeping her hope for earning an Olympic medal alive. (As an individual competitor, Skinner did not receive a silver medal from the team final.)
People spoke to Skinner's mom about what her daughter must be feeling. She was originally scheduled to leave Tokyo on July 28, but stayed in the country just in case. "Simone must feel crushed that she can't compete," Skinner's mom told the publication. "But it opened up that opportunity for MyKayla. MyKayla would just be on top of the world because she really wants a chance to get a medal." Her mother continued, saying Skinner has been "training really well" and will "give it her all."
The vault final will be MyKayla Skinner's last competition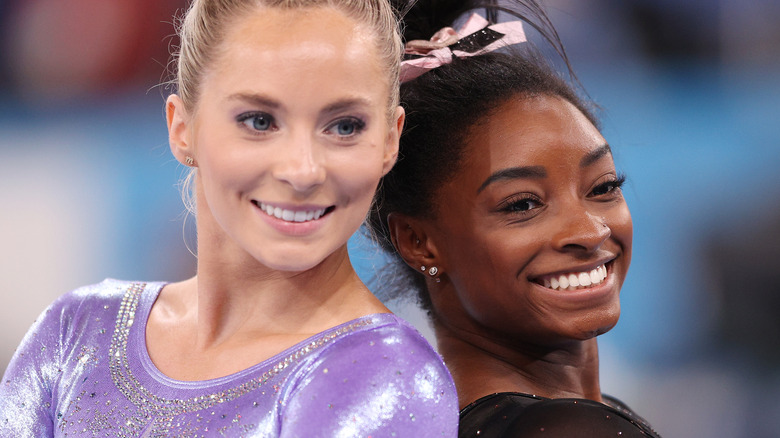 Prior to heading to Tokyo for the 2020 Olympic Games as an individual, MyKayla Skinner shared on her Instagram that she would be retiring from gymnastics. On July 3, she said she would not be returning to compete in gymnastics at the University of Utah. According to USA Today, Skinner will return to finish her degree, but her NCAA career is behind her. Additionally, after Skinner failed to initially qualify for the all-around or any event final, she wrote in a separate post that she was "heartbroken … but proud of myself for getting here after everything I've been through." She said she was "closing the book on my gymnastics career, and my only regrets were things outside my control."
However, after Biles pulled out, Skinner posted on her Instagram again, writing that she would be putting on "a competition Leo … one more time." She said she "can't wait to compete in vault finals" and also dedicated her effort to Biles. Biles and Skinner, who are both 24 years old, refer to themselves as "flippin grandmas" and seem to have a great relationship.
Skinner shared that, following her Olympic experience, she would be joining Biles, Jordan Chiles, and 2016 Olympian Laurie Hernandez on the Gold Over America tour. So, while she won't be competing after her event final, it looks like she won't be leaving the sport for good, either.
Source: Read Full Article