Just a few days before he was taken into police custody, the professional mixed martial artist admitted that he has been 'going through serious mental health issues.'
AceShowbiz –Luis Pena has a run-in with the law. The professional mixed martial artist, who is also known as Violent Bob Ross, reportedly was arrested in Florida on Friday, June 18 and charged with robbery and assault.
Although a warrant was out for his arrest in another location, the 27-year-old was booked by the Coral Springs Police Department on counts of robbery by sudden snatching, battery and criminal mischief. By Saturday night, he was held by the Broward County Detention Center on a hold from Palm Beach County.
Offering more details about Luis' arrest was MMA Fighting. "It was actually called in by another police department for us to go and get him," Christian Swinson, public information officer for the Coral Springs police, told the outlet.
"And then we had an independent person tell us where he was, and they took him into custody under that warrant," Christian further explained. "Probably whoever called it in anonymously is involved in that case and wanted him to go to jail."
Just a few days before he was taken into police custody, Luis got candid about struggling with "serious mental health issues." On Wednesday, June 16, he wrote on Twitter, "People aren't comfortable talking about this, but I have been going through serious mental health issues my entire life."
"[I] have finally gained the strength to get and accept the help I've needed for a long time," the UFC fighter added. "If you're struggling take it from me its okay to reach out."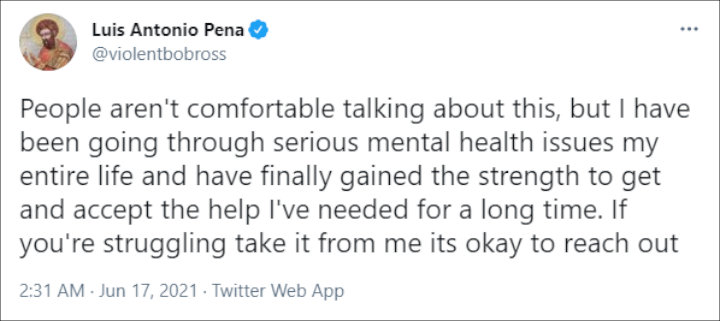 Luis Pena revealed he has been struggling with 'serious' mental health issues.
Luis then turned to Instagram to thank his online devotees for their support. "I appreciate everyone's support in my honesty it's not any easy subject to talk about or even acknowledge yourself," he penned. "If you're struggling take it from me its okay to reach out and I appreciate every person that's reached out to me in the proceeding hours since my initial tweet thank you everyone."
Source: Read Full Article