We knew we'd be emotional at the memorial for Princess Diana, especially knowing that Prince William and Prince Harry would be reunited and maybe have a chance to make things right between them. But this photo of the brothers at the statue unveiling has us feeling more feelings than we bargained for.
The rift between William and Harry has only seemed to get wider and wider as of late, and neither of the princes has shown any signs of forgiving or forgetting. Some followers of the royal family hoped that the two would find time to heal and to talk it out after the death of their grandfather, Prince Philip. However, it looked like even after seeing each other at Philip's funeral, the bad blood between them remained bad.
But anyone who pays any attention to the royal family that if there's one thing both princes can agree on, it's their love for their mother, who died nearly 24 years ago. Which is why we're sobbing right now, TBH.
The Princess Diana statue brought William and Harry together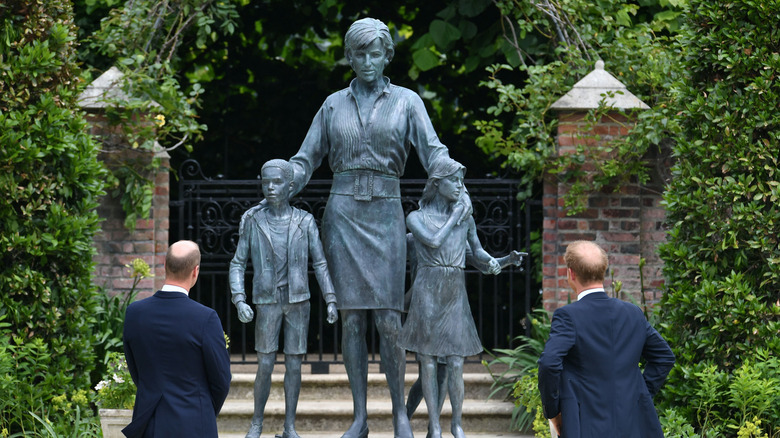 On what would have been Princess Diana's 60th birthday, the memorial statue Prince William and Prince Harry had commissioned was unveiled, and this photo of the two of them looking up at it is so, so touching.
Standing on either side of the statue, the brothers have matching postures (and matching bald patches) as they gaze at the new memorial, which is installed in the Sunken Garden. When they announced the commission, William and Harry said they hoped the sculpture would "recognize her positive impact" and help others "reflect on her life and legacy," according to the BBC.
There's never a bad time to reflect on Princess Diana's legacy if you ask us, but what really has us emotional is thinking about how the brothers are feeling right now. "Today, on what would have been our Mother's 60th birthday, we remember her love, strength, and character — qualities that made her a force for good around the world, changing countless lives for the better," they said in a rare joint statement (via Town and Country). "Every day, we wish she were still with us, and our hope is that this statue will be seen forever as a symbol of her life and her legacy."
Sob.
Source: Read Full Article