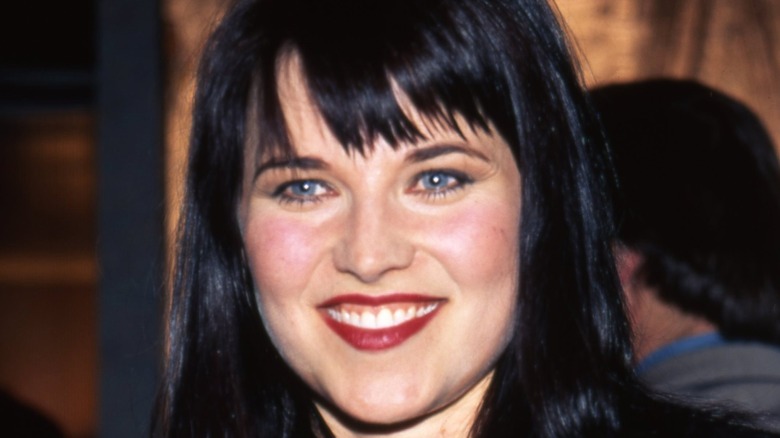 The warrior princess known as Xena first appeared in an episode of syndicated series "Hercules: The Legendary Journeys," depicted as a villain out to kill the show's titular demigod (played by Kevin Sorbo). The character subsequently returned, this time headlining her own series, "Xena: Warrior Princess," starring little-known New Zealand actress Lucy Lawless in the title role. 
The syndicated series enjoyed a successful six-season run, airing from 1995 until 2001, while also becoming a pop-culture touchstone that resonated hugely within the lesbian community at the time (via Salon). Meanwhile, Lawless herself went on to further fame in such subsequent TV hits as "Battlestar Galactica," "Spartacus," and "Ash vs. Evil Dead."
Even though it's been decades since the show ended its six-season run, it remains beloved by fans who've ensured its legacy continues to endure. And despite the series' ongoing popularity, there's a lot that even the most ardent of aficionados may not know. With that in mind, keep on reading to discover the things you never knew about "Xena: Warrior Princess."
Xena was supposed to be killed by Hercules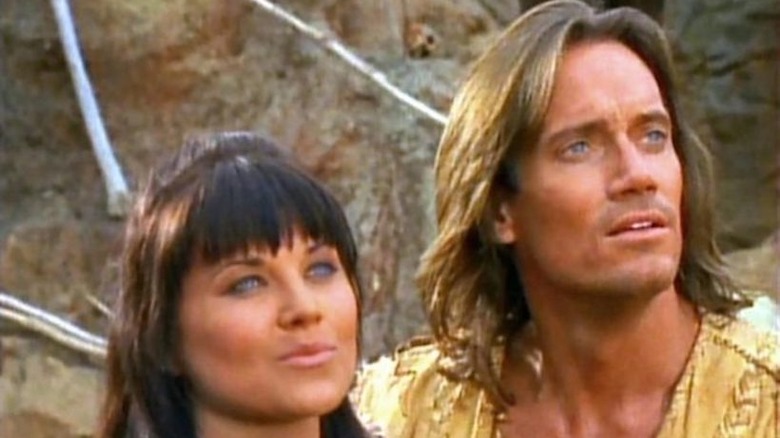 Prior to the debut of "Xena: Warrior Princess," the titular character first appeared in "Hercules: The Legendary Journeys." Unlike Xena's later incarnation as a heroic figure seeking redemption for the misdeeds of her past, the original Xena was a cutthroat warlord out to murder Hercules in a multi-episode arc. The original plan had been to kill off Xena, but fate intervened. 
As "Xena" co-creator Rob Tapert told Entertainment Weekly, Xena's arrival into the "Hercules" universe coincided with Universal Television's desire to create a female-centered companion series. According to Tapert, a Universal exec advised him to "rip yourself off before somebody else does and try and make a spinoff out of that character." The plan was clinched, Tapert said, when Universal execs saw footage of Xena in action. "When they saw the dailies of that episode, they thought, 'Yeah, we should do a spinoff,'" recalled Tapert.
Looking back, Lucy Lawless admitted that landing a guest spot on "Hercules" and immediately starring in a spinoff seemed, at the time, like "an entirely natural process … It's only now that I'm sweating bullets at the extreme, almost cataclysmic good luck that I had. All the stars all lined up."
Lucy Lawless only got the role of Xena after several other actresses turned it down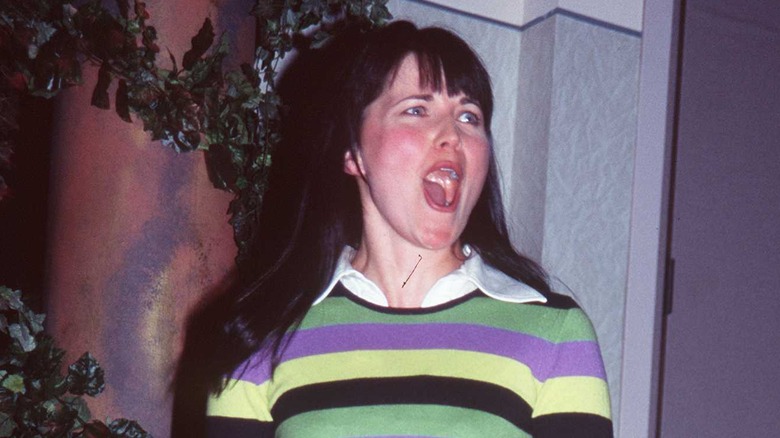 Most fans of "Xena: Warrior Princess" would likely find it difficult to picture anyone but Lucy Lawless in the role. However, the truth is that Lawless was far from producers' first choice during the casting process. "They scouted a lot of actresses in Los Angeles, but because it was pilot season, they were not leaving L.A.," Lawless explained in an interview with the Television Academy. 
Finally, producers honed in on actress Vanessa Angel, whose most prominent role to that point had been in the TV series "Weird Science." According to Lawless, Angel had already been undergoing training to play Xena, but then "pulled out at the last moment." With production due to begin in New Zealand and no actress cast, "Xena" executive producer Rob Tapert (who went on to become Lawless' husband) told Entertainment Weekly, "Ultimately the studio said, 'Well, just get the woman who had been in that last 'Hercules' and dye her hair black.'"
Ultimately, Lawless mused, she landed her big break because "everybody else turned it down. I was the lucky local kid on the spot who got the gig."
Lucy Lawless based Xena's look on an Argentinian tennis star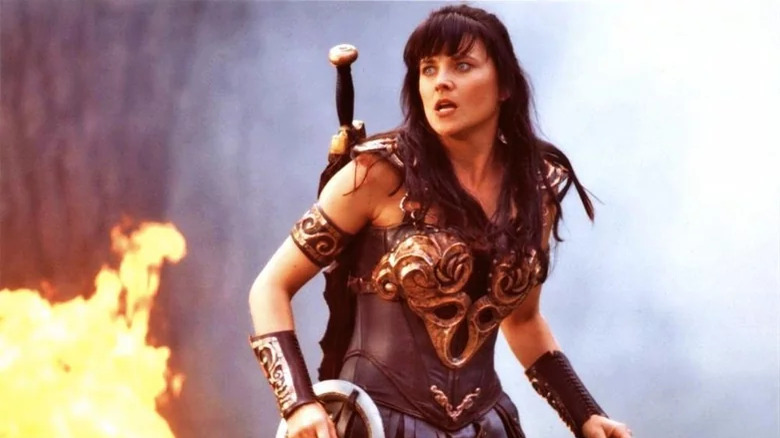 When Lucy Lawless learned that she'd been cast as the star of "Xena: Warrior Princess," she immediately found herself caught up in a whirlwind as things began happening fast. Within days of getting the job, recalled Lawless in an interview for the Television Academy, she was in Auckland, New Zealand, having her hair dyed black for the role. 
The hair color, Lawless revealed, was part and parcel of conversations she'd been having with producers as they batted around ideas to come up with a distinctive look that would define the character. "At first they thought I would go blonde, but Gabriela Sabatini was the big noise in tennis," explained Lawless, who suggested modeling Xena's appearance after the Argentinian tennis phenom. "I was like, 'What about being like her? She's big and bronze and dark-haired.'"
In hindsight, Lawless considers herself fortunate that producers liked the idea and settled on Xena's signature raven-black locks. That, she explained, was "because my hair would have fallen out if we tried to keep it blonde."
Xena's costume resides in the Smithsonian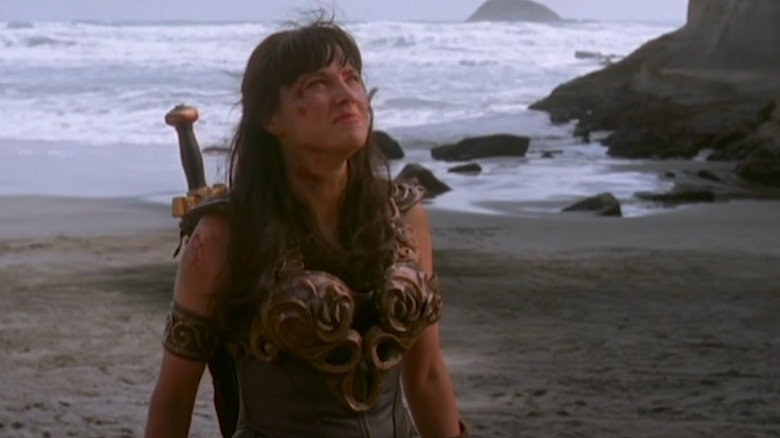 It says a lot about the impact that "Xena: Warrior Princess" exerted on pop culture that the costume Lucy Lawless wore in the series, along with Xena's prop sword, went on to be displayed at the Smithsonian's National Museum of American History. Meanwhile, a second Xena costume also resides at the Museum of New Zealand Te Papa Tongarewa. 
According to Lawless, actually wearing Xena's iconic costume took some getting used to. As she explained in an interview with Smithsonian Magazine, she initially found the outfit quite uncomfortable, "because they would put boning in the corset. It would cover up those little floating ribs that are so important for breathing, so I'd feel like I was having panic attacks."
However, once Lawless became familiar with the outfit, "it just became a second skin after a while," she explained. There was, though, one other aspect of the Xena costume to which she eventually grew accustomed. "It was very functional, once I got over the modesty factor," Lawless added. "I admit to being a little bit embarrassed the first couple weeks because I'd never worn anything so short."
The writers of Xena: Warrior Princess had to keep Xena's relationship with Gabrielle ambiguous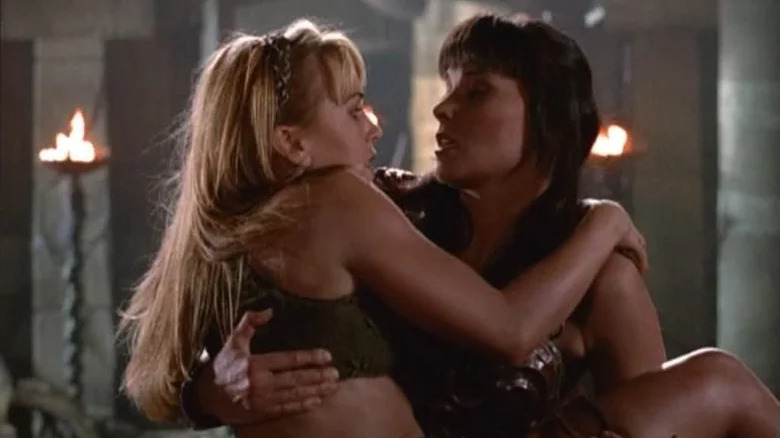 It's no secret that "Xena: Warrior Princess" was hugely popular with the lesbian community, and to this day Xena remains a lesbian icon. "That friendship between Xena and Gabrielle (Renée O'Connor) transmitted some message of self-worth, deservedness, and honor to people who felt very marginalized, so it had a lot of resonance in the gay community," explained Lucy Lawless in an interview for Entertainment Weekly. "For the LGBT community to see themselves on TV was certainly new in the '90s," she continued.
While savvy viewers picked up on the sapphic undercurrent of the relationship between Xena and Gabrielle, so did the studio bosses at Universal Television. "The studio was so concerned that it would be perceived as a lesbian show that they would not allow us to have Xena and Gabrielle in the same frame of the opening titles," revealed series co-creator Rob Tapert on why that relationship remained ambiguous. "We were very aware that there was only so much we could do, because it was a show on network television," added O'Connor. "So anytime Rob would push the envelope as much as he could, he had to work within certain guidelines."
Hindu groups protested the portrayal of the god Krisha on Xena: Warrior Princess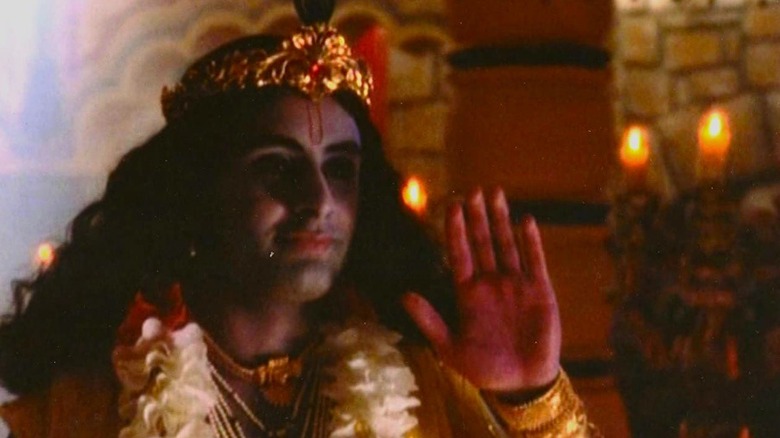 In the ancient world of "Xena: Warrior Princess," many deities and demigods passed through the show. One of these was Krisha, with the Hindu deity allying with Xena in her battle with a demon. Portrayed by actor Rajeev Varma, Krishna's appearance on the show sparked outrage among Hindus. "It's blasphemy," Pradhu Das, spokesman for the New York-New Jersey chapter of the World Vaishnava Association, told the New York Post. "It's like depicting Jesus Christ or Allah as a fictional character and putting words in his mouth."
The show's lesbian subtext didn't exactly help matters. "It makes it appear that Lord Krishna and Vedic religion approves of and gives its blessing to homosexual relationships, which is completely false," added WVA spokesman Tusta Krishnadas. Canada's Global TV network actually pulled the episode, instead airing a rerun, noted the Post. However, a network spokesperson insisted the reason the episode wasn't aired was "because of the violence, not because of religious objections."
Nevertheless, Hindus found the episode to be so objectionable, noted the book "Ancient Worlds in Film and Television: Gender and Politics," that more than 150 protesters rallied outside Universal Studios in North Hollywood. 
Episodes had to be rewritten when Lucy Lawless shattered her pelvis performing a stunt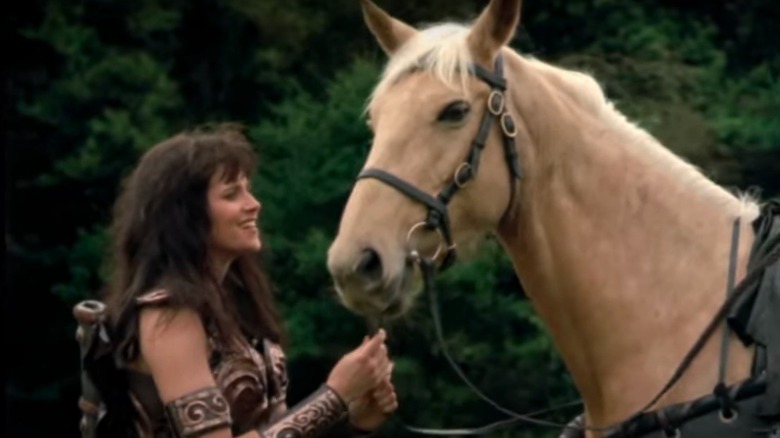 In October 1996, Lucy Lawless was filming a bit for "The Tonight Show with Jay Leno" when she was thrown off the horse she was riding and broke her pelvis; oddly enough, she later told Metro, a psychic had previously predicted "a man with a big chin would hurt me very badly." The injury was severe, resulting in multiple fractures. "It just took me a long time to learn to walk again," Lawless told the Los Angeles Times about five months after the accident. At the time, she admitted she was still unable to run, but had returned to doing stunt work on the show, including "doing all my fights — just toning down the kicks a little."
However, Lawless' injury initially caused a big headache for the writers of "Xena: Warrior Princess." While she recovered, noted ScreenRant, several episodes had to be rewritten to be less action-heavy, featuring more dialogue and a higher reliance on Lawless' stunt double Zoe Bell. One of the episodes that resulted was "Intimate Stranger," with a storyline that featured Xena swapping bodies with Callisto (Hudson Leick), who shouldered the episode while Lawless recovered.
Kevin Sorbo was ticked off when Xena became more popular than Hercules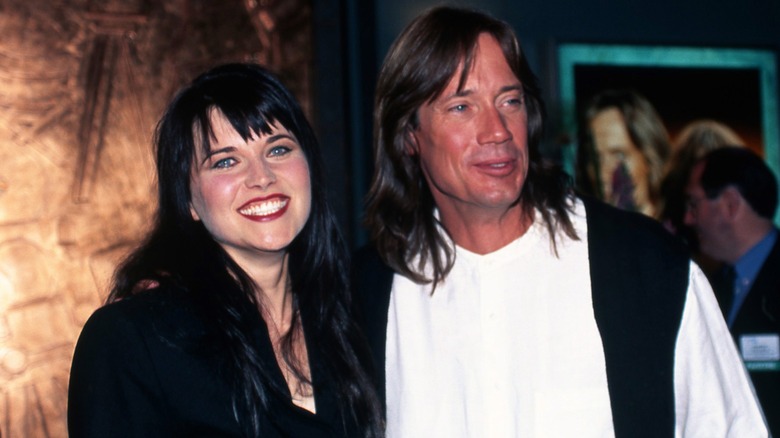 One of the unintended consequences of the success of "Xena: Warrior Princess" was that its popularity quickly surpassed that of the show it had spun off from, "Hercules: The Legendary Journeys" (per Variety). In 2001, the year "Xena" concluded, "Hercules" star Kevin Sorbo gave an interview to SFX magazine (via Newsweek) complaining that "Xena" "was heavily into lesbianism" and "heavily into violence. It was far more violent than 'Hercules' was." 
Later in that same interview, Sorbo offered another explanation for his antipathy toward the show. "'Xena' took all my directors, they took half my writing staff, they took everybody to go and work for that show. They took half my crew! So, you know, it upset a few people, including myself," he said, accusing "Xena" of "stabbing us in the back."
Nearly a decade later, Sorbo slagged not just "Xena," but star Lucy Lawless. In a 2010 interview with BlackBlook, he referred to "Xena" as "the lesbian spinoff," and implied Lawless herself was gay. "She'd never admit one way or another, trust me. She didn't wanna lose that crowd," opined Sorbo, who also theorized her romance with "Xena" co-creator Rob Tapert "is how she got the role."
Lucy Lawless was 'horrified' to be called 'a feminist icon'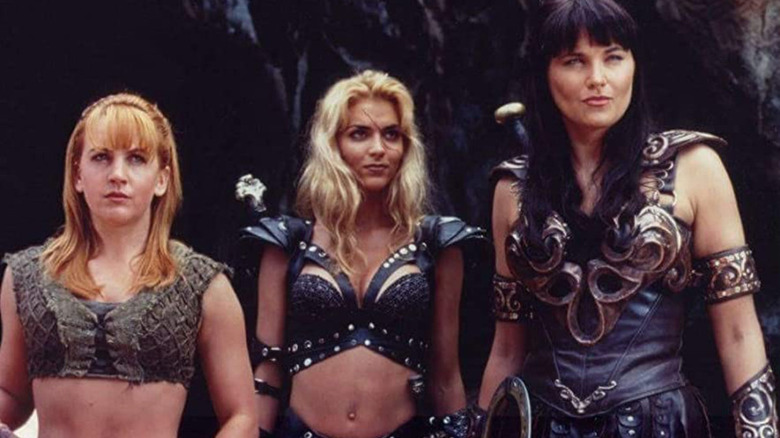 In 1996, Lucy Lawless was interviewed by The New York Times about "Xena: Warrior Princess," with the interviewer referencing a recent cover of Ms. magazine that boasted the headline "Xena-mania." Asked if she was enjoying her new role as "a feminist icon," Lawless admitted that the Ms. article had "riled" her. "I was just so shocked to be asked if I consider myself a feminist. Where I come from, women are just bloody strong, you know?" she told the newspaper.
In a subsequent oral history for Entertainment Weekly, Lawless admitted she felt "weirded out" to see herself referred to with that particular term. "I had never been described before in print and it horrified me to be reduced down to a few words, less than a tweet," she admitted.
However, in hindsight and "with the wisdom of age," Lawless eventually came to appreciate the accolades that had been afforded her. "Now I see the value of it," she revealed. "At 25 and 26, I couldn't bear to be iconized, because it's so reductive."
Lucy Lawless hated the Xena: Warrior Princess series finale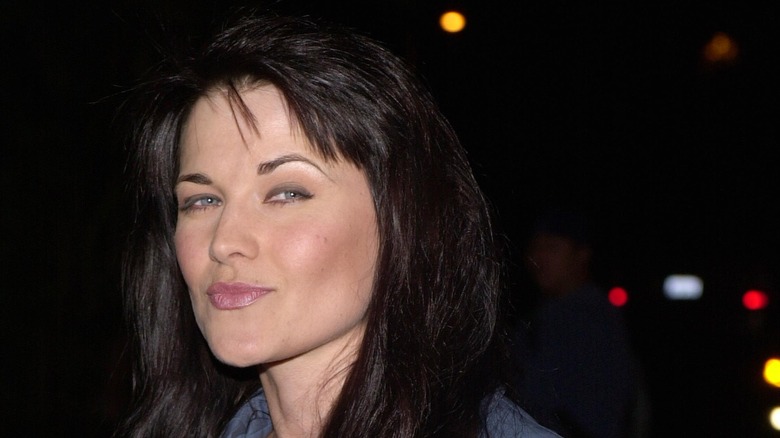 When "Xena: Warrior Princess" ended its run, the series concluded on a definitive note. As E! News recalled, the "Xena" series finale ended with Xena's death after she was shot by arrows and then beheaded, ultimately becoming a ghostly spirit who could visit Gabrielle. When asked by E! News if she thought that was a satisfying ending, star Lucy Lawless declared, "No! Of course I don't." 
When shooting the episode, however, Lawless felt very differently. "At the time, we were like, 'Oh, that's a really strong choice.' We didn't realize how real the characters are to other people," she explained, eventually coming to see the show from the perspective of the viewers who made it such a hit. "And yet all these fans had spent six years watching and rewatching every episode and we cut her bloody head off. That is awful." 
Looking back, Lawless admitted that she now understands why that ending "was really, really offensive to all those fans and I do very much regret it," she confessed. 
A running gag was hidden in the Xena: Warrior Princess credits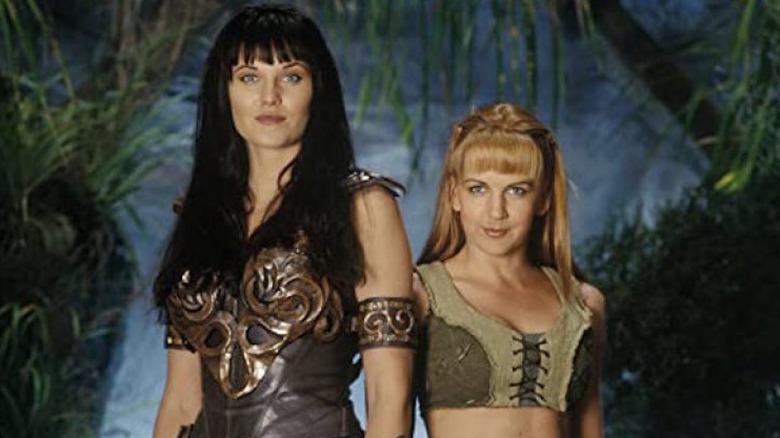 Sharp-eyed viewers of "Xena: Warrior Princess" may have noticed a series of disclaimers that ran in the show's closing credits. These messages changed in each episode, and spoofed American Humane's now-familiar disclaimer that "no animals were harmed" during the making of a television series or motion picture.
Among the variations seen in the credits, recalled E! News, was one message advising, "No Winged Harpies were harmed or sent to a fiery grave during the production of this motion picture." Another read, "No Ambrosia was spilled, spoiled or in any way harmed during the production of this motion picture, thanks to the indefinite shelf life of marshmallows." One message referenced a possible injury for star Renée O'Connor, reading, "Gabrielle's ankle was harmed during the production of this motion picture," while another admitted that "all hell broke loose" during filming of the episode.
IMDb listed a few more, including disclaimers that "No males, centaurs, or amazons," "No Jumbo Sized Cocktail Rats," and "No oversized Polynesian-style Bamboo Horses" had been harmed during production of their respective episodes. 
The Xena: Warrior Princess theme is actually an old Bulgarian folk song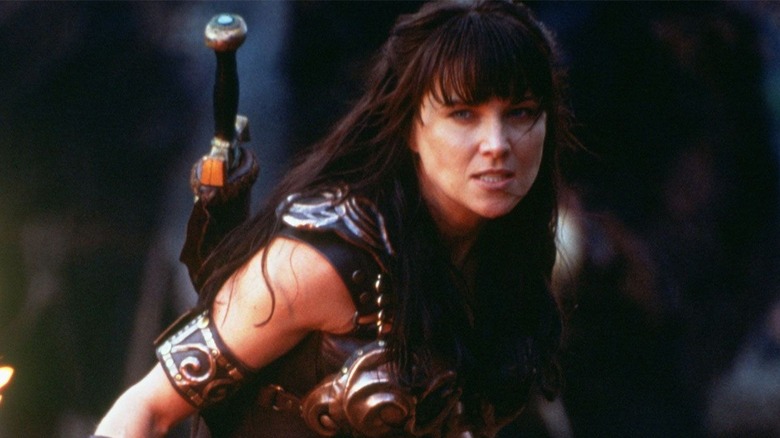 Fans of "Xena: Warrior Princess" are certainly familiar with the show's iconic theme song. What they may not realize is that the theme is actually a reworked version of a traditional Bulgarian folk song, "Kaval Sviri." In an interview with the Xenaville website, "Xena" music supervisor Joseph DoLuca revealed that he had based his theme on "Kaval Sviri," albeit with some adaptations. According to DoLuca, his idea was to "marry primitive drumming, eastern European rhythms, and a Bulgarian women's chorus" in order to create a distinctive, exotic-sounding theme that would evoke the show's titular warrior princess. 
Interestingly enough, in 2016 a vocal trio dubbed Dashina shared a performance of their version of the song on YouTube. Lucy Lawless caught wind of the video and offered her seal of approval. "This is amazing!" she wrote on Twitter. The song has also been recorded by the Balkan Ethno Orchestra, which also produced an accompanying music video for their take on the tune.
Xena's chakram was a real weapon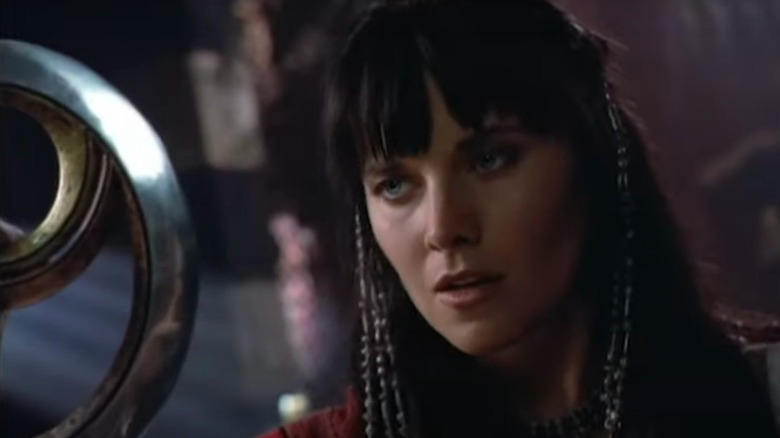 Throughout all six seasons of "Xena: Warrior Princess," the title character's chief weapon was her chakram, a razor-sharp disc that she flung like a deadly Frisbee. While Xena's weapon had been imbued with magical properties, the chakram is an actual weapon with origins in South Asia. According to Aruna Panday of Toronto's York University, the chakram is "an Indian throwing weapon first mentioned in the ancient Hindu text the Rig Veda," in which the weapon is wielded by no less a figure than Hindu deity Vishnu.
Discussing the chakram with Entertainment Weekly, "Xena" co-creator Rob Tapert recalled director Doug Lefler introducing him to the weapon. According to Tapert, Lefler told him that "this round throwing object … should be the warrior princess' weapon."
Lucy Lawless admitted that while it may have looked as if she had mastered the chakram, that was actually the result of skillful film editing. "You throw it out one side of the camera, it comes back the other. It's so reliable," she joked, admitting she'd had her moments fumbling the weapon. "There'd be loads of b-roll of me dropping it, missing it," she revealed. "Many chakram bloopers."
Xena would have been openly gay in a scrapped reboot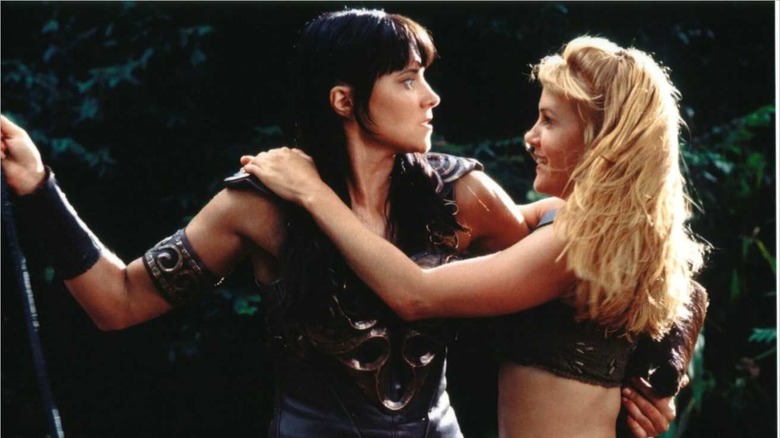 In 2015, The Wrap reported that a reboot of "Xena: Warrior Princess" was in the works for NBC. While the lesbian relationship between Xena and Gabrielle was only implied in the original, Javier Grillo-Marxuach — who had signed on to write the pilot for the reboot — revealed Xena would now be out and proud. Responding to a question on Tumblr (via Newsweek), Grillo-Marxuach wrote, "'Xena' will be a very different show … There is no reason to bring back 'Xena' if it is not there for the purpose of fully exploring a relationship that could only be shown subtextually in first-run syndication in the 1990s." 
Unfortunately, fans never did get to see an openly gay warrior princess. As The Hollywood Reporter reported in 2017, NBC decided not to move forward with the new iteration of "Xena." According to Jennifer Salke, then NBC entertainment president, "Nothing is happening on 'Xena' right now. We looked at some material; we decided at that point that it didn't warrant the reboot." 
While Salke admitted she would "never say never on that one because it's such a beloved title," she conceded that "the current incarnation of it is dead."
Source: Read Full Article