Jennifer Lopez and Ben Affleck have been spending a lot of time together this summer, but she does take time for his kids, too.
Once Lopez and Alex Rodriguez called off their engagement in April, she picked up right where she left off with Affleck. The actor was reportedly spotted at Lopez's house at the end of April and they later jetted off to Montana for a romantic getaway, insisting they were just friends at the time. However, things moved quickly and they stayed "in touch every day" after that trip, as People reported on May 19. "Jennifer is still very excited about how things are going," a source told the outlet.
As Bennifer 2.0 continued to rekindle their romance, their children from previous relationships also bonded. In July, Seraphina and Samuel, two of his children with ex-wife Jennifer Garner, joined Lopez's daughter at Universal CityWalk, according to Page Six. Lopez shares two children with ex-husband Marc Anthony. The bond between the kids only seems to be getting stronger, as a source told ET Online in July, "J.Lo and Ben's families are getting along great and they are making an effort to take things slow when it comes to their kids." It seems J.Lo really wants to keep building a relationship with Affleck's kids, especially his daughters. Keep reading for more details.
Jennifer Lopez bought gifts for Ben Affleck's daughters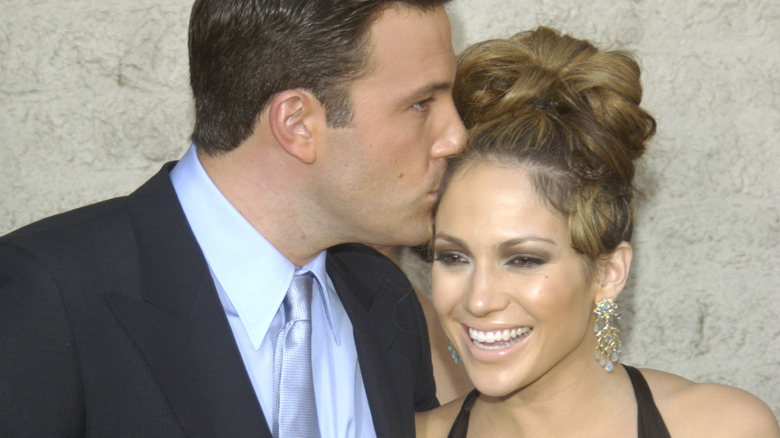 Although Jennifer Lopez is head over heels for Ben Affleck, she took time out of her schedule to show some love to his daughters with ex-wife Jennifer Garner.
On August 15, Lopez and her daughter Emme were spotted at producer Jennifer Klein's house for an event where Lopez picked up a few necklaces for his daughters Seraphina and Violet, according to People. "When she stopped by the Made by Mary jewelry station, she and Emme picked out several 'birth flower necklaces,' including two for Ben's daughters," a source claimed. Lopez was reportedly planning to give them to the girls at Affleck's 49th birthday party. Diane Warren and Laverne Cox reportedly gushed over how "beautiful" Lopez looked with Affleck during their vacation while they were at the party. "J.Lo had a huge smile on her face at that," the source added.
It appears Lopez has been smiling a lot these days, since her kids and Affleck's children seem to get along. Lopez is planning a move to Los Angeles where Affleck is based and her kids are totally "onboard with starting fresh in Los Angeles," as People reported in June. "They are slowly getting to know Ben. Everything seems to be running smoothly. It's very obvious that Jennifer is serious about Ben. She hasn't looked this happy for a long time," that source claimed. It looks like this brood will be living together before we know it!
Source: Read Full Article