He's become known across the world as the United Kingdom's jolly and disheveled Prime Minister, and that's exactly how Boris Johnson wanted it. The roots of his carefully crafted public persona go back to his time at the world-famous Eton College, where he "cultivated the still-familiar image of a quick-witted, slightly shambolic entertainer able to succeed without visibly trying very hard," claims the Associated Press. He then attended the equally prestigious Oxford University and later became a journalist, earning a reputation among his peers as someone with "a talent for self-promotion and an obsession with power," one former colleague at The Daily Telegraph told the outlet.
Today, Johnson has to work extra hard to keep up the act. He's been under more scrutiny than ever since achieving his lifelong dream of becoming prime minister (though technically his childhood ambition was to be "world king," according to his sister), and the pressure has been starting to show. Johnson has faced a spate of scandals since he took power in 2019, and a number of his columns from his time as a member of the press have come back to haunt him in a major way, too. From his highly offensive early articles and his purported extramarital affairs to his questionable conduct during the coronavirus pandemic, we're taking a deep dive into the shady side of Boris Johnson.
Boris Johnson's forgotten novel contains offensive depictions of minorities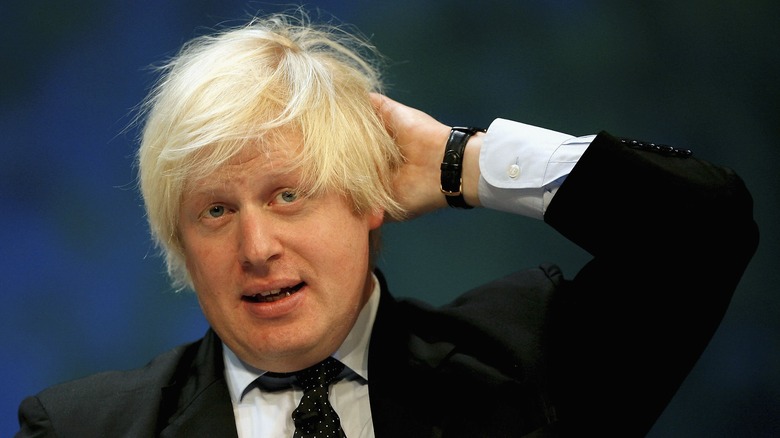 Alexander Boris de Pfeffel Johnson was born in New York City to politician and writer turned reality TV star Stanley Johnson and his painter ex-wife, Charlotte Johnson Wahl. Like his dad (who was a 23-year-old economics student at Columbia University when the future prime minister was born), Boris Johnson is a published author, though he's not quite as successful on that front. Stanley Johnson's "The Commissioner" was adapted into a film starring John Hurt in 1998, but his son's only novel — 2004's "Seventy Two Virgins" — was largely forgotten about. That is, until Boris became prime minister. When journalists revisited his book in 2019, they found it contained many questionable depictions of ethnic minorities.
One of the heroes of "Seventy Two Virgins" describes some Muslims from Kosovo as having "burning eyes, hook noses and hairy black eyebrows that joined in the middle" in one passage, and Johnson spoke of Jews "fiddling" the media in another. The future prime minister also used terms like "Chinaman" and "pikeys," a deeply offensive term in the Traveller community that once got Orlando Bloom in trouble. "Boris Johnson has once again demonstrated that he is not fit to be prime minister," Christine Jardine of the Liberal Democrats told The Independent when quotes from his book began to circulate.
Boris Johnson has been accused of racism on numerous occasions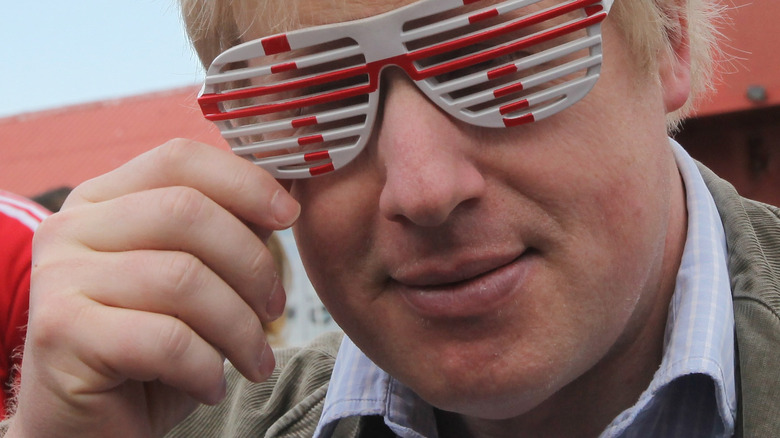 Like his forgotten novel, Boris Johnson's output during his time as a journalist has been put under the spotlight since he took over from Theresa May as leader of the Conservative Party, and it's been found to contain several instances of "language considered to be racist and offensive," per CNN. Writing about then-prime minister Tony Blair's visit to the Democratic Republic of the Congo in 2002, Johnson said that "the tribal warriors will all break out in watermelon smiles to see the big white chief touch down in his big white British taxpayer-funded bird," and, in the same article by The Telegraph, said that the African country provides "regular cheering crowds of flag-waving piccaninnies" for the queen.
When his use of the word "piccaninnies" ("a historical North American racial slur which refers to a child of African descent," per HuffPost) was brought up during his ultimately successful run for Mayor of London, Johnson told the Evening Standard that he felt "very sad that people have been so offended by these words" and that he was "absolutely 100% antiracist." He has, however, always maintained that his comments were made "in a wholly satirical way." Speaking during a 2019 appearance on Sophy Ridge on Sunday (via The Independent), Johnson said that "the quotations have been wrenched out of context." 
Boris Johnson ripped into Hillary Clinton in a scathing column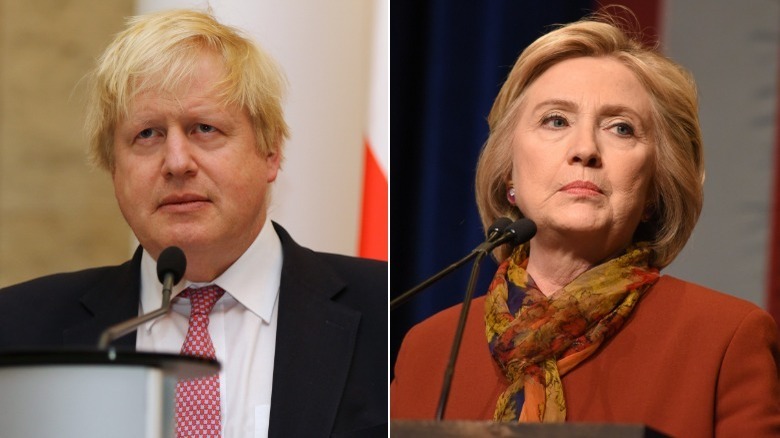 Another column in The Telegraph that came back to bite Boris Johnson in the behind concerned former first lady Hillary Clinton, who had just announced her 2008 presidential campaign. The Brit made no secret of the fact that he wasn't a fan of Clinton, attacking her on both a professional and personal level. "She represents, on the face of it, everything I came into politics to oppose: not just a general desire to raise taxes and nationalize things, but an all-round purse-lipped political correctness," Johnson wrote. "She's got dyed blonde hair and pouty lips, and a steely blue stare, like a sadistic nurse in a mental hospital."
When Johnson embarked on what The Guardian described as a "profile-building tour of [the] U.S." in 2015, he reached out to Clinton for a meeting and was delighted when she agreed. "It is an amazing measure of the goodness and generosity of Hillary Clinton's spirit that she wants to see us in spite of those admittedly lighthearted remarks some years ago," Johnson said. 
Things got icy again in 2019 when Clinton called Johnson's government out for not revealing details of a Russian meddling report prior to the U.K.'s general election that year. Speaking to The Guardian, she asked: "Who do they think they are that they would keep information like that from the public, especially before an election?"
Boris Johnson mocked an Asian flight attendant's accent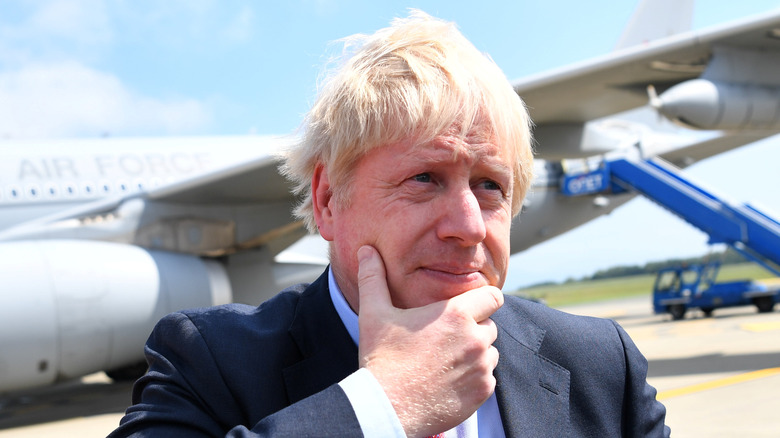 In one of the many shocking extracts from his political thriller "Seventy Two Virgins," Boris Johnson uses offensive eye dialect during a passage with an Asian reporter. When his character Roger Barlow ("a bicycle-riding tussle-haired Tory MP who saves the day and who reviewers have interpreted as being a transparent cipher for Mr. Johnson himself," per The Independent) comes into contact with a journalist that he describes simply as "a woman with an Asian name," he deliberately misspells the word "really" twice in one sentence. "From the minute she introduced herself, Barlow feared her," wrote Johnson. "'I'm reely sorry,' she said, after his initial evasions, 'but I reely do feel you are going to be better off talking to me.'"
Sadly, this wasn't the first time that Johnson was guilty of such a thing. Writing in the magazine The Spectator (of which he was an editor at the time) around a year earlier, the boisterous Brit mocked the accent of a "sweet-faced Chinese air stewardess" who approached him about moving to a kid-free part of the plane. In his article, Johnson changes the sentence "please come with me" to "prease come with me," and writes "very sorry" as "velly solly" when quoting the unnamed British Airways flight attendant.
Boris Johnson reportedly said he'd let 'bodies pile high' over a third lockdown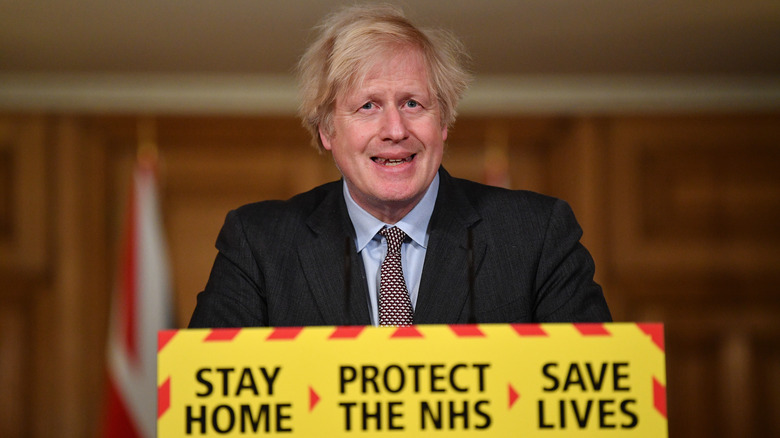 Boris Johnson's response to the coronavirus pandemic has been called into question in the U.K., with critics accusing the prime minister of not acting decisively enough when COVID-19 first started to spread rapidly in Europe. Johnson and his team of advisors were guilty of "dilly-dallying" when countries like Germany were going into strict lockdowns according to University College London's professor of global health, Anthony Costello, who believes that many thousands of British lives were lost due to the government's inaction. "And the problem is, they've repeated these delays," he added (via the Associated Press).
Johnson appeared reluctant to reimpose restrictions in the U.K. when a second wave of coronavirus took hold, and, according to Downing Street sources (via the Daily Mail), he said that he would let "bodies pile high in their thousands" if it meant avoiding a third lockdown. The prime minister denied using these words, calling the story "total rubbish," but BBC sources corroborated the tabloid's claims. "This does take us back to that moment and back to the very serious claims made by some people who were involved in the decision making — including some ministers — that the hesitancy around the second lockdown did cost lives," BBC political editor Laura Kuenssberg said.
Boris Johnson 'almost certainly broke the rules' with his controversial Downing Street refurbishment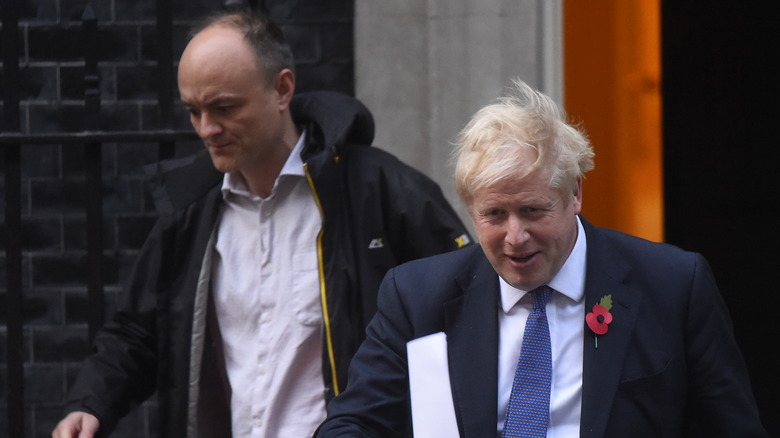 Boris Johnson's former advisor Dominic Cummings was involved in a huge scandal in 2020 when he drove 260 miles across England in an apparent flouting of the lockdown rules — yet he managed to weather the media storm and keep his job. Later that year, he literally walked out of 10 Downing Street with his belongings in a cardboard box. Reports later emerged that he'd lost a power struggle with Johnson's soon-to-be wife, Carrie Symonds, and his newly appointed press secretary, Allegra Stratton. It wasn't long before Cummings (who had been close to Johnson since they collaborated on the Vote Leave campaign) began airing the prime minister's dirty laundry.
Cummings painted a shambolic picture of the government's response to the coronavirus pandemic, and he also claimed that Johnson "almost certainly broke the rules on proper disclosure of political donations" by having donors "secretly pay" for the refurbishment of his Downing Street flat (via the BBC). The extensive work to the apartment (located above 11 Downing Street) is said to have cost almost seven times the prime minister's allocated allowance of £30,000 ($42,500). Johnson's own adviser on standards said that while he had "unwisely…allowed the refurbishment…to proceed without more rigorous regard for how this would be funded," he hadn't actually broken the ministerial code.
Boris Johnson openly mocked a gay member of parliament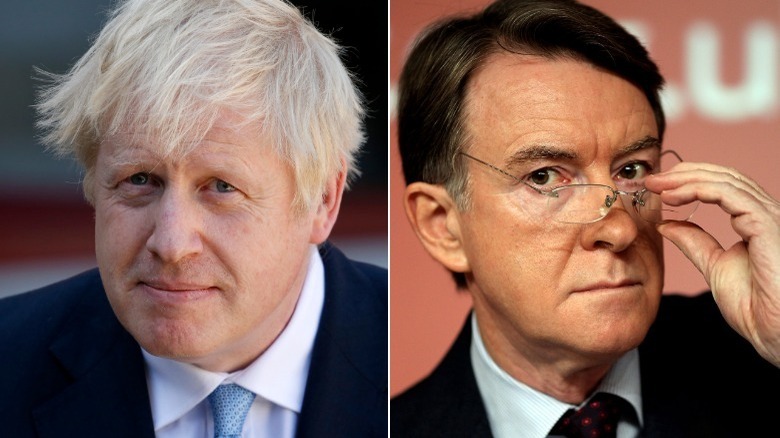 Writing for The Telegraph in 1998, Boris Johnson made an "explicitly homophobic attack" on gay Labour Party MP Peter Mandelson, the latter said. Mandelson had been forced to resign from Tony Blair's cabinet after tabloid stories about his sexuality became "intertwined" with an investigation into a loan payment he'd received, he told Pink News in 2020. Johnson rejoiced over the news in a now-infamous column that refers to gay men as "tank-topped bum boys."
This wasn't an isolated incident. In a 2000 article for The Spectator, Johnson criticized life peer Lord Grenfell for "encouraging the teaching of homosexuality in schools," and he appeared to mock the notion of gay marriage in his first book, 2001's "Friends, Voters, Countrymen." He wrote: "If gay marriage was okay — and I was uncertain on the issue — then I saw no reason in principle why a union should not be consecrated between three men, as well as two men, or indeed three men and a dog."
Johnson has come out in support of marriage equality since, but has repeatedly refused to apologize for the "bum boys" remark. "Anyone who has experienced homophobic abuse or lives in fear of it deserves an ally in Number 10, and it is clear Boris Johnson isn't one," Christine Jardine of the Liberal Democrats told Pink News after Johnson swerved questions about the offending article during a 2019 debate. "He is not fit to be prime minister."
Police were called to Johnson's partner's house after neighbors heard screams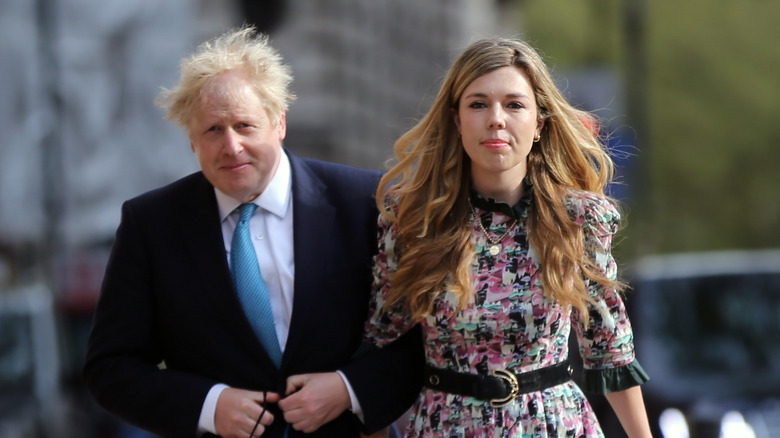 In 2019, a neighbor of Johnson's then-girlfriend Carrie Symonds (the pair, who welcomed their first child together in April 2020, tied the knot in a secret wedding in May 2021) called the police when she heard screams coming from the apartment next door. The concerned neighbor decided to record the argument that was unfolding, and she captured the voice of an angry Boris Johnson apparently refusing to leave. On the recording (provided to The Guardian), Johnson reportedly yells "get off my f****** laptop" while Symonds seems to scold him for spilling red wine on the furniture. "You just don't care for anything because you're spoilt," she reportedly tells Johnson. "You have no care for money or anything."
According to the neighbor, the noise from the row could be heard clearly in their home. "There was a smashing sound of what sounded like plates," they said. "There was a couple of very loud screams that I'm certain were Carrie and she was shouting to 'Get out' a lot … And then there was silence after the screaming. My partner, who was in bed half asleep, had heard a loud bang and the house shook." When The Guardian asked the police about the incident, they confirmed that they had indeed attended the address in question, but found that "there was no cause for police action."
Boris Johnson's long history of sexist comments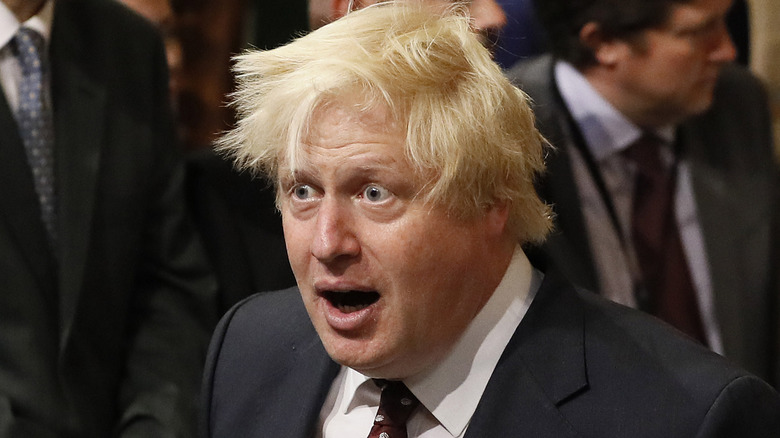 Boris Johnson called for a "cultural and social change in attitudes" in Britain following the death of Sarah Everard, whose shocking murder in March 2021 "sparked a nation's soul-searching," said the BBC. With vigils for the 33-year-old victim turning violent, the prime minister was asked to answer for the numerous sexist remarks he's made over the years.
Back when he was writing for The Telegraph, Johnson's review of the 1996 Labour Party conference consisted largely of him rating the women (or "hot totty," as he refers to them) in attendance. "The unanimous opinion is that what has been called the 'Tottymeter' reading is higher than at any Labour Party conference in living memory," Johnson said (via Business Insider). "Time and again the 'Tottymeter' has gone off as a young woman delegate mounts the rostrum."
In another article, this one printed in The Spectator, Johnson suggested that the best way to deal with Kimberly Quinn (the magazine's publisher at the time) was to "pat her on the bottom and send her on her way." He's refused to answer direct questions about his remarks, but his press secretary, Allegra Stratton, said that Johnson is not sexist and "certainly feels that he had a strong track record on this issue as London Mayor" in a statement (via The Independent).
What went down between Boris Johnson and American entrepreneur Jennifer Arcuri?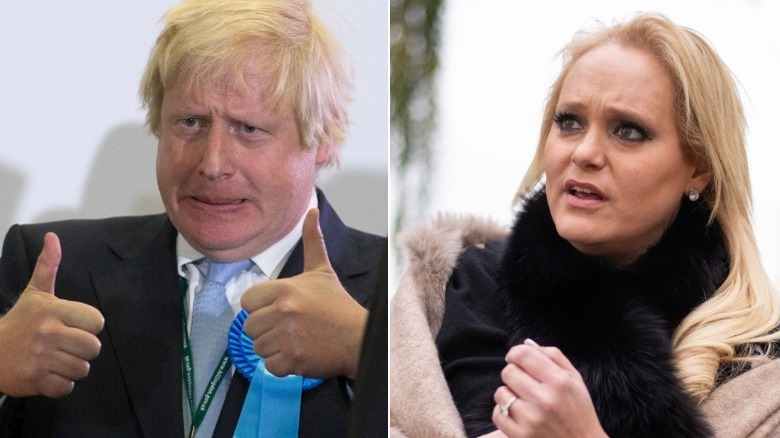 According to businesswoman Jennifer Arcuri, she and Boris Johnson conducted a steamy four-year affair when the politician was still married to his second wife, barrister Marina Wheeler. Questions about the prime minister's relationship with the American entrepreneur were raised when she began to appear alongside him on foreign trade trips, but rather than stand by Arcuri, Johnson made every effort to distance himself from her. At least, that's what Arcuri said when the Mirror caught up with her in the States.
Arcuri told the British tabloid that she fell hard for Johnson while living in London and that they had a weekly rendezvous at her place during his second term as mayor of the city. "We were in an intimate relationship for four years," she said. "I loved him, and with good cause. But the man I thought I knew doesn't exist any more." She went on to dub Johnson a "cowardly wet noodle" for callously cutting contact with her when the press began sniffing around.
Johnson was challenged over his handling of the situation during a 2021 coronavirus press conference, though he clearly wasn't in the mood to go into much detail. Asked by HuffPost political editor Paul Waugh (per the BBC) if he had "acted with honesty and integrity" when it came to Arcuri, the prime minister simply replied: "Yes."
Boris Johnson has reportedly had numerous extramarital affairs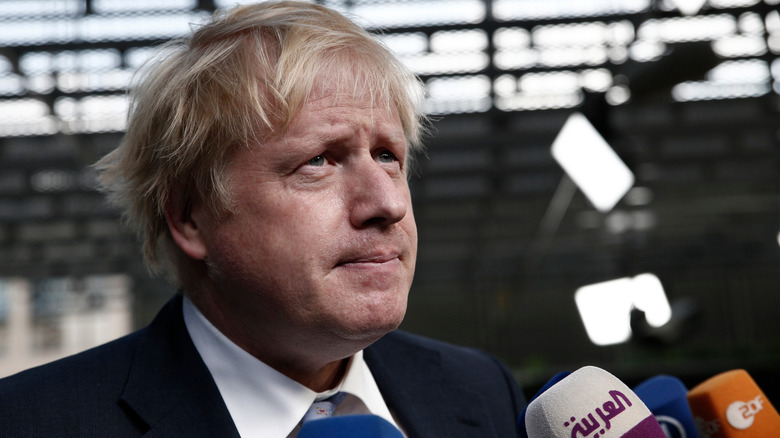 Jennifer Arcuri isn't the only woman to claim that she's had an affair with Boris Johnson. The blond-topped Tory was once "thrown out of the marital home for fathering a lovechild with arts consultant Helen Macintyre" according to Metro, and he later admitted to a relationship with Petronella Wyatt, a columnist and deputy editor during Johnson's time at The Spectator. He called rumors of an affair between them an "inverted pyramid of piffle" and promised then-Conservative Party leader Michael Howard that they were untrue, but when Wyatt's mother told the press that her daughter had aborted Boris' baby, he was dismissed as the party's vice chairman and shadow arts minister.
"I am very sorry this decision has been taken in response to tabloid stories about my private life," Johnson said after his high-profile sacking (via The Guardian). "I am very much looking forward to continuing to promote the policies we have developed on the arts, and will do my utmost to serve my constituents in Henley." Predictably, he didn't go into detail about his fling with Wyatt, though she was more open to sharing. The journalist (who is "one of at least four women [Johnson's] had an extramarital affair with," said Metro) revealed that the prime minister once told her he thinks it's "genuinely unreasonable that men should be confined to one woman."
Boris Johnson's shocking comments about single mothers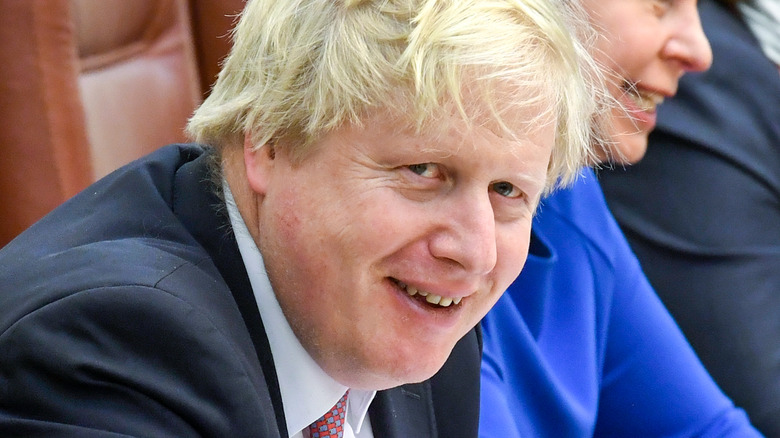 In 2019, an article that Johnson wrote for The Spectator back in 1995 resurfaced, and it betrayed the prime minister's dated attitude towards women, his political opponents said. In the offending piece, Johnson said that it was "outrageous that married couples should [pay] … the single mothers' desire to procreate independently of men" and called the kids of single mothers "ill-raised, ignorant, aggressive and illegitimate children who in theory will be paying for our pensions." He even went on to suggest that welfare cuts were the answer, surmising that "if having a baby out of wedlock meant sure-fire destitution on a Victorian scale, young girls might indeed think twice about having a baby."
Johnson's remarks were "straight out of the dark ages" according to shadow attorney general Shami Chakrabarti (via the Mirror). When he was asked about the incendiary comments on ITV's "This Morning," the prime minister admitted that his words were potentially hurtful, but refused to discuss them any further. "I don't think this is the time to talk about articles that were written a very long time ago," he said. Viewers of the popular daytime show felt as though the PM wasn't grilled hard enough over the article, with one (via the Manchester Evening News) accusing presenters Holly Willoughby and Phillip Schofield of being too busy "giggling and taking selfies with Boris."
Boris Johnson has been accused of Islamophobia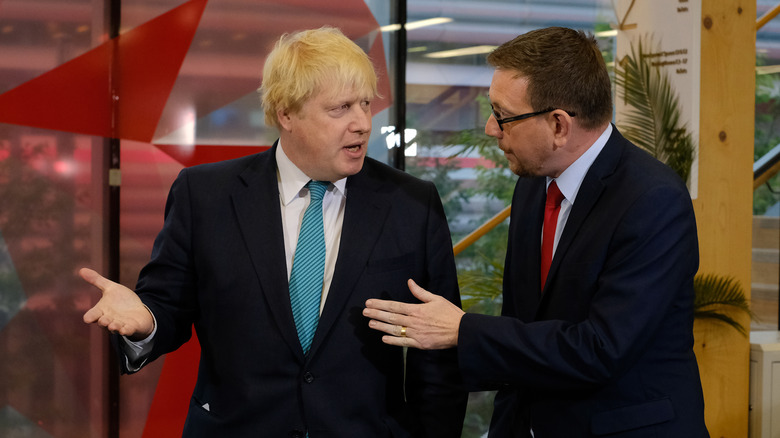 As recently as 2018, Boris Johnson compared Muslim women wearing burkas to "bank robber[s]" in a column for The Telegraph. Johnson (who was still a backbench MP at the time) said that it was "absolutely ridiculous" that Muslim women "go around looking like letterboxes," comments that angered many in Britain and beyond. His column actually led to a 375% increase in "anti-Muslim incidents" in the U.K. according to the PressGazette, and allegations of Islamophobia (which he once called "a natural reaction" to "any non-Muslim reader of the Quran") continue to dog Johnson and his party today (via Sky News).
In 2021, an independent review was launched with the goal of determining whether or not discrimination existed within the Conservative Party, and the results were not pleasant reading for the Tories — anti-Muslim sentiment "remains a problem" within the party, the report found (via Sky News). The prime minister said that he was "obviously sorry for any offense taken," but defended his right to free speech. "I do know that offense has been taken at things I've said, that people expect a person in my position to get things right, but in journalism you need to use language freely," Johnson argued. "Would I use some of the offending language from my past writings today? Now that I am prime minister, I would not."
Source: Read Full Article