MORE Teen Mom animal cruelty??
We just got to the end (for now) of the twisted saga of Jenelle Evans' creepy husband David Eason's alleged killing of their French bulldog Nugget.
That cruel act resulted in the couple's children being taken away by child protective services — thank goodness! That man is SCARY.
And after just a couple weeks, we have ANOTHER accusation of animal mistreatment by a Teen Mom cast member.
This time the accused is Mackenzie McKee, whom you may know better as Mackenzie Douthit from 16 and Pregnant and later Teen Mom 3.
The Miami, Oklahoma native revealed in a since deleted Facebook post on Monday her neighbor TOOK her dog, Hank, from the yard before calling animal control.
Why? She left him alone and penned up while she was on vacation in the Bahamas.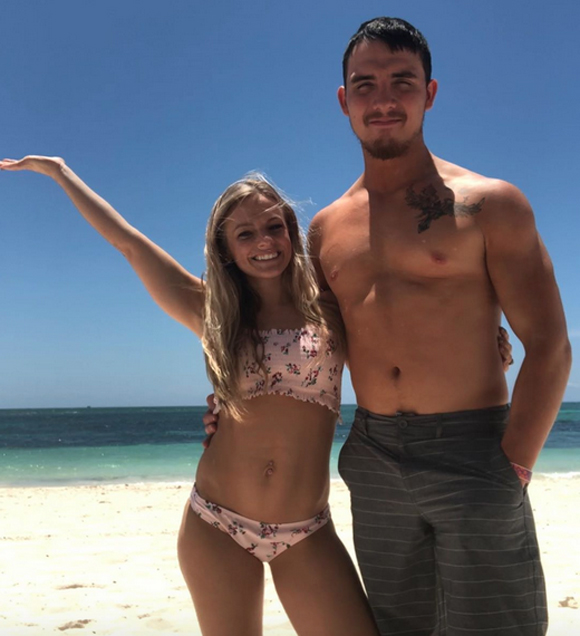 The bodybuilder was furious, saying she didn't know how it was legal for her dog to be taken this way.
The neighbor responded to McKee's post, saying the Harlequin Great Dane was whining for days, cooped up in his pen:
"We have listened to this poor dog cry for five days in this tiny little pen. There is no dog house, there is only muddy ground. His food was soaked. We didn't know if anyone would be back."
Mackenzie said Hank was being fed daily — but was he being walked? Was the enclosure enough??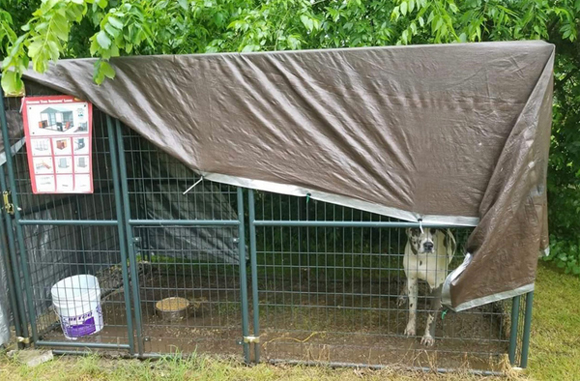 Eventually they called animal control who came and collected him immediately.
Well, Mackenzie is calling B.S. on the reports she endangered her dog.
She tweeted on Tuesday:
"Lies…. all lies… that is all.
If you guys think that my neighbors were telling the truth, you are out of your mind. They have had it out for us since we moved in in October and moving is in the near future.
I love hank more than words could ever describe. I paid 4K to have his fence installed 2 weeks before vacation and they stalled it out longer. So for you all to pull the "don't pay for vacation if you can't afford proper care for your dog" bull s**t is insane as well."
She then went on the counteroffensive against her neighbors.
"I spend more time and money on hank than my shitty neighbors have ever done with their bull mastiff that I've never seen leave his pen. Yes I said pen. We bought that pen for Mr. Hank because he hates kennels and I think he needed more sleeping room. I called about getting him boarded and told them that dog WILL NOT SLEEP IN A KENNEL. But they said that's how they operate.
Trust me when I say I looked into all options. So once again. We bought a big pen for him to sleep in. He was checked on and let out to run and play 3x a day which we payed for and arranged. He was fed, watered, and played with daily and stepped in his pen at night and I even had a tarp rushed to him Since on day 2 of vacation he destroyed his dog house. O did I forget to mention his poop was being cleaned out.
But my neighbors stepped on my property to take a photo of his poop right when he did it? Hmm interesting. If you own a Dane you know that they poop several times a day and large amounts. We were on top of him being loved and cared for."
McKee claims to have the receipts from animal control:
"Animal control said we passed wellness check and called me to inform me that my neighbors said not a single person has been out and that's why they called me in because THEY WERE THE ONES FEEDING HIM. And it was far from the truth. I asked her to take him anyways and we will get him when we get home because I need to make sure my kids get in a storm shelter for Oklahoma is experiencing horrible and scary tornados and she agreed to it. Which before she called, my mom who lives down the road was on her way to get him shelter."
Hmm. But animal control took him anyway?
Mackenzie has a message for folks passing judgment online — some of whom are apparently going WAY too far:
"Me nor my mother or the other two taking care of him support animal abuse. Please know the full truth and story before telling a woman to kill herself and she is a piece of s**t.
If you follow me on snap, you see that hank is nothing less than loved to an extreme level by us."
Eesh!
No response to all this drama by animal control.
When Mackenzie gets home, we'll find out if she is able to get Hank back.
Do YOU buy Mackenzie's defense??
Source: Read Full Article