The cast of Don't Worry Darling are currently at the Venice Film Festival doing press ahead of the film's red carpet premiere, and everyone showed up except lead actress Florence Pugh. Which has obviously caused a lot of side-eyes due to ongoing drama surrounding Don't Worry Darling—especially in the wake of Olivia Wilde's leaked call to Shia LaBeouf in which she refers to Florence as "Miss Flo."
While a source recently told Us Weekly that "Florence and Olivia have had several disagreements personally and professionally, [and] that's why Florence isn't doing any press for the movie," Variety reports that she had a good reason for skipping press. Apparently, her flight from Budapest (where she's filming Dune: Part Two) arrived after the photo call on Monday, while Harry and Olivia arrived in Venice on Sunday. Plus, Florence will be walking the carpet at the film's premiere, and was seen arriving at Venice airport earlier today: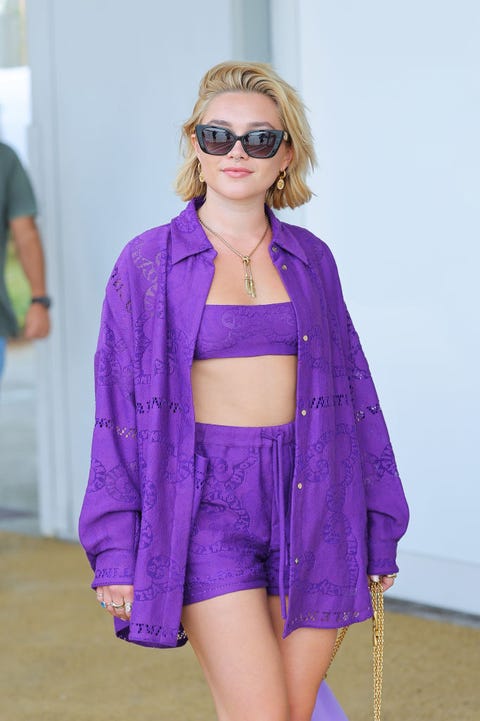 All of this is going down after weeks of drama surrounding this movie. We have a full breakdown over here, but most recently Olivia gave an interview to Variety claiming she fired Shia and that "ultimately, my responsibility is to the production and to the cast to protect them." Shia then sent Variety his correspondence with Olivia re: leaving the film, plus a message he wrote to Olivia after the Variety interview, saying "You and I both know the reasons for my exit. I quit your film because your actors and I couldn't find time to rehearse." Shia also provided the outlet with a video (which was leaked) of Olivia telling him in part, "I feel like I'm not ready to give up on this yet, and I, too, am heartbroken and I want to figure this outYou know, I think this might be a bit of a wake-up call for Miss Flo, and I want to know if you're open to giving this a shot with me, with us."
Shortly after this, The Wrap reported that Florence would be limiting her DDW press, so yeah…lot to process here!
Source: Read Full Article