In a video circulating online, the 'Real Housewives of New York City' star is seen storming the stage at the show after getting offended by comic Sam Bloomstone's jokes.
AceShowbiz -"The Real Housewives of New York City" star Eboni K. Williams wasn't impressed by a comic's joke at a comedy show in New York City. In a video circulating online, the 38-year-old was seen storming the stage at the show after getting offended comic Sam Bloomstone's jokes two weeks ago.
In the clip, Sam referred to Eboni as "JCPenny collection." The TV star, who was dressed a black sweater, black pants and leather boots, jumped onto the stage to take Sam's mic. Sam said to the mic, which was held by Eboni, "I put my life savings that whatever you are going to say is nothing funny."
Firing back at Sam, Eboni said, "It's not about being funny, b***h. What it's about is you respecting a motherf**king black queen." As the audience erupted in cheers, Eboni added, "What we don't do is JCPenney b***h, OK? A b***h like me, you gotta respect, bro. JCPenny? on your worst day."
The attorney-turned-TV-personality slapped his derriere before leaving the stage. Before actually came down the stage, she clarified that her outfit was all from Italian designers.
Catching wind of the clip, the Bravo personality explained the playful banter in a tweet. "It was a fun night ya'll Relax … the comedian joined us all for dinner and more drinks later," she wrote. "And yes, I was drinking before I took the mic. Sorry I'm not perfect and had a little fun."
A source claimed that at the event, which also saw Barbara Kakovit and Braunwyn Windham-Burke in attendance, "all 'Housewives,' especially Eboni, had a great time. They love Sam and think he's hilarious."
However, Sam revealed in the Thursday, December 2 episode of Heather McDonald's "Juicy Scoop" podcast that "it was a rough set." He went on to share, "It was wild and it just all happened in three minutes … out of nowhere. I've had people heckle me, obviously. But I've never had anyone come on stage and grab the mic and then security be nowhere to be found."
As for the host, who is a veteran comic, Heather blasted Eboni for her action. "I'm disgusted by her as a woman. The fact that she came up, felt that she was entitled enough to do that, ruin someone's act and think that she had a right to comment on what you were saying to her as she continued to interrupt your act," Heather claimed.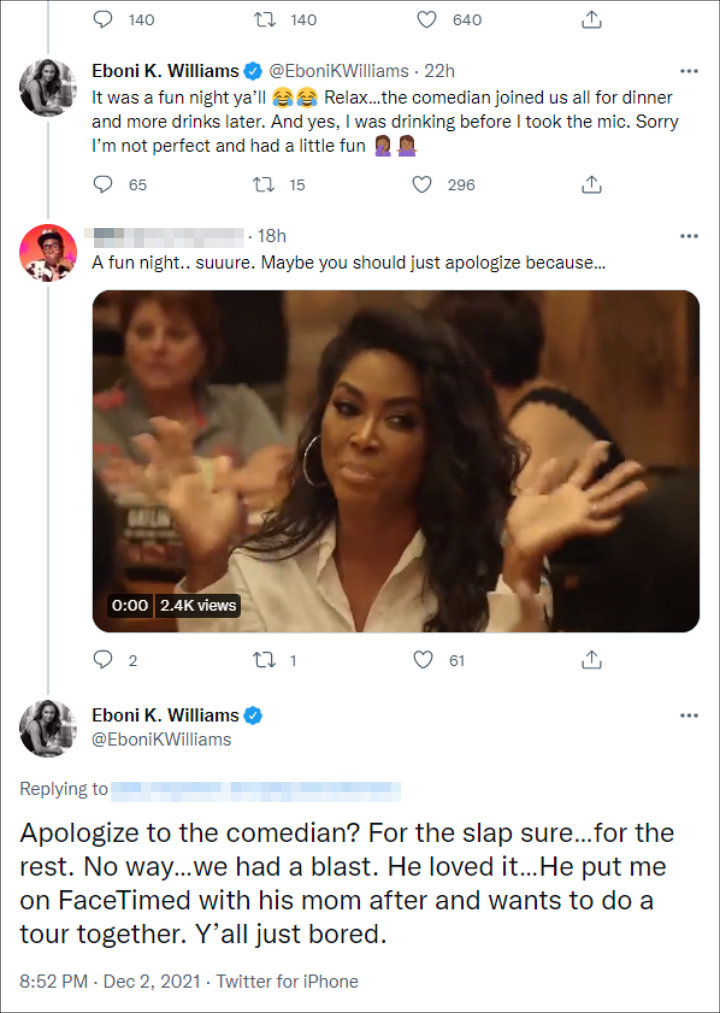 Eboni K. Williams explained the banter with comic Sam Bloomstone.
Some people also criticized Eboni and urged her to apologize. Defending herself, she wrote, "Apologize to the comedian? For the slap sure … for the rest. No way … we had a blast. He loved it … He put me on FaceTime with his mom after and wants to do a tour together. Y'all just bored."
Source: Read Full Article