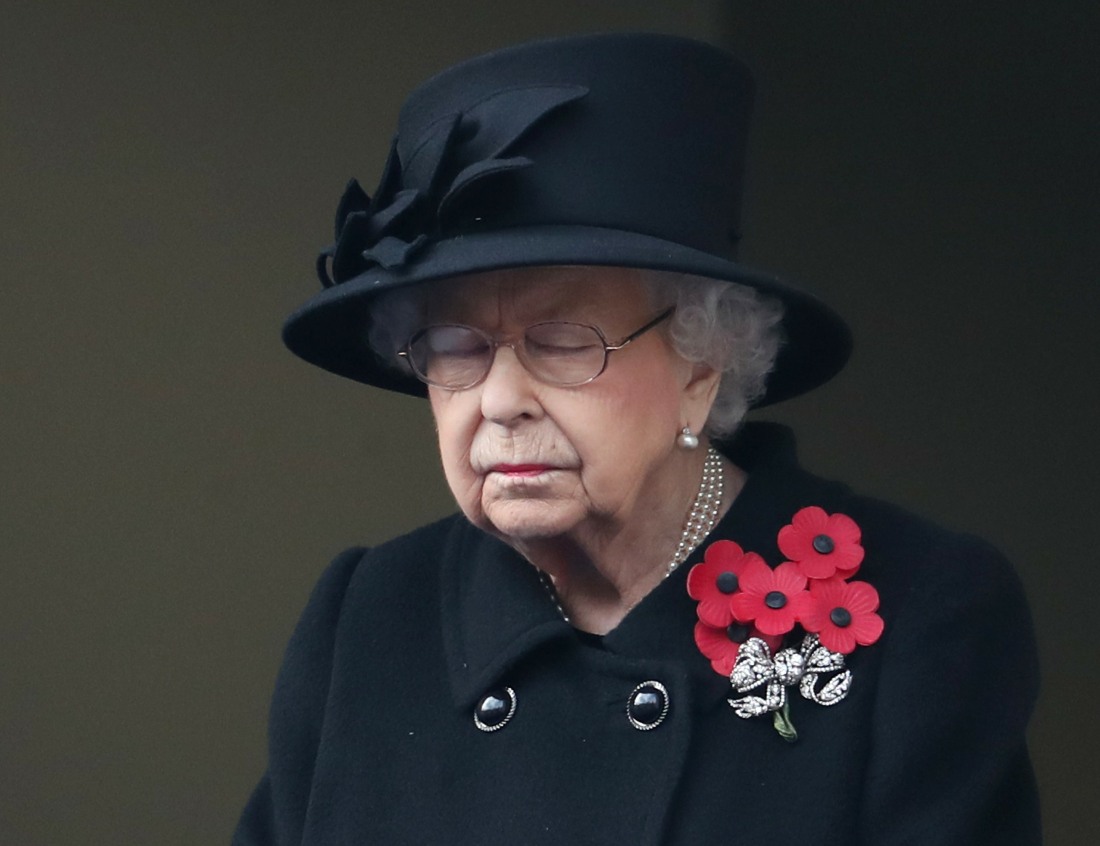 Yesterday was Remembrance Sunday, but this year, it wasn't a big public event. The UK is doing another big lockdown of some variety, so the somber events of Remembrance Sunday happened without a crowd of on-lookers by and large. From what I could see, most of the royals did arrive at the Cenotaph wearing masks in the car. Then they removed their masks while there for what was something of a "social-distanced" ceremony of wreath-laying. The Queen, the Duchess of Cambridge, the Countess of Wessex, the Duchess of Cornwall all watched from balconies. The Queen was, at no time, photographed wearing a mask on Remembrance Sunday.
Perhaps she had gotten all the mask-wearing out of her system the day before, when she visited Westminster Abbey. She monitored her equerry placing a bouquet of flowers on the Tomb of the Unknown Warrior, and she wore a black mask entering the Abbey, and for the entire flower-laying event. This was the first time she'd been photographing wearing a mask. Her last public event, on October 15th, was that horrendous trip she made where everyone was maskless but the palace insisted it was okay because all 48 people had been recently tested for the virus. Before the Queen stepped out on Sunday, Robert Lacey wrote an interesting piece in Vanity Fair which was basically like "the Queen must be photographed in a mask, this is absurd."
When the Queen last appeared in public, at Porton Down on October 15, Buckingham Palace had prepared an explanation for her lack of a mask. The 48 people who were due to come into contact with the Queen and Prince William that day had been specially tested for COVID-19 beforehand, said the Palace, and the site had been fenced off to keep it secure.

But that is not quite the point, is it? The message of this official explanation was that there is one rule for Her Majesty and another rule for the rest of us, who cannot deploy teams of testers whenever we go out to ensure that all those we meet are COVID-free. That's why it is government policy that we should all wear face masks.

Isn't that the job of our representative monarch—to reflect national policy on important national issues? And what could be more important than the issue of battling COVID-19? The Queen's thinking on this matter remains a mystery. The closest that anyone has come to explaining why Elizabeth II should not just ignore but apparently flout government guidelines is because she wants to show Britain a picture of the magnificent and mask-less times that lie ahead. Her Majesty is holding out for hope. If this is her thinking—and this explanation has not been confirmed by Buckingham Place—her aims are laudable. But to achieve those hoped-for good times, there is still a battle to be fought, and the frequently-repeated government strategy for winning that nation-wide battle is quite clear—that we all should wear face masks, if possible, from high to low.

Across Britain people are understandably bristling at the welter of restrictions that the current crisis is placing upon our lives. There has been a neo-Trumpian behavioral revolt at the "tyranny" of government measures, with all age groups—not just students—reveling in pre-lockdown parties. So surely now, more than ever, is the time for our Head of State to demonstrate that the sensible medical precaution of wearing a face mask is no tyranny – and that she is no Trump.
[From Vanity Fair]
Lacey goes on to suggest that the Queen needs to wear a mask on Remembrance Sunday. She did not. Neither did any Windsor. Maybe she was hoping that the Saturday photos would be the balm, an excuse to go maskless for the rest of the week. Yeah, it doesn't work like that. The Queen should be leading on this issue – masks for everybody in the family, herself included. God, she's such an a–hole.
Embed from Getty Images
Embed from Getty Images
Embed from Getty Images
Source: Read Full Article