ARTICLE HIGHLIGHTS
Queen Elizabeth and Kate Middleton have a close relationship.
Her Majesty had to skip Remembrance Sunday services due to a sprained back.
But, she still made it quite clear where Prince William and Kate Middleton stand in the royal family.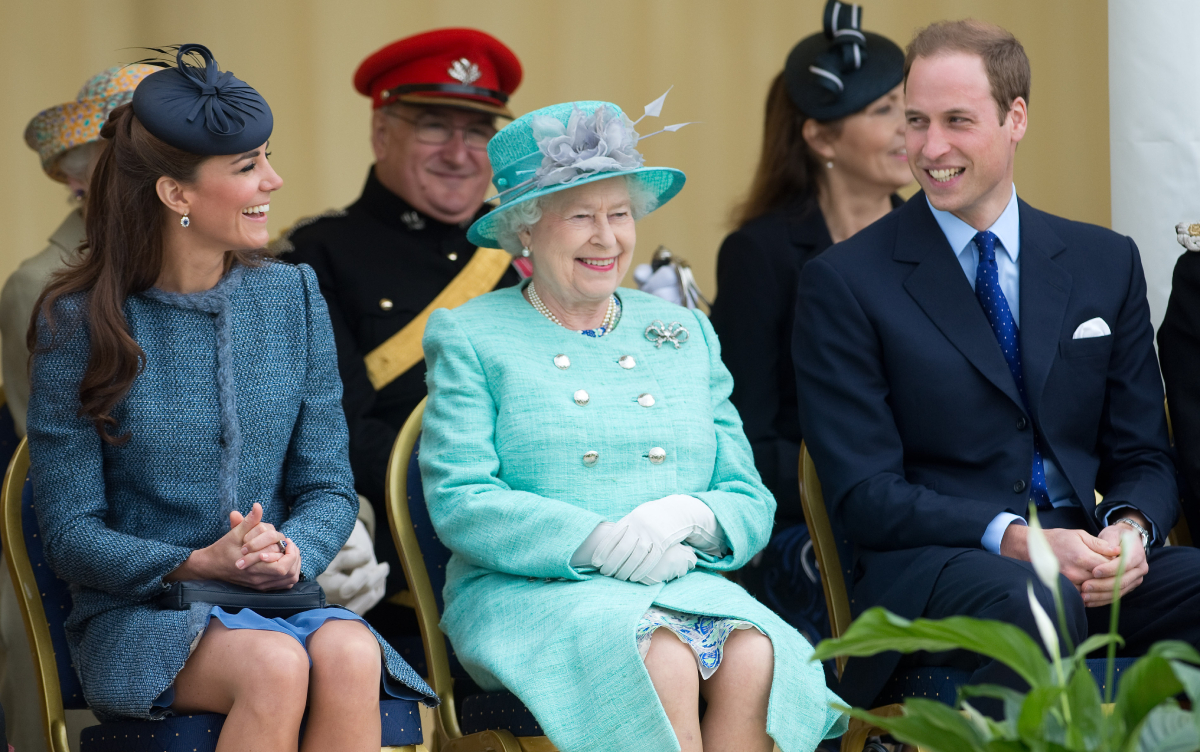 Queen Elizabeth pulled out of this year's Remembrance Sunday ceremony at the last minute due to a sprained back. Even though she wasn't in attendance, Her Majesty still made a subtle hint about Prince William and Kate Middleton's future in The Firm with one simple gesture.
Queen Elizabeth and Kate Middleton have an 'incredible bond'
Kate Middleton has officially been a member of the royal family for a decade after marrying Prince William in April 2011. Since becoming the queen's granddaughter-in-law, the Duchess of Cambridge has spent multiple Christmases with the Sovereign.
According to royal expert Duncan Larcombe, Kate was able to forge an "incredible bond" with Her Majesty at her first Christmas at Sandringham because of a "frugal" Christmas gift. For Christmas 2011, Kate made the choice to gift the queen with homemade chutney.
"A homemade chutney gift was absolutely spot on – down to earth, practical and frugal – everything Her Majesty loves," Larcombe said, per Good To Know.
Larcombe explained that the significance of Kate's gift choice was that she showed the queen that she saw her as William's grandmother. Not just the head of state. It helped build their bond on "mutual respect and admiration."
The Duchess of Cambridge was 'worried' about her gift for the Queen
In the UK, chutney is a popular Christmas food gift. But Kate admitted in the 2016 documentary marking Queen Elizabeth's 90th birthday that she was at a loss as to what to give Her Majesty as a gift.
"I can remember being at Sandringham, for the first time, at Christmas, and I was worried about what to give the Queen as her Christmas present. I was thinking, 'Gosh, what should I give her?'" Kate explained. "I thought back to what I would give my own grandparents. And I thought, 'I'll make her something,' which could have gone horribly wrong. But I decided to make my granny's recipe of chutney."
Kate said she was worried about the gift, but then she noticed the chutney on the table the next day. The duchess says that simple gesture went a long way for her. And it showed the queen's thoughtfulness and care in looking after everyone.
Queen Elizabeth made a subtle hint about Prince William and Kate Middleton's future with 'The Firm'
Nearly a decade after her first Christmas with the queen, Kate was at Remembrance Sunday with William to pay their respects. Despite Her Majesty's absence, she still made a subtle hint about William and Kate's future with The Firm by allowing them to borrow her bespoke Bentley to attend the service.
Royal expert Daniela Elser said, per Express, that this gesture from the queen shows how she feels about her grandson and granddaughter-in-law. It was her way of giving a mark of "approval."
A symbol of the future king and queen consort
Elser wrote that Queen Elizabeth lending her personal vehicle to the Duke and Duchess of Cambridge makes it clear how Her Majesty feels about the couple.
"The 95-year-old lending the couple her bespoke wheels translates to a very clear cut signal of approval and the symbolism of the future King and Queen Consort riding around in a car with a coronet slapped on the door is impossible to miss," Elser wrote.
Queen Elizabeth didn't make this choice 'out of necessity'
The royal expert went on to say that Queen Elizabeth's choice to loan her custom Bentley to William and Kate was "clearly not born out of necessity."
Instead of using their usual family cars, they used one of the queen's "very own, especially-built State Bentleys."
"The sight of Kate riding around in Her Majesty's car reflects the extent to which the duchess has been stepping in of late, especially as vicissitudes of age catch up with the formerly unflagging sovereign," Elser said.
Source: Read Full Article