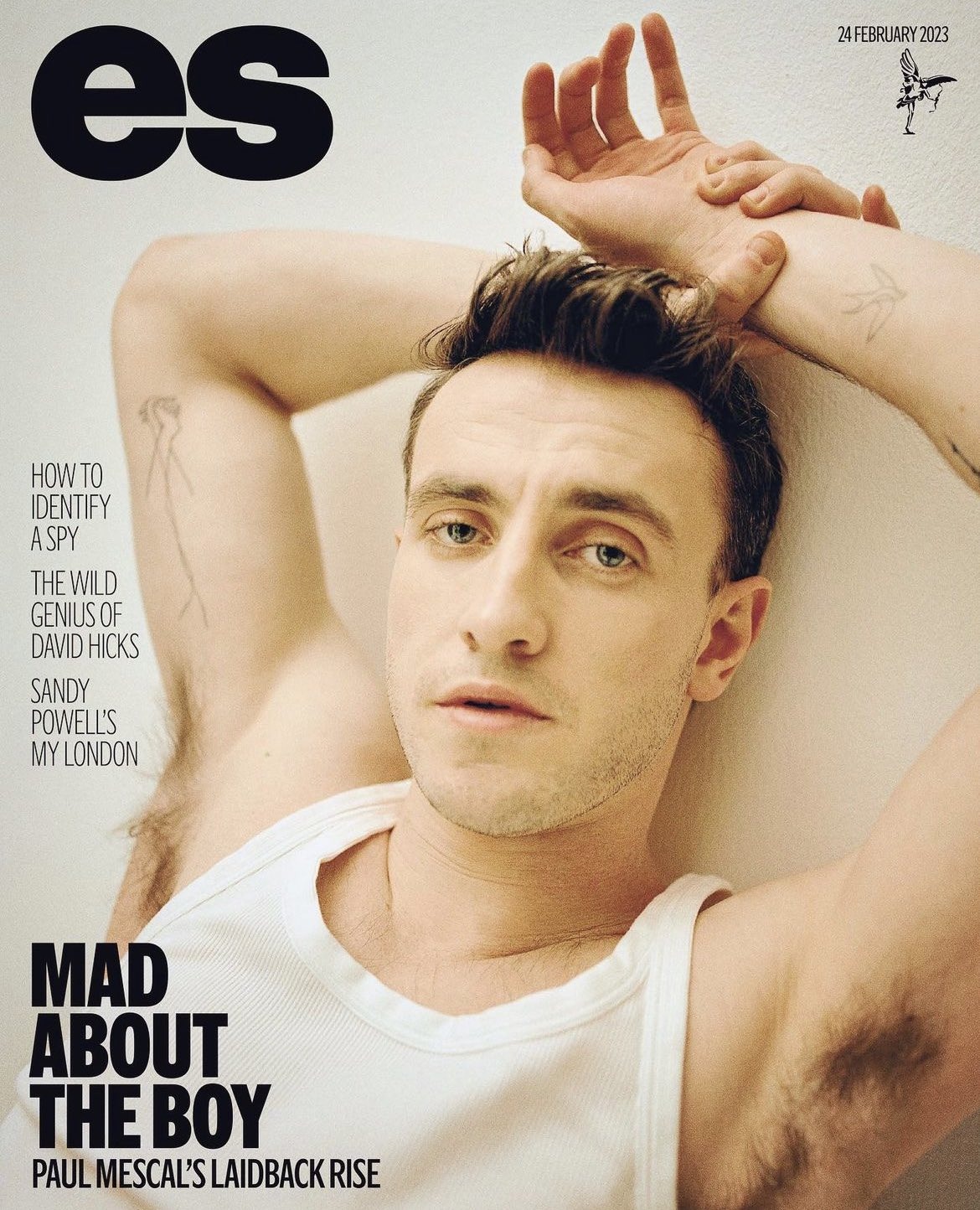 Paul Mescal is doing a late-awards-season interview blitz and, honestly, I'm not mad. I'm learning more about him and he seems like a solid guy. Not a lot of drama, he's not bad-mouthing anyone, he's enjoying his time as an Oscar nominee, he's not full of pathos or neuroses. He's just a chill Irish guy and he's kind of a workaholic and that's about it. Mescal covers the latest issue of ES Magazine to talk about his Oscar nomination, how he's not going to win and how some women think they have the right to put their hands on his body. Nope – he should be a lot more upset about that than he is.
A woman sexually harassed/assaulted him recently: A woman asked him for a photo outside of the Almeida Theatre. 'As we posed for it, she put her hand on my ass. I thought it was an accident, so I like…' he gets up from his chair and shimmies awkwardly away from an imaginary hand, 'but the hand followed. I remember tensing up and feeling just, like, fury. I turned to her and said, "What're you doing? Take your hand off my ass." The last thing I want to do is call somebody out in front of the theatre — it's uncomfortable for everyone involved — but it was really not okay. It was so gross, creepy.' This has been Mescal's experience of fame so far, he tells me: '97 per cent of it is really nice — then 3 per cent is somebody, like, grabbing your ass.'

On his Oscar nomination: 'Look, I'm not going to win. So it's kind of low-stakes pressure, I can basically just sit back and enjoy it.' It hits him every so often, he says, 'like if I've a film coming out, now it will say, "Oscar-nominee Paul Mescal," and I'm like, "Whoa that's mad." It's just cool, I'm going to be at the thing I remember watching when I was growing up. And when they call out the best actors there's going to be a camera on me and my mum, waiting to clap for — hopefully — Colin Farrell.'

On people objectifying him: "Now I'm a bit more comfortable with it. I realised, like, this can consume me and I can be pissed off with every person who has a naked picture of me stashed somewhere or I can just let it go. It's the internet. The internet is this evil f***ing entity and it has so much power but it's an exhausting hill to try and die on because you're not going to win.'

Plus women have it so much worse: 'Women have been objectified by men throughout history — and still are. Ultimately, I don't want it to affect the choices I make. Nudity and sexuality in art and film and theatre are beautiful and important. It's important that we don't let the aftermath — the people [on the internet] who're predatory and f***ed up — impact the choices that we make creatively. I insist with myself that that's never going to happen.'

When the BBC called him a "British actor": It led to more than 600 complaints to the corporation. 'That's what happens when you cross the Irish. They'll come for you in their droves. I love that.' He said it didn't bother him too much but only because it happens so often. 'It's annoying but I'm unsurprised. It happened with the Emmys a few years ago as well, and I just tweeted, like, "I'm Irish." I have more sympathy when it's coming from an American because it's so much further away for them. And, I mean, some Americans don't know that there's a difference between Scotland and Ireland. But when someone goes, "Oh you're from the UK?" I'm always like, "No, I'm not from the UK — a lot of people have died for me to be able to say that I'm not from the UK. It's an independent country."'
[From The ES Magazine]
"Nudity and sexuality in art and film and theatre are beautiful and important" – that's kind of great that he feels that way? There's so much talk these days about, like, the New Puritanism and the lack of nudity and sexuality in art, and he's like – no, we need that stuff, it's important for artistic reasons. He's putting his bajingo out there for art and good for him. As for being assaulted – I do consider it assault and that woman is disgusting. You don't put your hands on a man or woman like that and he easily could have made a much bigger deal about it too.
— best of paul mescal (@paulmescalfiles) February 23, 2023
Cover courtesy of ES Magazine.
Source: Read Full Article