The news is out: Meghan McCain will leave "The View" after four seasons. Before announcing that she would be leaving the show, rumors of an exit had been swirling for some time. McCain broke her silence on the matter, thus putting rumors to an end on July 1. The conservative personality shared the news on the show's set, stating that it was not an easy decision for her to make.
"It took a lot of thought and counsel and prayer and talking to my family and my close friends. And you know, look, COVID has changed the world for all of us, and it changed the way — at least for me — the way I'm looking at life, the way I'm living my life, the way I want my life to look like," she shared. McCain also said that moving to Washington, D.C. from New York City during the COVID-19 pandemic also solidified her decision to leave. She shared that Washington D.C. is a place where she has a lot of family and friends, and it's great to have a support system to share the first milestones of her daughter Liberty with people she loves. McCain also shared that she was thankful for the position, and it was her father, the late John McCain, who initially nudged her to accept the job.
While some co-stars may be happy McCain is leaving, at least Sara Haines said she'll miss McCain. Keep scrolling to see what McCain has to say now.
Meghan McCain is 'taking big risks'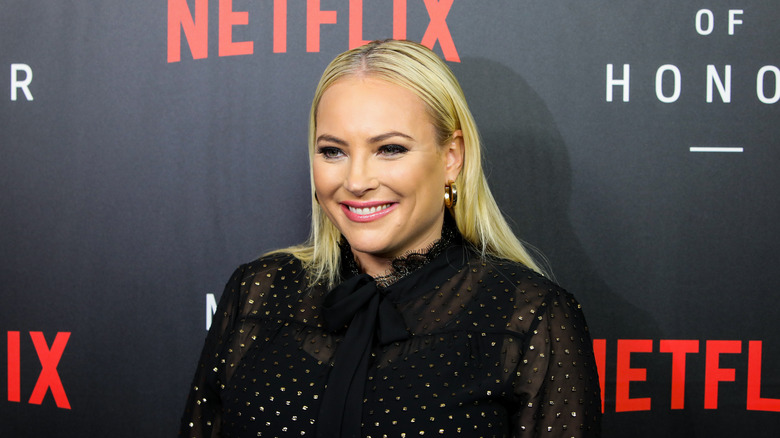 While Meghan McCain may be leaving her post at "The View," she will likely be using her social media platforms to continue to speak her mind. Shortly after announcing her exit from the series, she did just that, using Twitter to share a message with fans. "So much chatter, so much gossip, so many, many, many questions people are asking me this past week," she wrote. "I pride myself on always taking big risks, rolling the dice, and making unpredictable life and career choices." McCain also noted that she's "never fit in a box, and I never will." The outspoken star ended the post with the quote "Live free or die," followed by an American flag emoji. It comes as no surprise that the post has attracted many comments from McCain's supporters, garnering a lot of retweets and favorites.
However, the post also received plenty of criticism, with many stating that it's easy for her to leave since she comes from a wealthy family and won't exactly be strapped for cash in-between jobs. "More like a rich girl having everything handed to you on a silver platter, because your Dad was respectable and honorable. the only dice you rolled were gold dice," one person wrote. "It's not really taking a risk when you have family money to back you up," one more chimed in. At this point, McCain has not responded to her fans or critics.
Source: Read Full Article