Food Network star Sunny Anderson offers busy home cooks a doable spin on the classic Southern shrimp boil. With potatoes, fresh corn, and sausage, plus of course shrimp, her meal is filling and easy.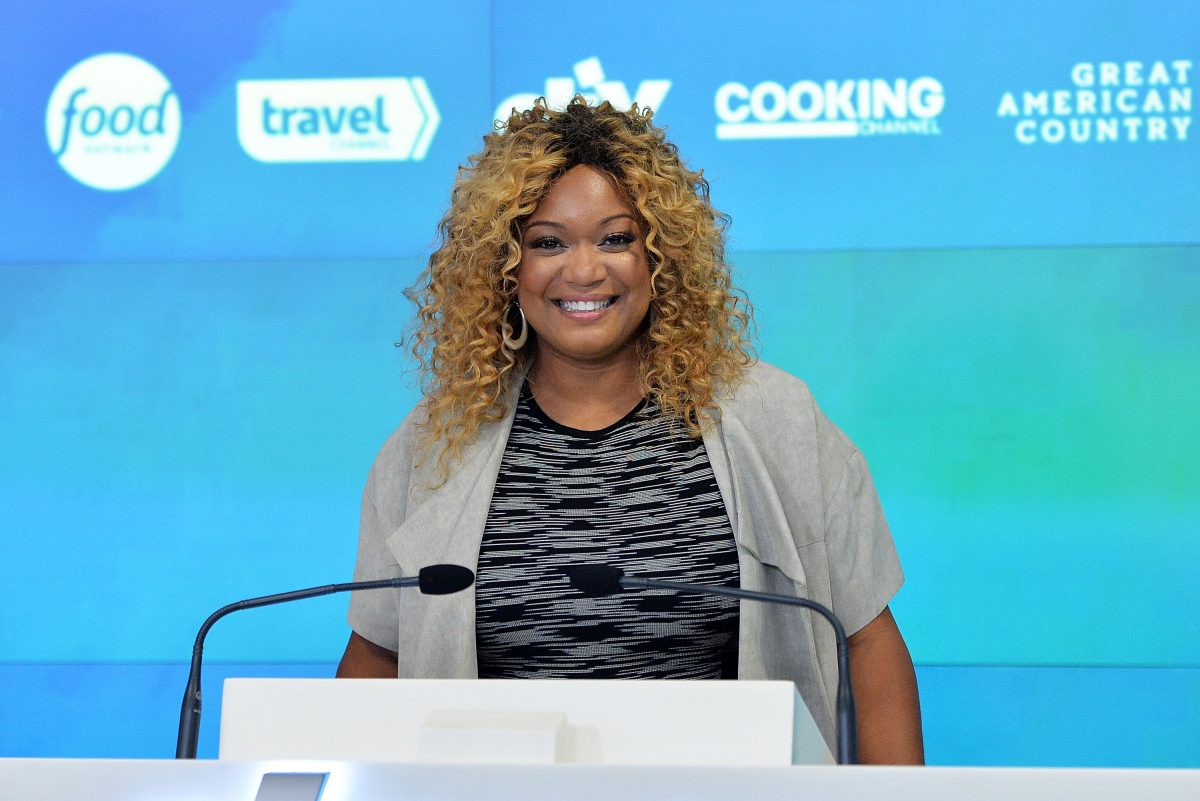 Sunny Anderson's shrimp boil tastes like the real deal
Anderson's recipe is based on the Southern classic dish of shrimp boil, which typically includes shrimp, potatoes, sausage, and sweet corn cooked together in one pot.
The Cooking for Real host's dish calls for a bag of steamable red potatoes, which are done much more quickly in a microwave, fresh corn cut into thirds, a quartered lemon, andouille sausage, melted butter, fresh thyme, deveined colossal or jumbo shrimp, seafood seasoning, and beer. Plus, Anderson makes the magic in this meal happen on a sheet pan, not a pot.
"You know the shrimp in a pot?," Anderson says in the Food Network video, below, for this recipe. "You got the potatoes in there, you got the sausage in there, you just pour it out onto the table, and people go crazy? It's going to be a little of the same frenzy but very simple to put together."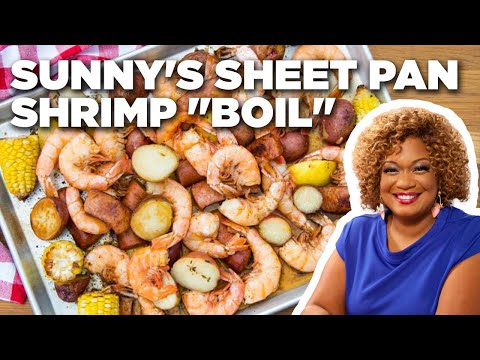 Anderson's shrimp recipe is a great anytime meal
She begins this dish by tossing the sausage, chopped in half and then cut lengthwise, with the corn segments in melted butter. The cooked and quartered potatoes are added ("I always feel like the potatoes are the best part"), along with the minced thyme. Everything is then placed on a sheet pan.
The shrimp are arranged in a foil "pouch" (made with two long pieces of aluminum foil, crossed over one another), dusted with the seafood seasoning, and then bathed in the beer. Anderson says it's important to tightly bundle the foil package: "Cover it up. You don't really care about venting; you want to make it nice and closed, and then put that right on the top" of the sheet pan sausage mixture.
Note about the shrimp: Anderson notes that it's fine to use frozen shrimp "already deveined and they'll even still have the shell and the tail on."
The chef places the sheet pan in a 400-degree F oven for about 35 to 45 minutes. Once it's done, open the shrimp pouch "gingerly," being careful with any steam, and enjoy!
Get the complete recipe, video, and reviews on Food Network's site.
Reviewers were surprised at how easy Anderson's shrimp boil was to make
Many home cooks commented on how utterly simple Anderson's recipe was to make, and how much it tasted like a real shrimp boil.
"Love it! There's something really good about the roasted veggies and sausage that makes this way better than the typical boil! And it's done inside! … I have made this multiple times and it's a hit every time!!!," one reviewer wrote.
Another person loved how deceptively easy this dish is: "Super easy and tastes like you cooked all day!! Perfect for a get-together…. I can enjoy the company while it cooks and everyone helps themselves! DELISH!!!"
Lastly, this reviewer officially said goodbye to traditional shrimp boils, thanks to Sunny Anderson: "Excellent! We do traditional shrimp boil frequently, and we will probably never do another one again (unless cooking for a large crowd). This was so easy, so many less dishes, and everything was ready at the same time. It was perfect."
Source: Read Full Article