The following article includes sexual assault allegations.  
Donald Trump is no stranger to exaggeration. As he wrote in "The Art of the Deal, "I call it truthful hyperbole. It's an innocent form of exaggeration, and a very effective form of promotion." However, unlike Trump's many baseless brags, his reputation as a lusty Lothario apparently is rooted in truth. His credentials stem from when the 18-year-old was named "Ladies Man" in his 1964 yearbook — a title he really deserved by all accounts. "I remember there were so many [girls], it was a revolving door," an ex-classmate told NPR.
The revolving door became a fixture in Trump's life, as did allegations, rumors, and controversy — like the infamous "Access Hollywood" tape proved. In the audio, Trump bragged to Billy Bush, "I don't even wait. And when you're a star, they let you do it. You can do anything. … Grab them by the p***y" (via The Washington Post). When Anderson Cooper asked about the 2005 clip at one of the presidential debates in 2016, the businessman turned politician called the remarks "locker room talk." However, accusations of sexual harassment and assault continued to follow 45; Barry Levine and Monique El-Faizy's 2019 book "All the President's Women: Donald Trump and the Making of a Predator" addresses 26 allegations of "unwanted sexual contact" and 43 of "inappropriate behavior," per The Independent. 
We've only scratched the surface. Buckle up, because you're in for a bumpy ride as we dive inside Donald Trump's complicated love life.
If you or anyone you know has been a victim of sexual assault, help is available. Visit the Rape, Abuse & Incest National Network website or contact RAINN's National Helpline at 1-800-656-HOPE (4673).
Candice Bergen's dud date with 'douche' Donald Trump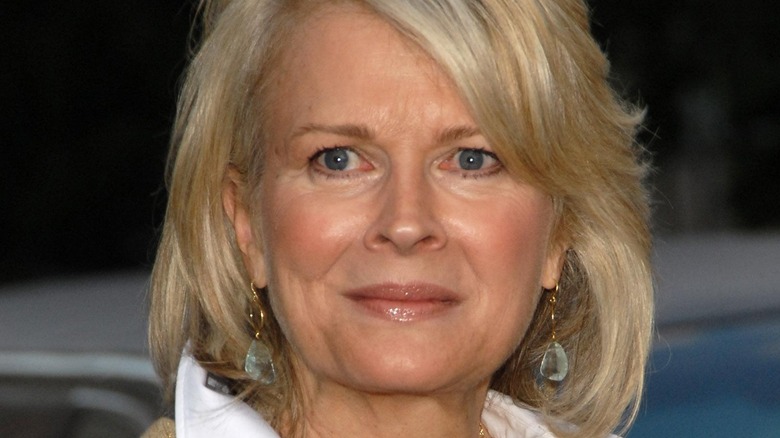 In an interview with Harry Connick Jr. on his now-defunct talk show, Candice Bergen admitted to going on a dinner date with Donald Trump back in the day. Bergen shared that she was 18 years old at the time and studying at the same college Trump went on to attend. "It was like a blind date, he called me in the dorm, and I was bored," Bergen explained. "So, he picked me up, he was wearing a burgundy three-piece suit with burgundy patent leather boots, and he was in a burgundy limousine, so it was very color-coordinated." Evidently, Bergen wasn't a big fan of head-to-toe claret-colored clothing and cars, as she was "home by nine. It was a very short dinner."
Bergen revisited the subject during a "Watch What Happens Live" segment in 2017 called "Candidly Candice." Host Andy Cohen probed the "Murphy Brown" star, who happened to be wearing a sweater with "Free Melania" embroidered across the front. When pressed on whether she gelled with the teen Trump, Bergen insisted there was "no chemistry" between them. She doubled down by asserting that there was "no physical contact whatsoever." Cohen persisted though, asking Bergen if she found Trump to be "alluring in any way." After pausing for consideration, Bergen admitted hesitantly, "he was a good-looking guy," before concluding, "and a douche."
Lucy Klebanow recalled getting stuck with the bill on a date with Donald Trump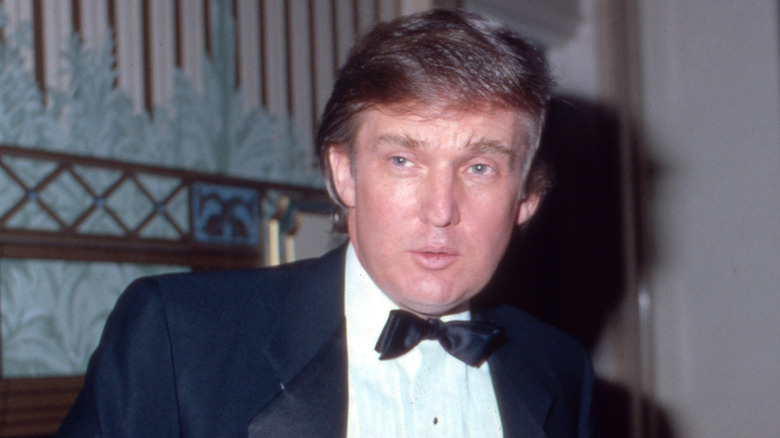 Lucy Klebanow was in a bar in the early 1970s when friends introduced her to a potential date. Klebanow had no idea who the man was; she just thought he was a "nice guy" that she'd like to get to know. The two went out, and it would prove to be an eye-opening and expensive introduction to Donald Trump, property developer, future reality TV star, and the USA's 45th President. 
In 2017, Klebanow wrote an article for Salon detailing their "nightmare" dinner date. According to Klebanow, Trump rolled up in a white Cadillac with a totally pimped-out all-red interior complete with a car phone, a rarity in the 1970s. 
She describes Trump as "nice-looking, not handsome, but nice. Preppy. Normal. Not a conversationalist, but neither was I. I didn't think he was very bright." They drove to Brooklyn for dinner, and it quickly went downhill from there. Klebanow claimed that The Donald couldn't pay for their meal as the restaurant didn't take credit cards and he didn't carry cash. So, she settled the check as a "stunned and embarrassed" Trump "swore he'd pay me back tomorrow so many times that I thought it not likely." As she noted in the piece, her suspicions were correct.
Real Housewives star Kim Richards hasn't said too much about dating Donald Trump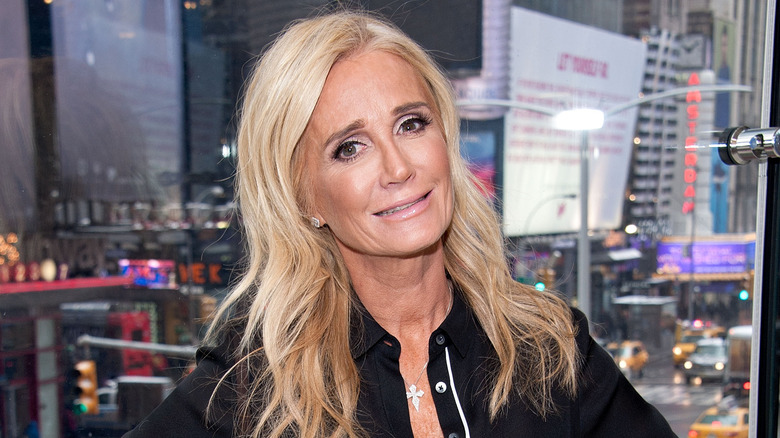 Kim Richards started out her career in show business as a child star, appearing in movies such as Escape to Witch Mountain and TV series like The Wonderful World of Disney. Years later, she would find success in the world of reality TV when she was brought on as a member of the original cast of "The Real Housewives of Beverly Hills." After a few tumultuous seasons, she parted ways with her spot in the main roster, but has continued to make guest appearances on "RHOBH" over the years. One of her most memorable moments as a "friend of"? Why, that would be when she dropped by the Season 7 reunion and revealed she used to date the 45th president.
When host Andy Cohen asked Richards to confirm "a rumor that you once dated Donald Trump," she replied, "Yes, let's not get into it." While the other Housewives wanted more details, Richards would only share that they went out to dinner. "I don't want to talk about the president," she said.
His marriage to Ivana Trump ended in a bitter divorce battle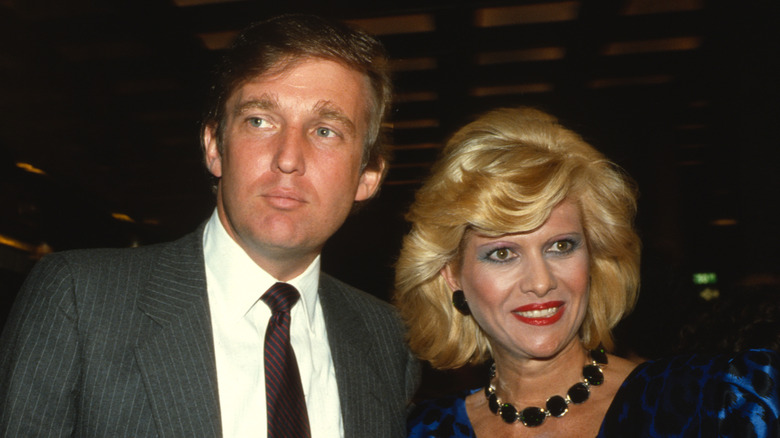 Donald Trump met Ivana Zelníčková in 1976 when he spotted her waiting outside a Manhattan restaurant. The 30-year-old swooped in and secured a table for the 27-year-old Czech model and her friends. A year later, they were married in a secret private ceremony, per The Knot.
The couple worked tirelessly to expand Donald Trump's empire. As Vanity Fair reported in 1988, Ivana took an active role, first as the vice president of interior design and then as CEO of Trump's Castle casino in Atlantic City. They had three children together, Donald Jr., Eric, and Ivanka. As The New York Times noted, four different prenups were renegotiated as their family and wealth grew. But their marriage exploded after Ivana discovered Donald had been cheating on her with Marla Maples.
A humiliating and very public showdown between mistress and wife on the ski slopes of Aspen instantly sparked a tabloid frenzy. The affair was front-page news as Donald and Ivana duked it out in a bitter divorce battle. In "Lost Tycoon: The Many Lives of Donald J. Trump" (via the Daily Beast), author Harry Hurt III writes that in a sworn deposition, Ivana accused Donald of sexual assault. In a statement for the book, Ivana insisted she hadn't meant rape in "a literal or criminal sense." The couple finally agreed on a $14 million settlement in 1992. Still, the fallout would continue, with Donald Jr. "refusing to talk to his dad for a year," according to the Daily Beast.
If you or anyone you know has been a victim of sexual assault, help is available. Visit the Rape, Abuse & Incest National Network website or contact RAINN's National Helpline at 1-800-656-HOPE (4673).
Ivana and Donald kissed and made up after the nuclear divorce dust settled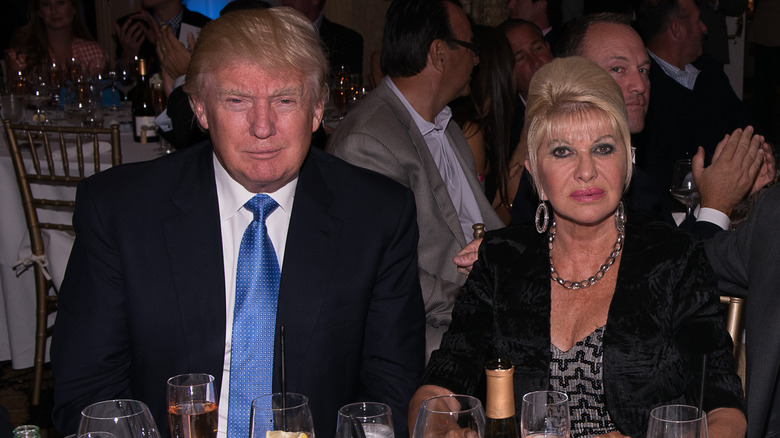 It took time for the wounds to heal and for them both to put their bitter divorce behind them. However, Donald and Ivana Trump did manage to eventually make up. Donald Jr. also managed to forgive his father's transgressions and join the family business alongside siblings Eric and Ivanka.
Ivana has become a close confidante of Donald's. "We speak before and after the appearances, and he asks me what I thought," she revealed in a 2016 interview with the New York Post. Ivana manages to always keep it real and speak her mind — just like her vocally forthright ex. But, it would appear that her advice often falls on deaf ears, such as when she suggested to Donald that he calm down his rhetoric a notch or two. "But Donald cannot be calm," Ivana told the Post. "He's very outspoken. He just says it as it is."
Donald Trump may not heed his first wife's advice, but he clearly still respects Ivana's business savvy. So much so that after he became president, he offered her the position of Czech ambassador. "My ex said, 'Ivana, if you want it, I give it to you,'" she said in the New York Post in 2017. However, she declined the offer, explaining, "I like my freedom, and I want to do what I want to do, go wherever I want to go, with whomever I want. I don't need the prestige, and it's an 8-to-12 job."
There was a rumor about Catherine Oxenberg and Donald Trump being a thing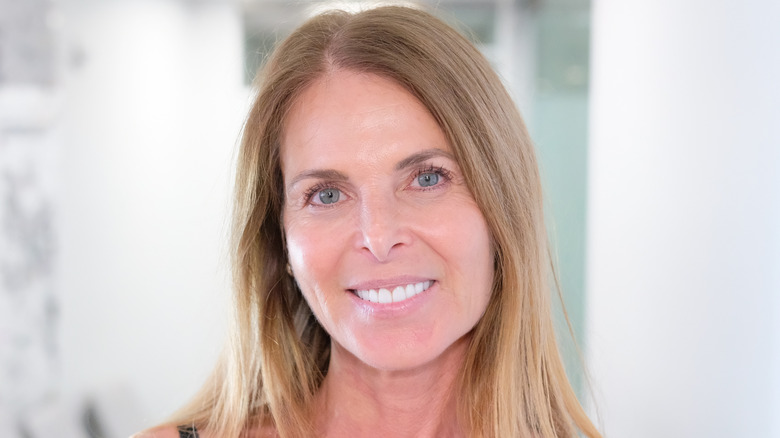 The tabloids pored over every detail of Donald and Ivana Trump's divorce battle. There was an endless stream of salacious stories about Donald Trump's (then still unconfirmed) affair with Marla Maples. There was also a seemingly limitless list of beautiful women that the self-professed playboy was romantically linked to, per The Washington Post.
Catherine Oxenberg was one of them. In a twist of fate, the "Dynasty" star portrayed Princess Diana — who The Donald was apparently very into — twice. According to a report in the Sunday Times (via People), Donald apparently sent Diana flowers, believing she was "the ultimate trophy wife." The report went on to note that Diana had zero desire to become the next ex-Mrs Trump. And neither did Oxenberg, who shot down the dating rumors, telling People, "It's a complete joke as far as I'm concerned. I hardly know the man." A tipster told the outlet that Donald and Oxenberg were pals but were "not sleeping together."
Where and how did the rumor get started? The world may never know. However, it may or may not be worth mentioning that, as noted by People, reporter Sue Carswell suspected John Miller, the publicist behind many Donald Trump stories, was in fact Donald Trump himself. As the outlet reported, Carswell recorded a conversation she had with "Miller" and then played it to people who knew Donald well, including Cindy Adams. "There is no John Miller. That's Donald," the legendary New York Post columnist determined.
Donald Trump's affair with Marla Maples ended in divorce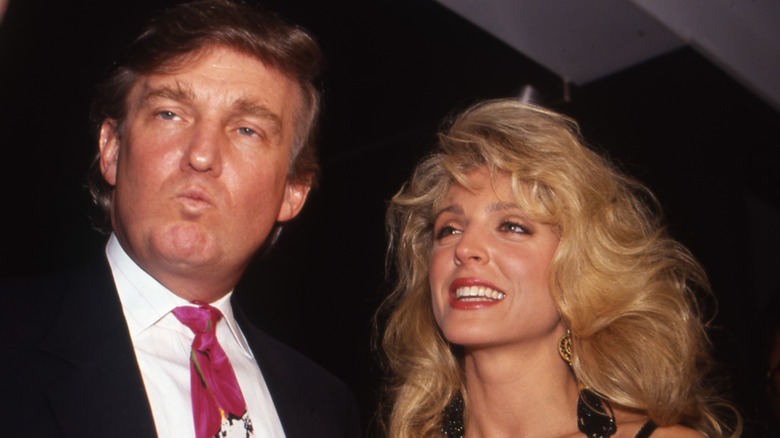 Donald Trump and Marla Maples first bumped into each other (literally) on Madison Avenue after he ditched his limo and walked to work instead. "I had seen him at different places throughout the years," Maples told Vanity Fair, "I was just somebody he shook hands with."
They immediately became firm but platonic friends, Marla insisted. But as Vanity Fair recounted, this eventually moved to the next level as Maples started appearing on his arm all over Atlantic City. Pretty indiscrete given that Donald's wife, Ivana Trump, was CEO of Atlantic City's Trump Castle. But, it took another year before Ivana learned of the affair. "This young blonde woman approached me out of the blue and said, 'I'm Marla, and I love your husband. Do you?"' Ivana wrote in "Raising Trump" (via the Independent).
Still, Donald attempted to keep his relationship with Maples on the down-low while his divorce from Ivana played out. Their affair was tumultuous, with multiple break-ups. However, things seemingly settled down, for a while at least, when Donald and Maples married in 1993, two months after the birth of their daughter, Tiffany Trump. But, they separated just four years later, and by 1999, they were officially divorced. Maples doesn't hold back when it comes to talking about her "ego-driven" ex. She told the Daily Telegraph (via the NY Post) that Donald had been "obsessed" with her — and their marriage "was built on an illusion."
Marla Maples fled 'as far away' from Donald Trump as possible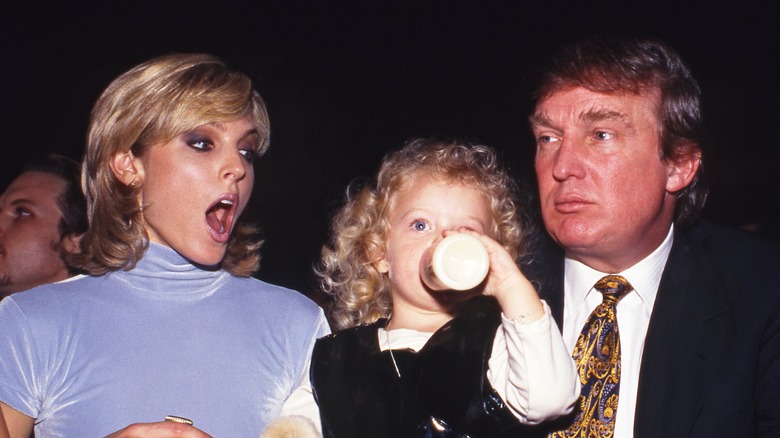 There's no love lost between Marla Maples and Donald Trump post divorce. Unlike Ivana, who walked away with $14 million and $650,000 a year in child support, Maples had to make do with, as the NY Daily News put it, "a paltry $2 million" following her failed marriage. Donald also agreed to pay $100,000 a year child support until Tiffany Trump turned 21. 
Maples "was out of her depth in Trump's world," a source told Vanity Fair, going on to add, "It's a sad story. She really didn't know how to handle him." So, it's little surprise that Marla wanted to get the hell out of Donald-dodge after their break-up.
"Donald was never the man I wanted to marry," Maples later admitted to The Telegraph (via Newsweek). "He and his world were alien to me. I'm so happy to be away from Donald, and I'm just trying to move as far away as I can." A spokesperson later insisted Maples' comments had been taken "out of context." Still, there's no escaping that Maples upped sticks and moved over 2,800 miles away from Donald and pursued a private life as a single mom in California post-divorce. "That was my choice, raising [Tiffany] outside of the spotlight," she told People. "Her daddy is a good provider with education and such, but as far as time, it was just me. Her father wasn't able to be there with day-to-day skills as a parent."
Did Donald Trump date Gabriela Sabatini when he was still married?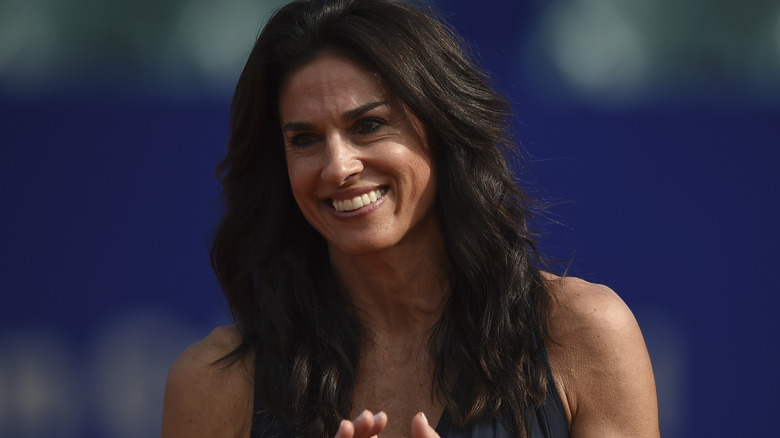 Donald Trump's relationship history is as dramatic and erratic as his (now defunct) Twitter feed. The Donald's complicated love life is like a tangled ball of thread, with marriages, affairs, and flings all intertwined. However, the list of women he's reportedly been involved with is as factually questionable as the estimated 30,573 false or misleading claims that he made during his presidency, according to The Washington Post.
One of the women Donald was romantically linked to is Argentinian tennis star Gabriela Sabatini. As Newsweek recounted, the business tycoon reportedly dated the athlete for a month back in 1989 — "during what was rumored to be a hiatus from his affair with [Marla] Maples." He subsequently divorced Ivana Trump in 1992 and went on to marry Marla a year later.
Sabatini was 19 years old when she allegedly connected with the 43-year-old Donald Trump. The beautiful brunette was at the top of her game, having just won a silver medal at the 1988 Seoul Games before reaching the semifinals in the Australian Open. Sabatini, who retired from tennis in 1996 at the age of 26, declined to acknowledge, let alone comment on the dating reports at the time. But she supposedly denied having any relationship with Donald Trump to a Los Angeles reporter in 2019, according to WeAreBreakingNews.com.
Carli Bruni called Donald Trump 'a lunatic' after affair rumors bubbled up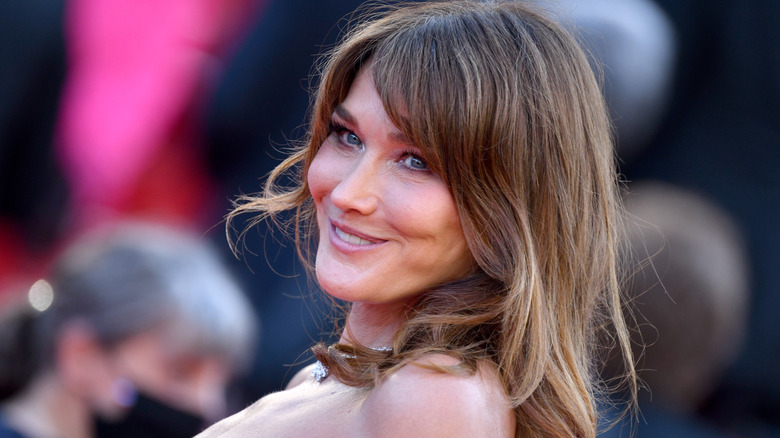 Carla Bruni found herself at the center of a Donald Trump love triangle in 1991 after The New York Post exclusively reported that Trump had dumped Marla Maples for the singer. As BuzzFeed recounted, Trump acknowledged the story himself the day after the report dropped, claiming Bruni was his "new one."
Bruni was fresh out of a tumultuous affair with Mick Jagger, which Jerry Hall blamed as the catalyst for their separation (via People). So she probably wasn't champing at the bit to be branded the other woman again. Bruni denied Trump's claims, telling the Daily Mail (via BuzzFeed) that he's "obviously a lunatic. It's so untrue, and I'm deeply embarrassed by it all. I've only ever met him once, about a year ago, at a big charity party in New York."
However, as per the New York Daily News, in "Mick: The Wild Life and Mad Genius of Jagger," author Christopher Anderson claimed Bruni and Trump did hook up. He alleged she promised to split from Jagger if Trump left Maples. "She was trying to get me to leave Marla, something I had in mind anyway, and she was using every psychological trick in the book," Anderson quoted Trump as saying. Adding a further twist to the tale though, in his 2017 biography, "Lost Tycoon"(via Page Six), Harry Hurt III insists Trump did invent the dating rumor — and was even the anonymous source behind the original story.
Donald Trump's whirlwind affair with 'stunning Trump girl' Rowanne Brewer Lane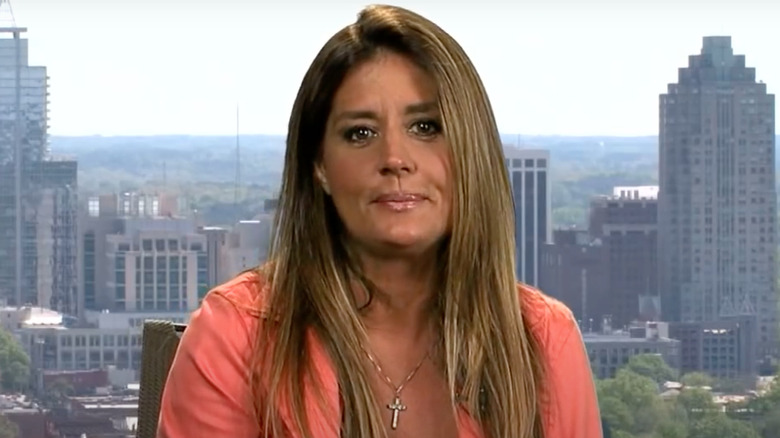 As The New York Times recounted in 2016, Rowanne Brewer Lane met Donald Trump at a Mar-a-Lago pool party in 1990 when she was in her 20s. At the time, Donald was separated from Ivana Trump and several years into his affair with Marla Maples. Still, he managed to make time to take the former Miss Maryland, even providing her with a swimsuit after learning she "hadn't intended to swim" and commenting on how she looked. "He brought me out to the pool and said, 'That is a stunning Trump girl, isn't it?'" Brewer Lane told The New York Times 26 years after their first encounter.
The newspaper went on to describe the incident as "a debasing face-to-face encounter between Mr. Trump and a young woman he hardly knew." But Brewer Lane, who ended up dating Donald for a few months in 1993, disputed the report, telling  "Inside Edition" she was actually "flattered" by the attention and "extremely upset" by what they wrote. "Basically, they lied to me," she said. "They promised me multiple times that it would not be a hit piece, and clearly it was."
In a 2016 interview with "Fox and Friends," Brewer Lane slammed The New York Times yet again, insisting they "put a negative connotation" on her comments. "He never made me feel like I was being demeaned in any way," she said before calling Donald Trump "a gentleman."
Playmate Barbara Moore said she had steamy fling with Donald Trump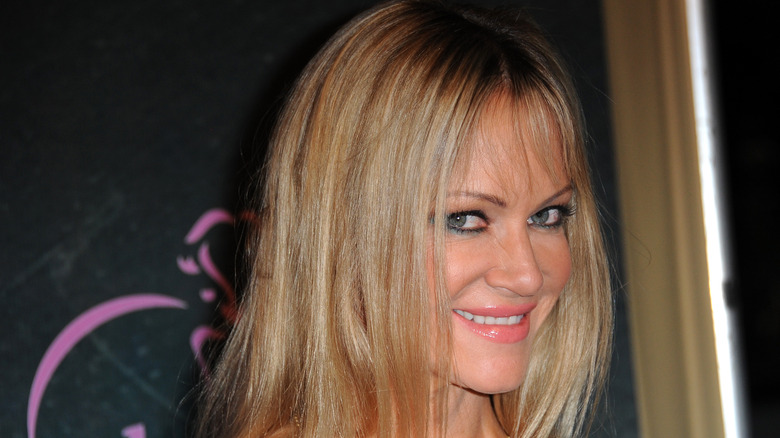 Barbara Moore alleged she had an affair with Donald Trump from March to September 1993 when Trump was awaiting his fourth child. "He was a great lover and a gentleman," she told the Daily Mail. "I didn't know he was with someone else, let alone engaged to Marla Maples, and it was only recently I learned she was pregnant at the time."
Moore met Trump during a Playboy fashion show at his Atlantic City Castle Casino hotel. The centerfold was psyched to see The Donald, who had just released "The Art of the Deal" and become a celebrated Manhattan property tycoon. "He's a powerful man, and he was one of the most eligible bachelors in the world," Moore told the Mail, claiming there was an instant connection.
Moore says she went to a private cocktail party after the show. Trump was the center of attention, with all of the models "fawning over him." But, according to Moore, he only had eyes for her. As the party wound down, The Donald sidled over and laid on the charm. After telling the 24-year-old she was "beautiful" and "classy," they headed off to his suite for a night of unbridled passion. Moore claimed it was the first of many liaisons, including a five-night fling at Mar-a-Largo where they had sex in front of a friend. "We just went at it like she just didn't exist," Moore alleged.
Model and Trump fan Kylie Bax might've had an affair with Donald Trump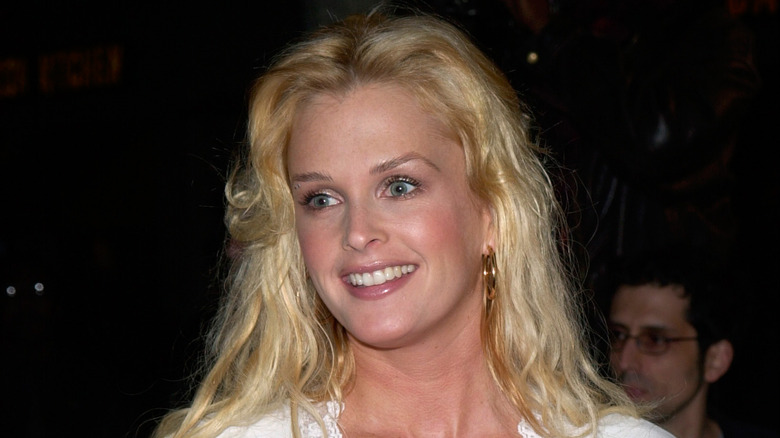 Marla Maples was hoodwinked yet again after Donald Trump allegedly did the dirty on her in 1995. As the Advocate recounted, the couple was two years married when reports began swirling that Trump was having an affair with New Zealand supermodel Kylie Bax. 
Photos started surfacing of The Donald and the "Sports Illustrated" cover girl cozying up together in various Manhattan hotspots in the early 1990s. But it took five years before rumors began that they were romantically linked as noted by Newsweek. Neither Trump nor Bax denied or confirmed the reports, deciding instead to plead the fifth. Still, they've maintained a close relationship over the years.
Bax is a staunch supporter of Trump, leaping to Donald's defense as he battled accusations of misogyny during his presidential run. Multiple women went public with sexual harassment and assault allegations against Trump — but Bax believed they were just seeking their "five minutes of fame." She also made light of Trump's infamous "Access Hollywood" tape. "I'm sorry, but he is a man," she told NZME (via The New Zealand Herald). "What about the 300 emails that Hillary Clinton has tried to cover up? What is more important — a guy trying to get a date or national security? It's unfortunate that he has said these things, and things have been done but how much has been blown out of proportion and how much is true?"
If you or anyone you know has been a victim of sexual assault, help is available. Visit the Rape, Abuse & Incest National Network website or contact RAINN's National Helpline at 1-800-656-HOPE (4673).
Donald Trump and Allison Giannini connected following the Marla Maples split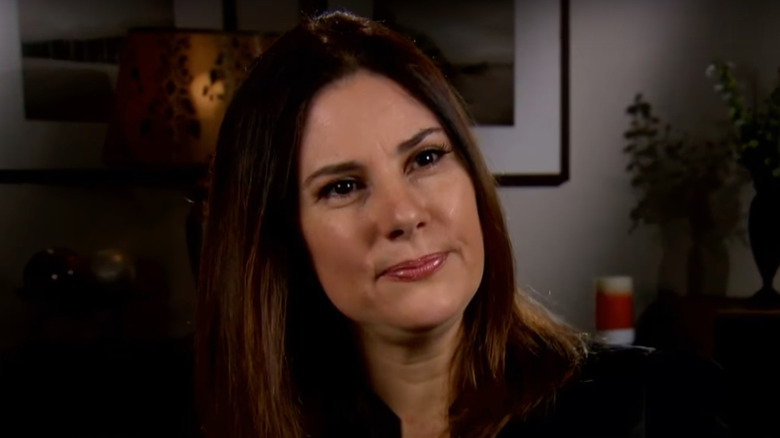 As "Inside Edition" recounted in 2016, Allison Giannini dated Donald Trump just after his final break-up with Marla Maples. The former model was 27 when she was set up on a blind date with the 50-year-old self-professed multi-millionaire. Despite only going out three times, Trump managed to impress Giannini. "He was just so smart, I know a lot of things are said about him, but to me, he's a great, great guy," she told the outlet. "We got along great."
While the two went their separate ways, Giannini bears no hard feelings — quite the opposite, in fact. She raved about Trump's chivalry, stating, "As far as treating women, he treated me just wonderfully. I really think he has a very sweet side to him that a lot of people don't know or see. He was very gentlemanly, opening doors, pulling out chairs for me." Giannini also shared that Trump was still enamored with Maples, telling "Inside Edition" "[he] talked about Marla and how much he loved her."
Despite the briefness of their encounter, Trump left a lasting impression. He shared some of his words of wisdom, spurring Giannini to launch a new career as a realtor. "He always said real estate would always go up in California and to buy, and that's what I've done," she said. "I've listened to him, and he was right."
Did Donald Trump and the Queen of Versailles date?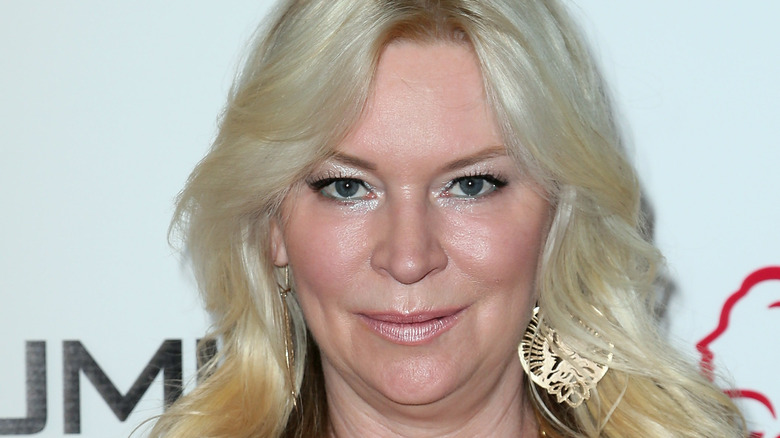 Donald Trump may have had a thing with Jackie Siegel, star of "Queen of Versailles" and repeat "Below Deck" guest. While chatting with HuffPost to promote the documentary in 2013, she shared that she once "kind of" had a romantic relationship with Trump. "We just went out a couple times," Jackie said. "Like, he invited us to Mar-a-Lago and go to his parties and things like that. He's a really great person. So much charisma."
The socialite quickly backtracked on her comments, though. "We're friends," she later told the Orlando Sentinel. "I wasn't really dating. When I was modeling, I was on the Trump float in some parade. I can't believe there are headlines out there. Oh my God. How embarrassing."
However, Jackie's husband, David Siegel, wasn't so shy about his Trump fangirling. Following The Donald's 2016 presidential win, the timeshare mogul gushed to the Sentinel, "It's the greatest thing that's happened to me since I discovered sex. In the next four years, we're gonna dwarf what we've done. I'll go out on a limb financially to grow this company." And it seems Trump was committed to helping his buddy achieve his financial aims. Four companies linked to multi-millionaire Siegel were "approved for nearly $18 million" in Paycheck Protection Program loans — which were supposedly created to help small businesses stay afloat during the COVID-19 crisis, per The Miami Herald.
Donal Trump boasted about 'stealing' Kara Young from A.J. Benza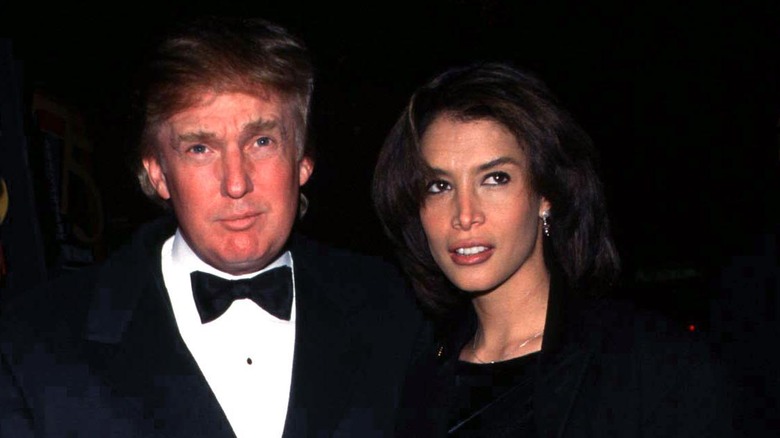 Donald Trump was a "The Howard Stern Show" regular back in the day — adding more shock to Stern's already notoriously outrageous broadcasts. Trump was the king of TMI and making decidedly inappropriate comments  — including some headline-grabbing remarks about his own daughter. But as the Daily Beast reported, Trump really managed to excel during a bizarre interaction in 2001. Stern was interviewing tabloid journalist A.J. Benza about his new book "Fame, Ain't It a B***h" which includes a passage about his girlfriend Kara Young dumping him for Trump. Not surprisingly, The Donald just had to add his ten cents and promptly rang into the show. 
"I've been successful with your girlfriend, I'll tell you that," Trump said on "Stern" (via the Daily Beast). "A.J., I won your girlfriend. You know it, she knows it, and everybody knows it." The two started hurling angry barbs at each other — kicking off with Benza slamming Trump's hair "plugs" and claiming he's "out of his mind." The Donald retaliated, alleging, "A.J. doesn't like Trump for one reason: I stole his girlfriend. I took her away like she was a dog." 
And Trump wasn't finished there. "Any girl you have, I can take from you," he boasted after Benza threatened to bash his head in with a bat.
Donald Trump denied dating Victoria Zdrok, who called his hair 'odd'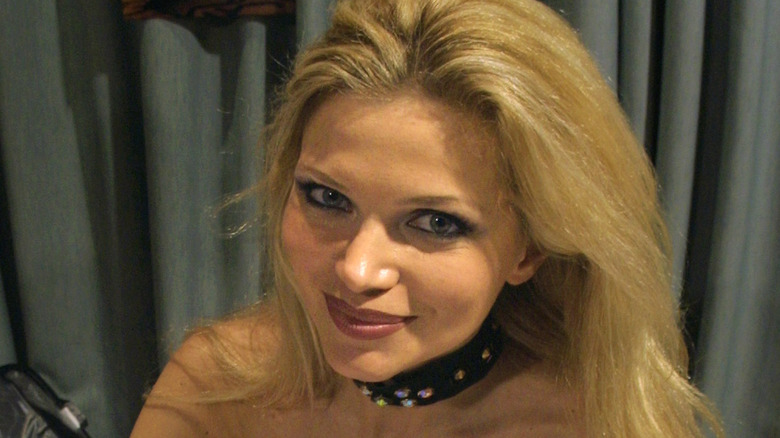 The story of Donald Trump and Victoria Zdrok boils down to a case of "he said, she said." As the Daily Beast reported, the Ukrainian model claimed she went on four dates with Trump. However, he denied going out with her. "I don't even know who the hell she is," Trump told celebrity journalist Chaunce Hayden before alleging she called him "10 different times, like five years ago."
In an interview for Steppin Out (via Daily Beast), Zdrok alleged to Hayden that they met after Trump badgered Playboy magazine to arrange a date between them. She added, "He's really into himself! On a date, all he does is talk about himself. He loves himself!" In a phone call obtained by the Daily Beast, Trump asks Zdrok not to run the interview. In the audio, Trump insists he would have never dated the ex-Penthouse pet because "she looks like a f***ing third-rate hooker." 
"I never met a more narcissistic person than Donald," Zdrok shared with Hayden before dishing on how Trump loves to boast about "what a great lover he is." She also called Trump "very racist" and commented on how "odd" his hair is. "He uses so much hairspray. I would never dream of touching it. But he doesn't care. He really thinks he's one of the most handsome people on earth," she said.
Jill Harth filed a sexual harassment lawsuit against 'groper' Donald Trump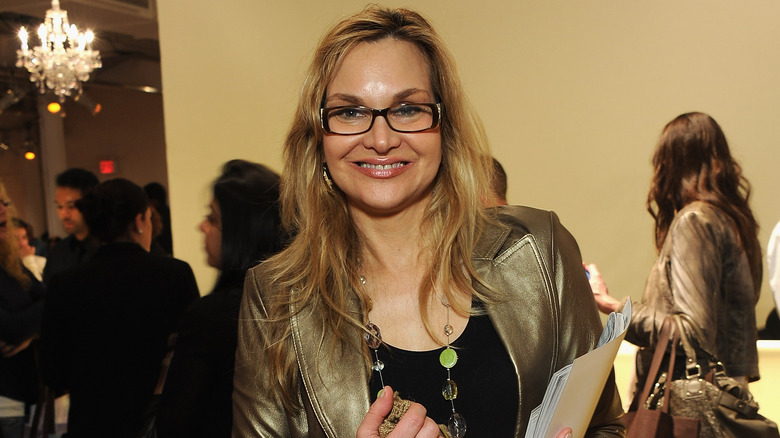 Jill Harth first encountered Donald Trump in 1992 when she and boyfriend George Houraney met with him to discuss investing in their business. As noted in a The New York Times feature, Trump was more interested in Harth than in doing deals. Nonetheless, he eventually agreed, and in 1993 the couple flew down to Mar-a-Largo to celebrate.
Harth filed a sexual harassment lawsuit in 1997, claiming Trump repeatedly groped her. One incident allegedly occurred in his daughter's bedroom. "I was admiring the decoration, and next thing I know, he's pushing me against a wall and has his hands all over me," she claimed to NYT. However, they continued to work together until Trump had a change of heart and allegedly refused to pay the couple. Houraney sued for breach of contract while Harth filed her sexual harassment lawsuit, which also alleged attempted rape. She eventually dropped the suit after Trump settled with Houraney. Harth and Houraney married and then quickly divorced. In 1998 while struggling to rebuild her life, Harth told the NYT that Trump, who had just separated from Marla Maples, launched a charm offensive; Harth and Trump actually dated for a while before he went on to marry Melania Knauss.
Harth's lawsuit was unearthed after Trump launched his presidential campaign. According to The Guardian, the National Enquirer claimed Trump told a friend, "The truth is that Jill Harth is obsessed with me — and would do everything she could to get into my pants."
If you or anyone you know has been a victim of sexual assault, help is available. Visit the Rape, Abuse & Incest National Network website or contact RAINN's National Helpline at 1-800-656-HOPE (4673).
Before Donald Trump married Melania in 2005, he didn't hear 'doody'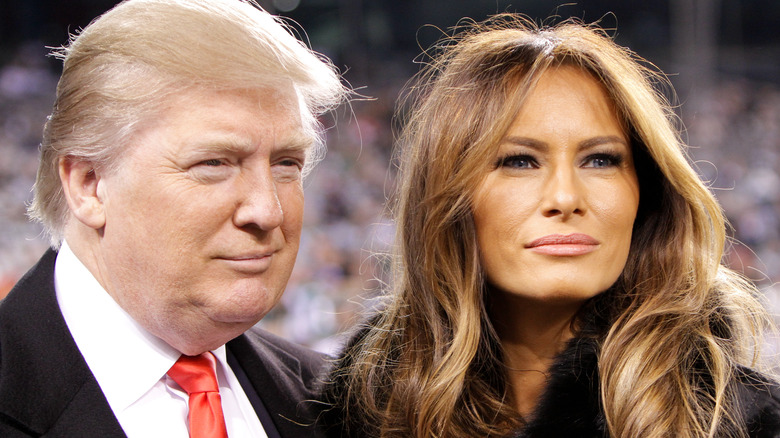 Donald Trump and Melania Trump (née Knauss) first met in September 1998 when she, as Vanity Fair recalled, "captured the attention" of the mogul at a Fashion Week event. Donald was there with his rumored squeeze Celina Midelfart, having just recently separated from his second wife, Marla Maples. That didn't stop the 52-year-old from hitting on 28-year-old Melania, though. Donald asked the Slovenian model for her number, but she played the notorious player, insisting instead that he hand his digits over to her.
Not before long, they went on their first date. "I remember that night like it was two months ago," Melania told Harper's Bazaar. However, as a friend of Melania told GQ, early into their budding relationship, the couple split due to her "trust issues." But they soon reunited, and in 2005 they wed in an over-to-top ceremony at Mar-a-Largo. As GQ recounted, Melania wore a "$100,000 Dior dress that laborers' hands had toiled upon for a legendary 550 hours, affixing 1,500 crystals."
"We are standing by each other and we are equal in the relationship," Melania told Tatler the year they married. "And we support each other, you know. We always believe, both of us, that woman behind a man and man behind a woman." Meanwhile, before they tied the knot, Donald confirmed to Howard Stern (via BuzzFeed) he'd yet to hear Melania "[make] a doody."
Karen McDougal also alleged she had an affair with Donald Trump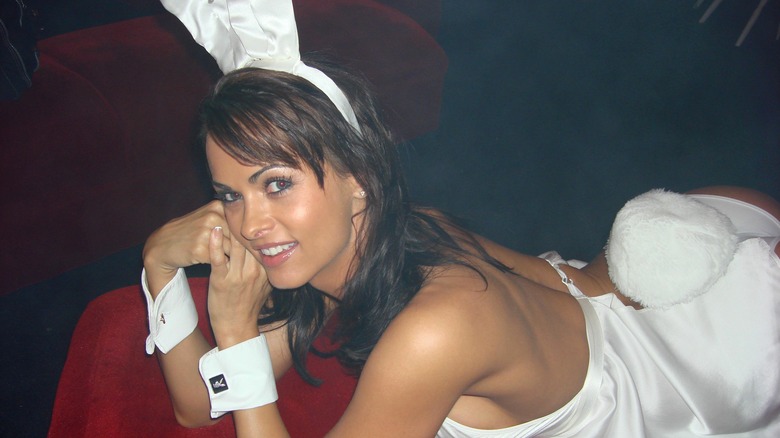 One of Donald and Melania Trump's many marital challenges occurred courtesy of Karen McDougal. The Playmate alleged she had an affair with Donald — starting June 2006, three months after the birth of his son, Barron Trump.
McDougal wrote about the purported affair in a journal that was leaked to The New Yorker. She claimed she met Donald Trump at a Playboy party. "[He] immediately took a liking to me, kept talking to me — telling me how beautiful I was," she alleged. They began chatting on the phone before arranging to meet at the Beverly Hills Hotel. After some talk, they got it "ON"! We got naked + had sex," McDougal wrote. They allegedly continued to meet whenever Donald was in Los Angeles or at multiple events around the country. McDougal claimed the guilt became too much eventually, and she ended things in April 2007.
Just days before the 2016 presidential election, The Wall Street Journal broke the news of the alleged affair. They reported that McDougal had been hushed-up by the National Enquirer's parent company. At the time, American Media was owned by David Pecker, a close buddy of Donald's. AMI was accused of orchestrating a "catch and kill" — paying McDougal for the rights to her story, preventing her from speaking about it ever again, then killing it dead. As per NPR, both AMI and Donald denied all allegations against them.
Stormy Daniels also alleged she had an affair with Donald Trump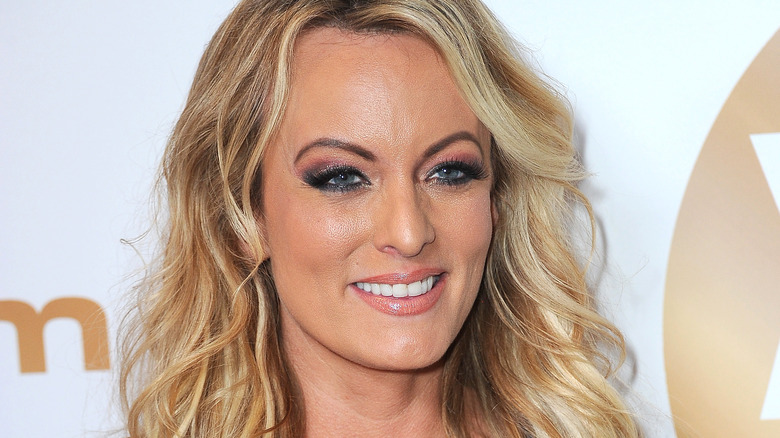 In 2006, Donald Trump also allegedly had an affair with Stormy Daniels. The adult film actor claimed their tryst began four months after Melania Trump gave birth to Barron — just weeks into Donald's alleged affair with Karen McDougal.
Rumors about Donald Trump and Stormy Daniels first surfaced on the blog The Dirty in 2011. At the time, Donald was just a Manhattan property tycoon and reality TV star, so the story more or less flew under the radar. However, everything changed during Donald's presidential campaign. According to "60 Minutes," eleven days before the election, Daniels was persuaded to sign a $130,000 non-disclosure contract. Donald's attorney Michael Cohen brokered the deal, paying Daniels through a Delaware-based LLC created a month prior. As per the NDA, Daniels would be forced to pay $1 million each time she spoke about the alleged affair with a maximum penalty of $20 million.
But, Daniels refused to be silenced. In August 2018, she sat down with Anderson Cooper to dish The Donald dirt in the aforementioned no-holds-barred "60 Minutes" interview. Daniels spilled all the tea, alleging she "spanked" Donald with a copy of Forbes magazine that had his photo on the cover and that he didn't use a condom. As per the BBC, Donald denied the affair and called Daniels' allegations "false and extortionist."
The Trumps face a barrage of divorce speculation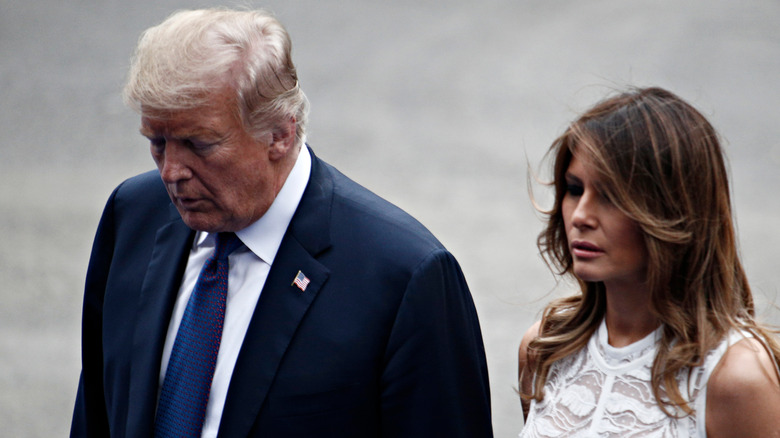 Given all the scandals, sexual assault claims, and extra-marital affair allegations, it's little surprise that speculation over the Trumps' future together has been rife. Per The Washington Post, bookies started taking bets on a possible divorce before the 2020 election. The odds began decreasing as the end of Donald Trump's presidency drew closer following his loss to Joe Biden. However, when Melania Trump's chief of staff was asked about the split speculation, she shot it down in flames. "This question is pathetic and exactly why people no longer trust the mainstream media. No legitimate journalist would ask this," Stephanie Grisham said.
Ex-White House official Omarosa Manigault Newman believes otherwise, though. "In my opinion, Melania is counting every minute until he is out of office and she can divorce him," the former "Apprentice" contestant wrote "Unhinged: An Insider's Account of the Trump White House." "If Melania were to try to pull the ultimate humiliation and leave while he's in office, he would find a way to punish her."
One thing's for sure, whatever Melania ultimately determines to do, her son will be at the heart and center of her decision. According to The Independent, Stephanie Winston Wolkoff claims Barron Trump's financial future is Melania's primary concern. Winston Wolkoff alleges her former friend stayed in New York during the first months of Donald Trump's presidency to renegotiate their prenup — guaranteeing Barron an equal share in the family business.
Source: Read Full Article