Did Diddy get a case of Relationship FOMO after seeing ex Jennifer Lopez reunited with Ben Affleck? The rapper-turned-uber-mogul raised eyebrows everywhere when he posted a (since-deleted) throwback snapshot of him and Lopez in their own coupling days to his Instagram in late May. Appearing a paparazzi shot, the erstwhile pair looked the picture of casual cool, with J.Lo snuggled in a white turtleneck and signature aviator shades and Diddy in his Sean Jean line's grey sweat-suit clutching the triple threat's hand. The caption — "#tbt" — was simple. The reaction to the photo was anything but. Singer and friend Keyshia Cole commented on Diddy's post before it was deleted, "Tell ha, come on home baby."
After all, this was on the heels of that fateful Mother's Day Montana getaway for Lopez and new (again) beau Ben Affleck — and their PDA train didn't stop there. Just two days before Diddy's social media flashback, a source told Entertainment Tonight the reunited couple was spotted kissing post-workout. With all eyes on Lopez and Affleck, could Diddy have been trying to send everyone, J.Lo included, a sassy reminder of their own past romance? Keep reading for his answer, as Diddy finally addressed the matter. 
Diddy was just being friendly with his J.Lo throwback post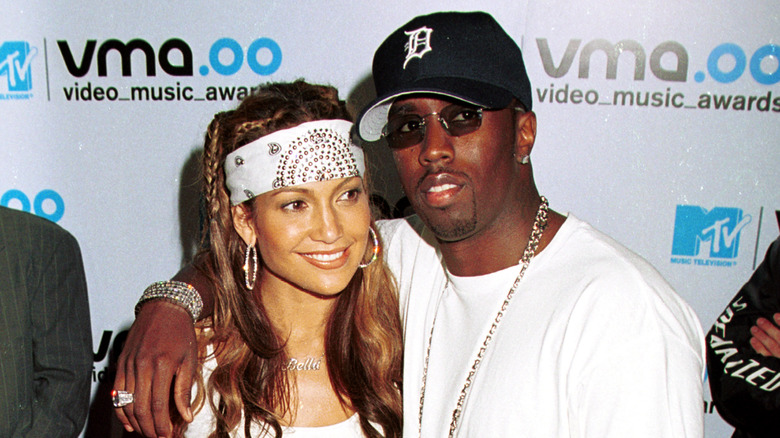 As it turns out, Diddy — who announced on Instagram August 3 he was now in the "Love Era" of his life — was really just keeping it "all love" when it came to his Jennifer Lopez throwback post. Despite fellow celebrities cheering on the now-deleted photo of Diddy and J.Lo (DJ Holiday wrote, "Go get your girl Brother Love!!!!!! She yours," per Page Six), Diddy told Vanity Fair in August no such reunion was happening. "It wasn't no trolling involved, that's just my friend. And I don't have nothing to say about her relationship or her life," he explained.
It would seem that Diddy has no heart pangs for J.Lo, unlike ex-fiancé Alex Rodriguez, who famously posted a tear emoji-tribute video to Lopez in April via his Instagram Story. (Reposted to a fan's Twitter, Rodriguez showcased photos of him and the singer placed on a tabletop while Coldplay's "Fix You" played in the background).
As Vanity Fair characterized it, in Diddy's case, Kim Porter — the mother to three of Diddy's six children who died in 2018 — was "the one" for the mogul-musician-multihyphenate. "I had to start to deal with it when I lost Kim," Diddy told the publication. "Cause I was like, man, you had it." Nonetheless, the ever-forward-moving pop-culture tastemaker said, "I look at my life as I got a second chance."
Diddy and J.Lo were iconic in their heyday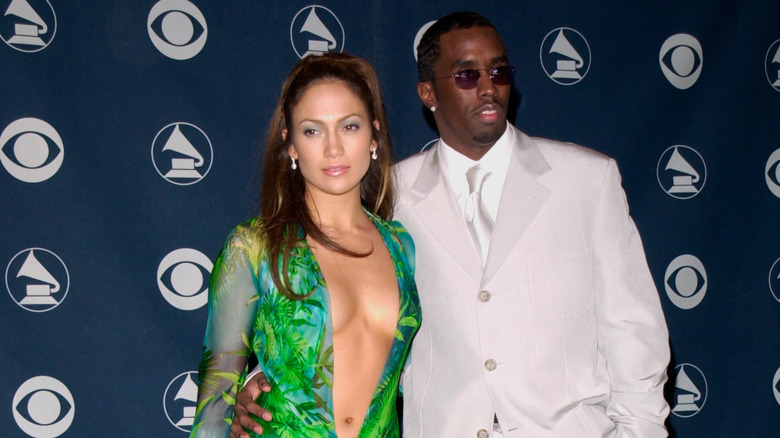 While Diddy might not be fretting over Jennifer Lopez's new romance, there is no denying the couple captured the public's imagination when they dated. Per Newsweek, after meeting on the set of her music video for "If You Had My Love" in September 1999, Diddy and Lopez made a splash everywhere the couple went. It was with Diddy that J.Lo literally (albeit inadvertently) caused the invention of Google Images with that plunging-neckline Versace gown at the 2000 Grammy Awards. As Google executive chairman Eric Schmidt wrote for Project Syndicate, "At the time, it was the most popular search query we had ever seen. But we had no surefire way of getting users exactly what they wanted … Google Image Search was born." Diddy told Entertainment Tonight he knew the dress would be a crowd-pleaser, musing, "I thought it was gonna really change the game as far as for her and fashion." 
The couple made troubling headlines in December 1999, however, after getting arrested for fleeing the scene following a triple shooting at Manhattan's Club New York. J.Lo's charges were quickly dropped, but Diddy ended up famously standing trial for bribery and gun possession in January 2001. Though he was acquitted of all charges, the two had called it quits by Valentine's Day 2001. Reminiscing to "Access Hollywood" (via HipHopDX), Diddy said, "It was a rough year and I just want her to be happy." 
Source: Read Full Article