Yikes!
Elle Fanning was attending the Trophée Chopard dinner on Monday at the Cannes Film Festival when she FAINTED and fell off of her chair!
Afterwards, the 21-year-old shared a photo to Instagram throwing a thumbs up assuring her followers she was all good, and sharing the culprit for the incident: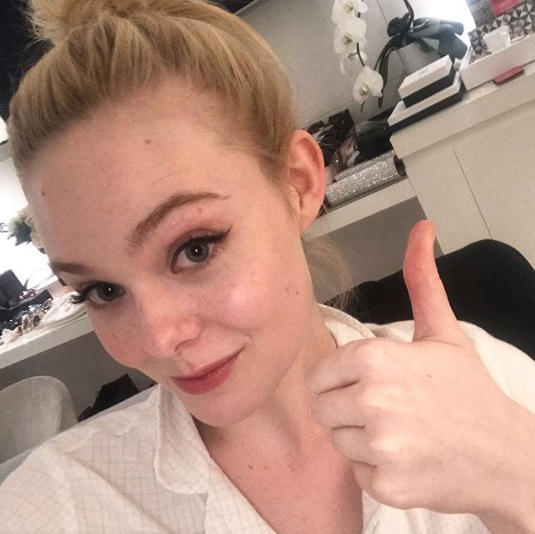 The Maleficent: Mistress of Evil star captioned her baby-faced selfie:
"Oops, had a fainting spell tonight in my 1950's Prada prom dress but it's all good!! #dresstootight #timeofthemonth"
We're so glad she's OK!
Variety reports that the Teen Spirit star was seated next to her big sis Dakota Fanning when she collapsed, pausing the ceremony and quieting the crowd according to an eyewitness.
Festival director Thierry Fremaux had just introduced the French actor Francois Civil onstage when she fainted.
Miz Fanning is serving as a member of the jury, but has also been serving major looks with her fashion choices during the nine-day event, including the baby pink Prada dress that caused her fainting.
The trade publication shared that her big sis helped her to her feet while Colin Firth leapt up to offer his help. Actress Marion Cotillard sat with her hand on her heart while the sisters were assisted out of the event by security.
We're sure attendees will be pleased to know Fanning is feeling better and can focus on the festival again.
Elle, who is reprising her role of Princess Aurora in Maleficent: Mistress of Evil this October, recently opened up about her on-screen mom Michelle Pfeiffer:
"She's incredible. What's so funny is she was in I Am Sam with my sister really young. My mom loves Michelle Pfeiffer. She was like, 'She was so nice to us!' my sister was super-young just starting out and that made like a huge impression on my family, so getting to come back around and work with her."
She continued, sharing what it was like to shoot her first film sequel:
"What's so nice is with this story, it really follows the family dynamic of the mother-daughter relationship between Aurora and Maleficent, which was the heart of the first movie at the end. And, I've never done a sequel to a film before — I've never come back as a character, older. The first time it was released, I was 16, but when I shot the film, I was 14. And, now I'm 20 so it's a big jump!"
Keep crushing it, Elle!! Just maybe don't wear such tight dresses.
Source: Read Full Article