CNN anchor Christiane Amanpour, who is considered one of the most accomplished journalists of the last few decades by many, saddened viewers worldwide during a June 14 episode of her show, "Amanpour." As CNN reported shortly after her show, the 63-year-old Iranian-British journalist, former war correspondent, and Peabody Award-winner has been undergoing treatment for ovarian cancer for the past four weeks — time in which she has been "off the air," per CNN, from the news network, and from her own show. 
That said, in true journalist fashion, Amanpour was quick to be bravely open about not only her diagnosis but how the treatment is going and how fortunate she feels. From her home in London, the anchor shared that ovarian cancer affects "millions of women around the world," per CNN, and that she's "fortunate to have health insurance through work and incredible doctors who are treating me in a country underpinned by, of course, the brilliant NHS," or the National Health Service in the U.K.
So what is the noted news anchor's current condition? And what did the iconic anchor have to say about her future plans? Keep on reading below to find out about Christiane Amanpour's health status.
Christiane Amanpour bravely shared her ovarian cancer diagnosis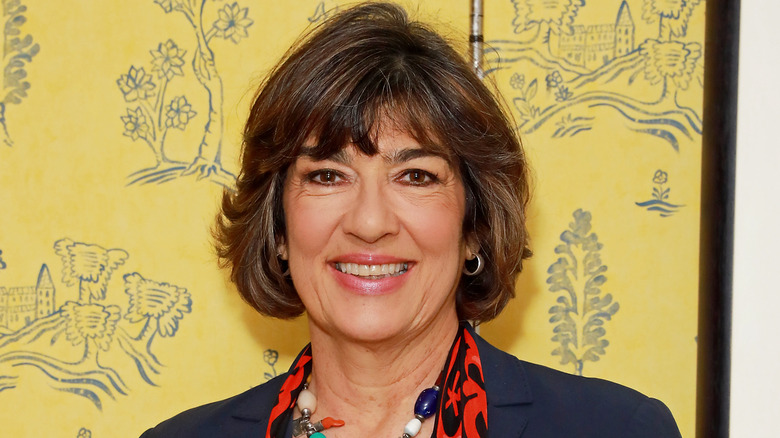 As CNN anchor Christiane Amanpour announced on June 14 at the beginning of her show broadcast — which she filmed from her city of residence; London – she had been diagnosed with ovarian cancer. "I've had successful major surgery to remove it, and I'm now undergoing several months of chemotherapy for the very best possible long-term prognosis, and I'm confident," Amanpour said at the top of her show. "I'm telling you this in the interest of transparency but in truth really mostly as a shoutout to early diagnosis." She added she wanted to "urge women to educate themselves on this disease; to get all the regular screenings and scans that you can; to always listen to your bodies; and of course to ensure that your legitimate medical concerns are not dismissed or diminished."
CNN's Bianna Golodryga, who sat in as the anchor of "Amanpour" for the past four weeks, was quick to share a message on Twitter. "you're not only one of the best journalists in the business, you're also one of the toughest," she wrote alongside Amanpour's on-air video, which Amanpour shared and captioned, "Some personal news from me." We wish her the absolute best as well. 
Source: Read Full Article