Cardi B is the ultimate fangirl. The "Up" rapper has recently met some of her favorite entertainers, and in true Cardi fashion, she hasn't shied away from letting everyone know she's a stan. A few days after meeting Robert Pattinson, the singer received an invite from Halle Berry for a fun game to promote Berry's upcoming movie. After the actor posted a clip of them on Twitter, Cardi spilled the tea regarding Berry's soft skin.
Halle Berry's smooth skin seduced Cardi B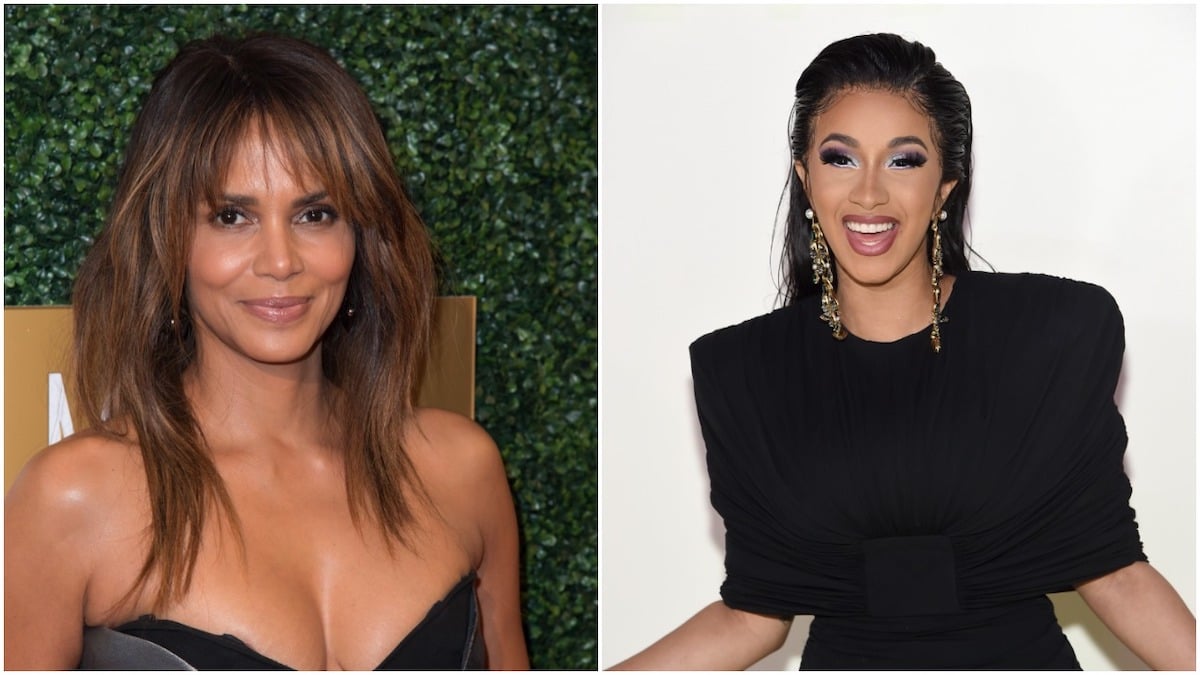 Berry is a respected veteran actor and entrepreneur. Her most prominent part, the title role in 2004's Catwoman, has become her nickname over the years.
Cardi B and Berry met when the former executive-produced the soundtrack to Berry's upcoming movie, Bruised. The film highlights the life of a former mixed martial arts fighter who decides to get back into the ring following a long hiatus from the sport.
The project includes the first all-female hip-hop collaboration, featuring renowned rappers and singers such as H.E.R, Cardi, Saweetie, Latto, and Flo Milli. To honor their partnership, Berry and Cardi sat down to play 5 Rounds.
The game involved the pair hilariously engaging in a no-holds-barred conversation where they asked each other spicy topics. The questions ranged from generic, such as biggest purchases, to personal, like favorite sex positions.
On November 11, the actor tweeted a clip of the segment, captioning it "I'm still crying at this" and punctuating it with a crying emoji. Shortly after seeing the tweet, Cardi responded by sharing her own experience interacting with the star.
Cardi didn't hold back with her response. She wrote on Twitter:
"Sooo guys I can't believe I met Halle Berry…and let me tell you this tea, her skin is so soft…I wanted to bite her shoulder."
The rapper also plugged the project by telling her 20 million followers that Bruised would come out on November 19.
Halle Berry has a four-step skincare routine that makes her seemingly age backward
One look at Berry, and you wouldn't think she's a day over 30. But the talented actor turned 55 on August 14, and her youthful appearance is thanks, in part, to a four-step skincare routine and workout regimen. The star shared her beauty secrets with her Instagram followers, revealing she adopted a skincare regimen when she was 16.
It involves using a gentle cleanser and then exfoliating to get rid of the dead skin. Next, Berry uses a hydrating mask, which she leaves on her face for 15 minutes to let the serum soak into the skin. The final step is using a hydrating moisturizer she gently taps into her skin to reveal a youthful glow.
Cardi B has geeked out over other celebrities too
Berry isn't the first A-lister the rapper has geeked out over. In October, Cardi found a 2019 interview in which You star Penn Badgley praises the "WAP" rapper for her relationship with fans. She didn't hold back her excitement when retweeting the interview.
"HE KNOWS ME," she wrote in all caps, followed by several screaming emojis.
The tweet elicited a reaction from Badgley, simply responding, "I-."
The two didn't waste any time changing their Twitter profile pictures to photos of each other, making for a hilarious interaction.
And in early November, Cardi took to Twitter to gush about meeting Robert Pattinson. The rapper squealed with excitement in a short clip with the Twilight star, who stuck his tongue out during their interaction. Cardi captioned the video, "Look who I met the other day! I felt like a teen!"
Source: Read Full Article