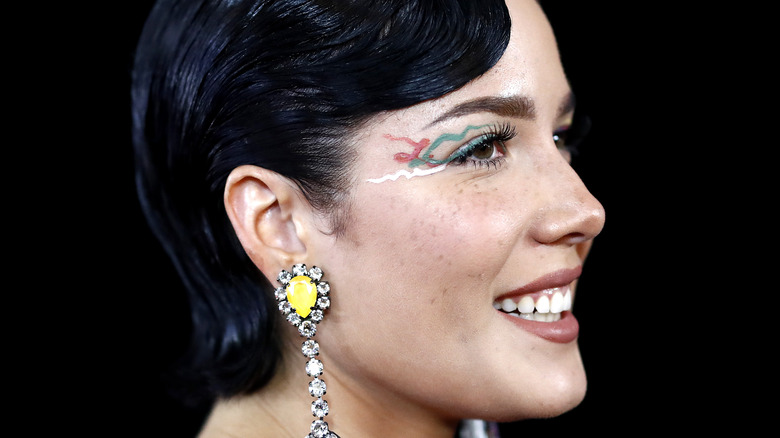 Halsey carved out a spot at the top of the music industry by knowing when to take creative risks. The "Without Me" hitmaker reached the pinnacle on the Billboard Hot 100 twice and landed in the top two on the Billboard 200 albums chart three times, per Billboard. That means every album they released topped or nearly topped the chart. And she's on track to notch a fourth entry with her upcoming album "If I Can't Have Love, I Want Power." The cover art alone created international headlines due to its celebration of the pregnant female form, per NME.
She didn't get to this point in the game by playing it safe. Halsey makes bold choices to highlight her creativity every time she takes the stage or hits the recording booth. Considering what we know about the pop star, it shouldn't surprise you to learn that their makeup aesthetic is every bit as fearless and unique as their artistry. What might surprise you is that the superstar doesn't rely on a team of artists to get them ready every time she hits a red carpet.
There's no glam team involved for one simple reason: Halsey does their own makeup. According to Halsey, the decision taught her a lot about herself. "Being able to do my own makeup myself has brought me to autonomy and self love," she told Elle in 2018. It also makes their enviable style even more accessible to people who are looking to replicate her makeup routine. 
Halsey's onstage makeup aesthetic is not about playing it safe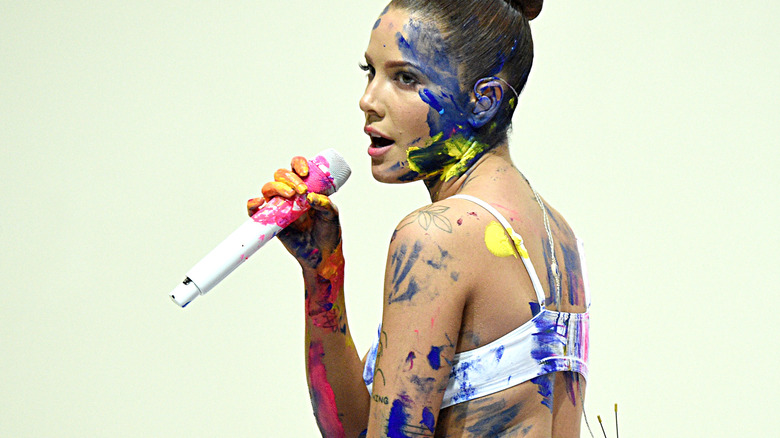 Anyone who has seen Halsey perform knows that she likes to make a statement with their makeup. She described their onstage aesthetic as "theatrical" in their chat with Elle. "Part of being on stage and the history of theater has been that makeup — defining your eyes and defining your lips so that the crowd can actually see your expression," she explained. Beyond making a statement with expressive makeup, the singer added that their onstage makeup needs to last.
Halsey's style changes when she's doing a look offstage. "I've learned less is more," she added. "When I'm not on tour, I don't really wear that much makeup. I wear brow gel and BB cream and maybe mascara. I love a fresh, dewy face during the day." 
And despite laying out all these ground rules, Halsey recognizes another important fact about their makeup routine: It isn't static. "I've had a couple of phases of makeup," she said. Parts of each phase may not be ideal, but they've helped her learn and allowed her style to evolve. That should be relatable to anyone who has explored makeup over the course of their lives.
Halsey stays true to herself by doing her own makeup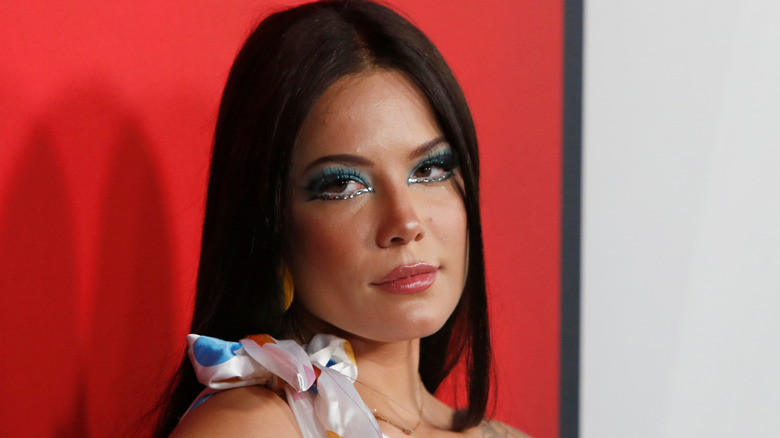 There is more to the reason Halsey chooses to do their own makeup. "I'm a musician and my fans have fallen in love with the person that I am — I want to look like that person," she told Elle. Doing her makeup helped her learn to love her face, perceived flaws and all. "A huge part of makeup for me is learning to accept my face is my face. It's the face I was given and it is the face that I have and I can use makeup as a tool to enhance and celebrate the parts of my face that I love, because this is the face I got," she continued.
Halsey shared a similar message with Byrdie in 2020. "Get to know your face, face to love your face, and figure out what kind of makeup trends best accentuate your face, style, and bone structure instead of trying to change your face," she said. Sounds like essential advice for any makeup user.
Makeup also provides the star an opportunity to pay tribute to other artists who she respects. She listed the likes of Linda Evangelista, Madonna, and Edie Sedgwick as style icons who inspire her, per Elle. Part of copping Halsey's makeup routine will entail something similar: Studying her looks and deciding what parts of them work best to accentuate your own features. That way you can look like the star, while still being true to yourself.
You can shop Halsey's own makeup brand online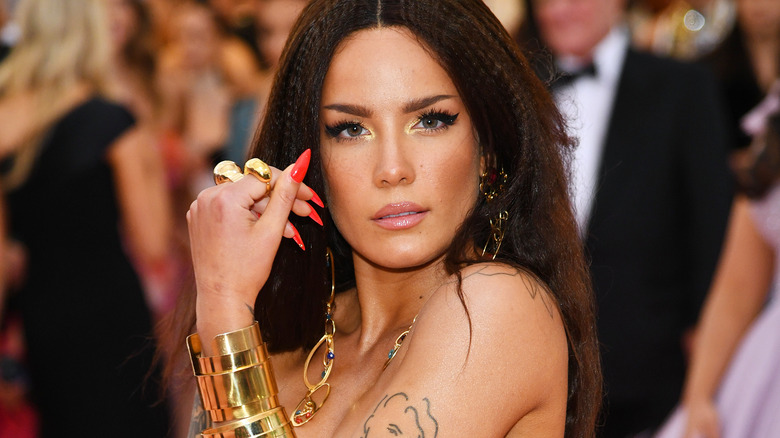 Of course, an easy way to cop Halsey's makeup aesthetic is to pick up some products from her makeup brand. The "Graveyard" singer announced the creation of About-Face in January, and products launched shortly thereafter, per Allure. The vegan and cruelty free brand, which you can shop online, features a multitude of products ranging from liquid lipsticks and eye paints to highlighters and setting sprays. There have already been several launches to expand colorways and introduce new products, as seen on Instagram.
The brand, especially its eye paints, received a mostly positive review from YouTuber Nikkie Tutorials, who commended Halsey for releasing a line that inspires makeup artists to be more creative in their application and looks. It's worth noting that if you recreate a look from the brand's campaign images, you're likely putting your own spin on a Halsey original. Allure noted that the hitmaker created all of the looks featured in the brand's initial teaser video.
With free shipping for online orders over $35 and a free sample included in every purchase, About-Face is arguably an accessible beauty brand. However, you don't necessarily have to shop there to replicate Halsey's makeup routine.
Halsey has shared some staples in her makeup collection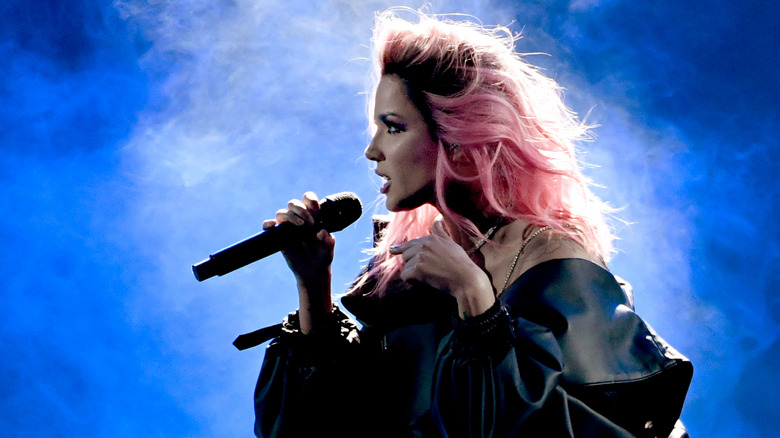 Halsey's makeup collection is not entirely made up of About-Face products. In fact, there are many other brands and products that she has shouted out over the years. She told Byrdie that she loves some high-end brands such as YSL, Dior, and Givenchy. Some of Halsey's favorite makeup brands are more expensive, but she also has some affordable favorites. She recommended a holographic highlighter stick by Milk Makeup that runs for an affordable $15 and creates a pixie-like "purple, holographic alien highlight." Sounds like a must-have.
But many other products Halsey uses are even more affordable. In fact, you can pick up some of the singer's most cherished beauty products at a drugstore near you. Earlier this year, she revealed that she relies on skin care products from Jessica Alba's Honest Beauty line to help keep her skin under control while pregnant, per Teen Vogue. That's not all, either. You can also pick up products from the extremely affordable Maybelline New York line to recreate Halsey's "Manic" album cover look, per her 2020 YouTube makeup tutorial with Vogue. More on that below, though.
If you're fond of natural makeup products, Halsey has some tips there, too. She listed coconut oil, tea tree oil, activated charcoal, coffee (as an exfoliator), apple cider vinegar, and green tea as everyday items that can help pull off perfect skin and a natural beauty routine, per Byrdie.
You can quite literally copy Halsey's makeup routine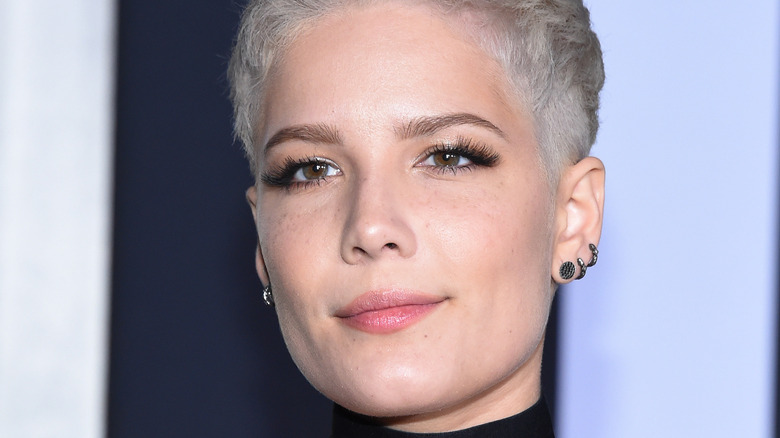 Halsey's makeup routine isn't a massive industry secret. In fact, the diva has literally recreated some of their most iconic looks on camera. In early 2020, she showed Vogue how to create the striking, glittery look she rocked on the cover of her third album, "Manic." The 18-minute video provides all the information you need to pull off a similar look for a night on the town. That includes an exact product list and some handy tips from the artist herself on everything from skincare to her brow routine.
If the "Manic" look is too daring for you, have no fear. Earlier this year, Halsey showed Allure how to pull off a fresh-faced look in 10 minutes or less. The routine starts with a sunscreen application and features even more advice about how the artist pulls off a glowy and healthy look without relying on foundation. The video features several of Halsey's must-have products, including a cream blush from Rihanna's Fenty Beauty line and a Drunk Elephant sunscreen. It also opens up about some of the artist's most notable makeup looks and how her style changed over the years. And regardless of her style, it's clear that Halsey is always ready to push the creative boundaries to make a statement.
Source: Read Full Article