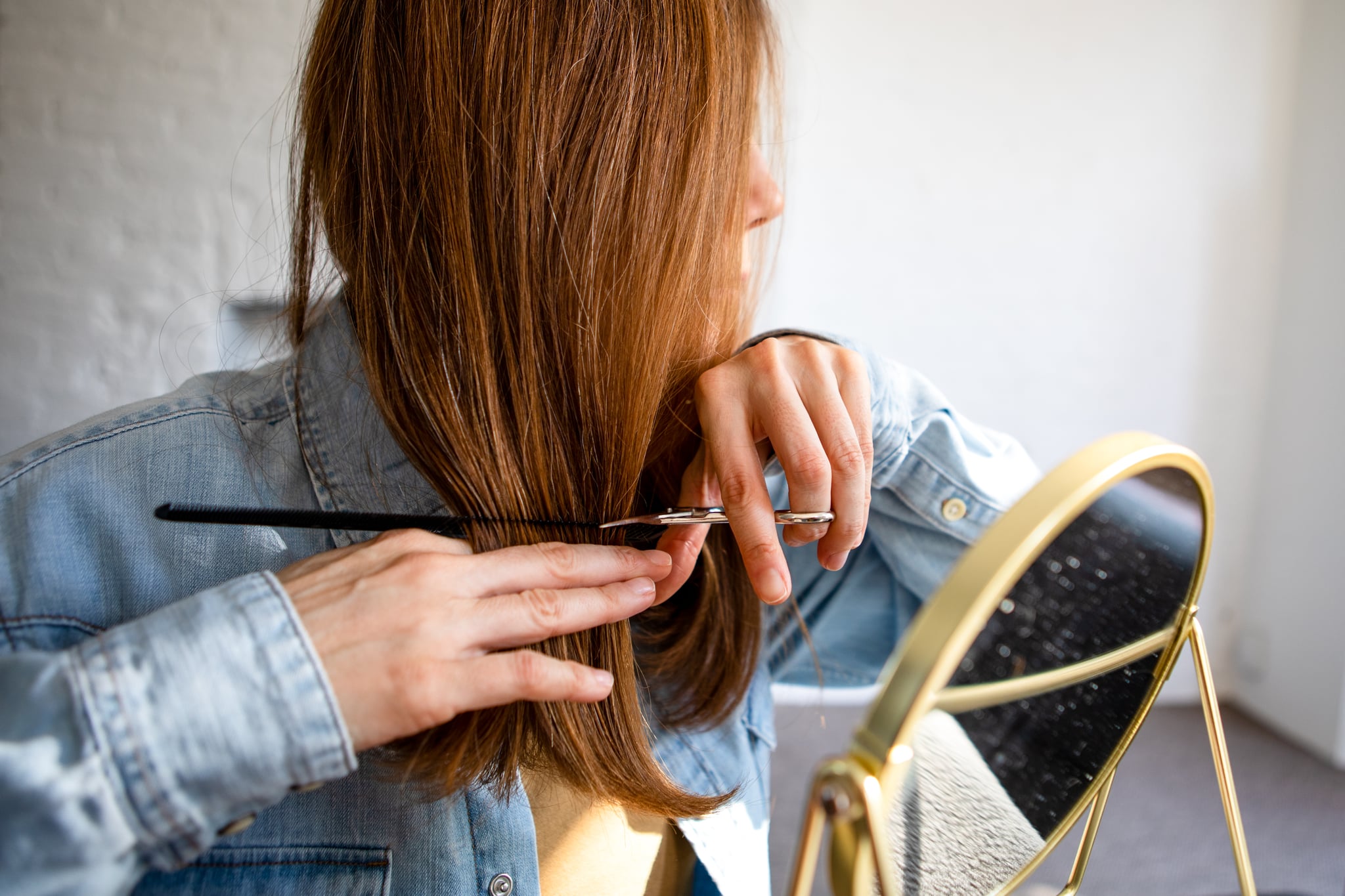 If you're unable to get to the hair salon, you may be wondering how to trim hair yourself.
Learning how to cut your own hair is no easy task, but it's not impossible, especially with the right barber supplies.
Read this helpful guide for how to trim hair at home with tips from professional hairstylists.
Normally, it's always our best advice to go to a professional stylist for any kind of haircut or hair-color service — they are trained, licensed pros, after all. But if you find yourself in a position when you need to give yourself a DIY haircut for whatever reason, there are a few steps you can take to make the process a little easier. This is especially true when it comes to cutting your hair at home.
It doesn't have to require a lot of resources to trim hair at home, either. All you'll need are some basic haircutting tools and a step-by-step haircut tutorial, which we have for you ahead.
Barber Supplies For a DIY Haircut
Before you get started, you want to make sure you have all the right supplies. This includes a wide-toothed comb, a good pair of hairdresser scissors (such as the Equinox Professional Shears ($22)), scrunchies or sectioning clips, a fine mist spray, and a mirror. If you have two mirrors on hand — one for looking front and back — even better.
"For cutting you don't really need a protective cutting cape, but just wear a shirt that you don't mind getting hair on," Devin Toth, a hairstylist at Salon SCK in New York City, tells POPSUGAR. "Most importantly, you will need incredible lighting — I recommend just cutting your hair outside."
Once you've gathered those, it's time to trim hair.
How to Cut Your Own Hair Straight
Step 1: Start With Dry Hair
You'll need to cut on dry hair so you can see the shape. Wet hair isn't the best indicator as it stretches, says celebrity hairstylist Sunnie Brook.
"When cutting your own hair, you should focus on two areas: the bottom length (aka the outline or perimeter) and the layers," says Toth. He also recommends that you get realistic about the back of your head and how you're going to address it.
Step 2: Trim the Face-Framing Pieces in the Front
If you want to give yourself face-framing pieces in the front of your hair, Brook recommends you section away those pieces from the rest of your hair, twist them, and cut down. That gives the hair more of a tapered end instead of a blunt one. Repeat this process gradually making each section of hair longer until you're finished framing your face.
"When trimming the ends of your hair, only use the sharpest point of the scissors," says Michelle Sultan, celebrity hair stylist and brand ambassador for Imbue. "Try not to use the whole length of the scissor because this could result in taking too much off and resulting in a disaster."
Step 3: Cut the Bottom
Once you're finished with the pieces of hair around your face, move on to the bottom. "To cut the bottom of your hair, brush all of it downward and forward," says Toth. Your hair should be split equally on either side of your head. Then, holding the scissors vertically using a point cut, trim the bottom until it reaches the length you want. "This technique will create a soft U- or V-shape in the bottom-back of your hair," he says. "If you ever want to cut a straight line in the back of your hair, you will need a friend to handle that task for you."
How to Cut Your Own Curly Hair
Step 1: Dry Set Your Curls
Cutting curly hair at home is a bit different. "I would only recommend cutting your own hair whilst it's dry set using your usual leave-in conditioner and gel, that way you can clearly see if the curls are doing something that they shouldn't," says Sultan.
Step 2: Divide Hair Into Sections
Using your wide-toothed comb, divide your hair into four sections and secure them with clips.
Step 3: Trim Your Hair Using the "Dusting" Method
People with curly hair can use a technique called "dusting" to remove split ends and refresh curls. Starting at the front, "section by section, take each curl and lightly trim the end of it when you get to the part where it's thinnest," says Sultan. This is usually where the curl hooks at the end of bends slightly out of shape. Note: this technique should only be used to trim curls to ensure the ends stay hydrated and moisturized. You don't want to do this to remove length.
How to Cut Your Own Hair Short: Get Help If Possible
There's always a risk that comes along with cutting your own hair, but if you already have short hair, the thought of giving yourself a trim might make you even more nervous. "For short styles in particular, cutting the back of your own hair is nearly impossible, so focus on the bang area and sides, which are more noticeable," says Jim Markham, founder and CEO of ColorProof Color Care Authority.
How to Cut Your Own Hair in Layers
Cutting your hair in layers is a bit trickier than making it one length. "The most known, universal DIY approach is the unicorn haircut," says Toth. "It's not perfect by any means so tread lightly." To start, pull all of your hair up and above your head at the crown. Then pull it forward. This mimics the look of a unicorn's horn. Once your hair is at the right spot, trim it with a point cut. "The hair should be cut shorter around your face and left longer as you point cut your way towards the back."
How to Cut Your Own Hair in a Ponytail For Layers
In addition to the "unicorn haircut method," there's another ponytail haircut technique that Toth calls the "one minute mullet," which made the rounds on TikTok recently. "It's very similar to the unicorn haircut — just shorter layers," he says. Start by pulling your hair into a high ponytail before cutting (you can even twist the ponytail). "When you're cutting your hair in a ponytail, use a flat boar bristle brush to gather up the hair," Toth says. "It's important not to leave any of the hair loose for this DIY technique."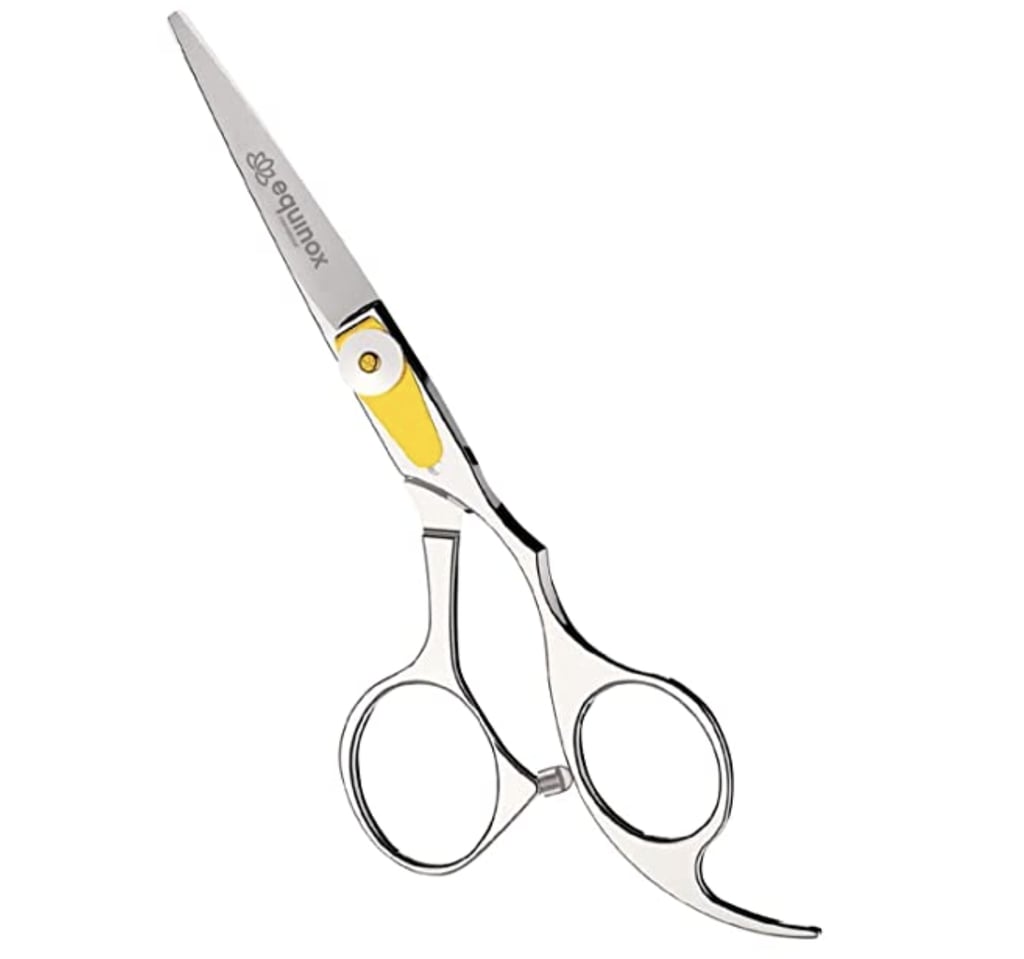 Source: Read Full Article