Dylan Dreyer's eldest son, Calvin, is seriously all grown up, and thanks to his mom, he is quite the little chef.
The star made sure to pass down her love of cooking to her kids, getting them used to the kitchen from an early age, and now she has a great sous chef in her six-year-old.
The Today Show host has three sons with her husband, Brian Fichera, who she married in 2012. Besides Calvin, who turned six in December, the couple share sons Oliver George, three, and Russell, who they affectionately call Rusty, and is one year old.
WATCH: Dylan Dreyer worried her fans after admitting she feels anxious ahead of parties
MORE: NCIS confirms return of well-loved character – and fans are excited
Dylan took to Instagram to reveal just how much Calvin's skills in the kitchen have evolved, sharing a photo of him intently focused on building the perfect sandwich.
"Cooking with Cal is really paying off," she said in the caption, adding: "He likes making his own lunch lately!"
MORE: Hoda Kotb and Savannah Guthrie unite with Today crew to bid bittersweet NBC farewell
The slew of photos see Calvin in the kitchen, still in his festive, Christmas-themed pajamas, standing on a stool as he meticulously assembles a sandwich, cutting and spreading avocado, peeling a carrot, and gently placing a slice of cheese on top.
https://www.instagram.com/p/Cn1__3Qr4_m/
A post shared by Dylan Dreyer (@dylandreyernbc)
Calvin surely does a mean sandwich
"A little Mayo, Muenster, and avocado does the body good!" his mom added in the caption, alongside the hashtag she frequently uses whenever she shares what the mother-son duo are cooking up these days, Cooking with Cal.
MORE: Salma Hayek's sultry bathtub photo might be her most stunning yet
MORE: Gwen Stefani shares happy news she had to 'hold in for so long' amid pregnancy rumors
Fans were thoroughly impressed by how comfortable Calvin has become in the kitchen over time, and praised Dylan for exposing him to cooking early on.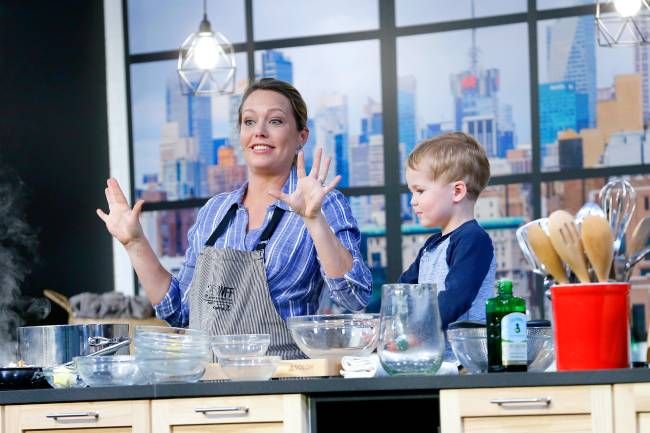 The six-year-old has expressed an interest in cooking from an early age
"I think it's so wonderful, you include your son's in the kitchen. You are teaching them such valuable lessons and opening doors to a passion. I thoroughly enjoy watching these segments. I applaud you Dylan!" one fan aptly said.
Others commented: "Fabulous!!!! Great for language, sequencing and early-reading skills too!" and: "Learning life skills!" as well as: "Independence is underrated," plus another fan added: "Well look at him!!! He's such a doll!"
Read more HELLO! US stories here
Like this story? Sign up to our newsletter to get other stories like this delivered straight to your inbox.
Source: Read Full Article